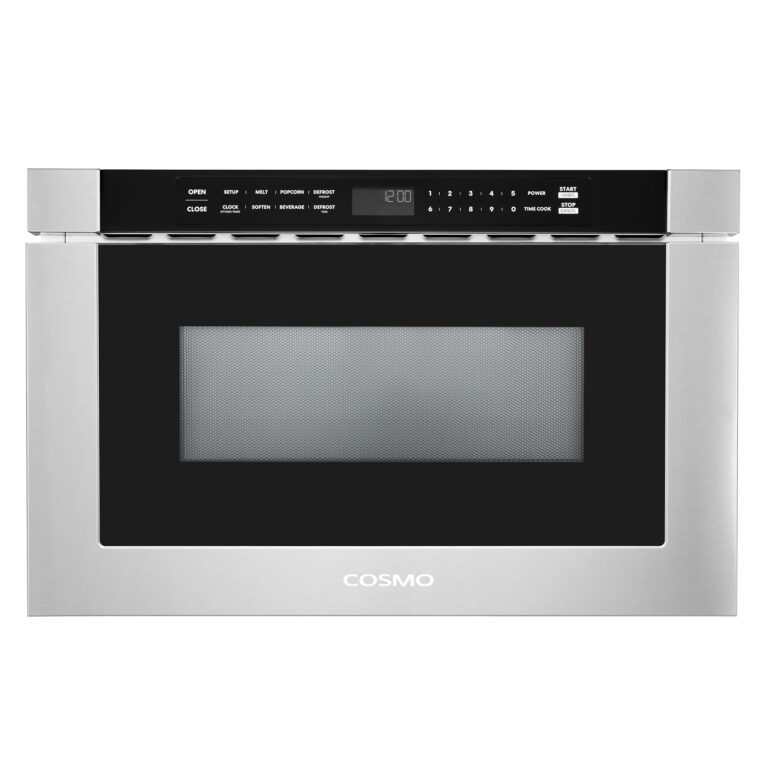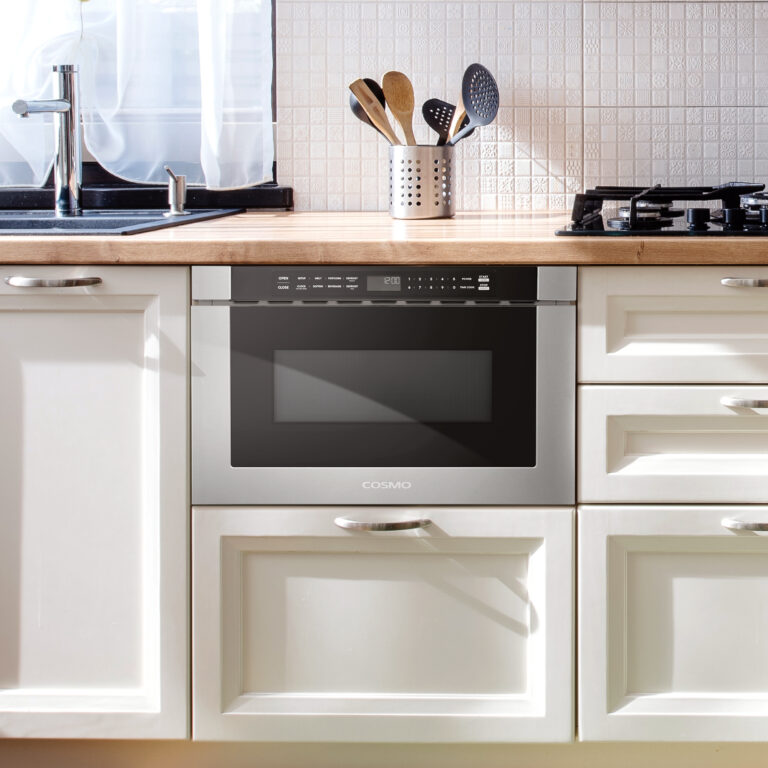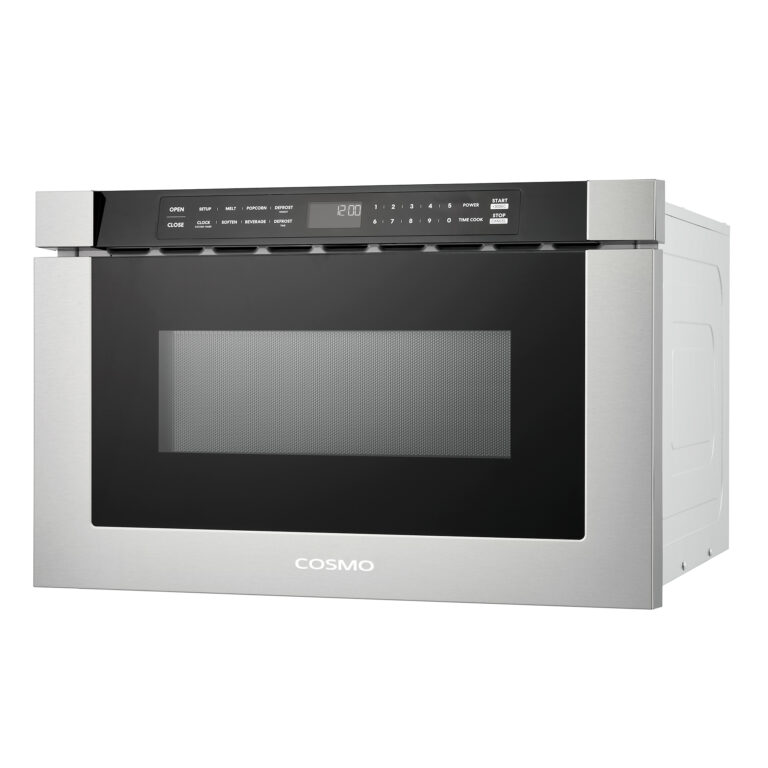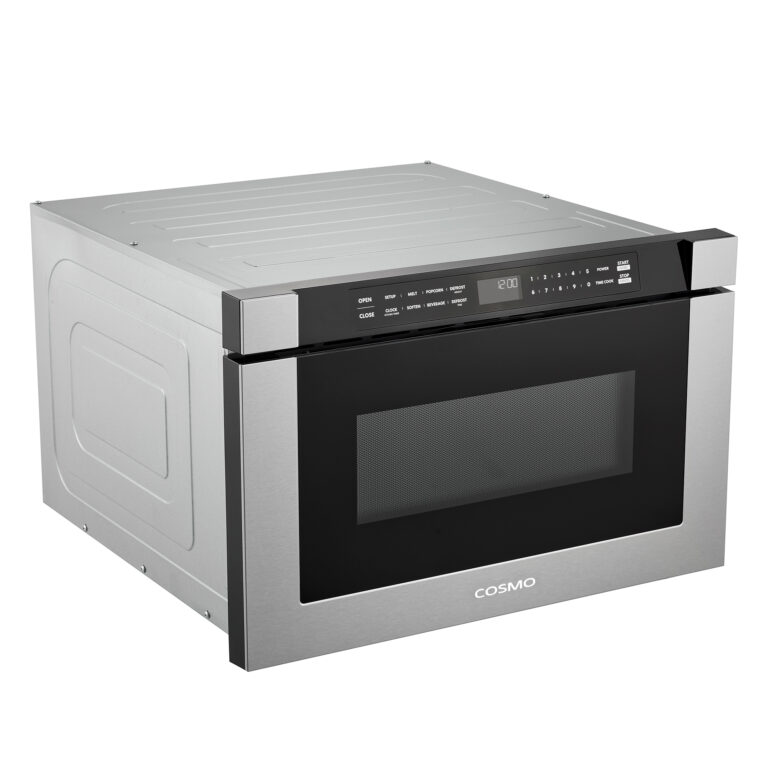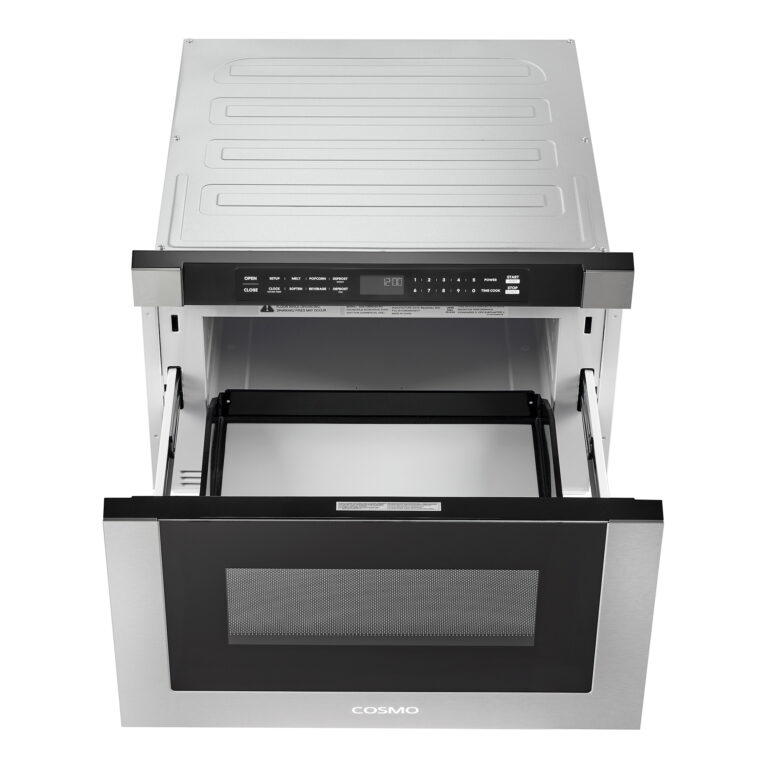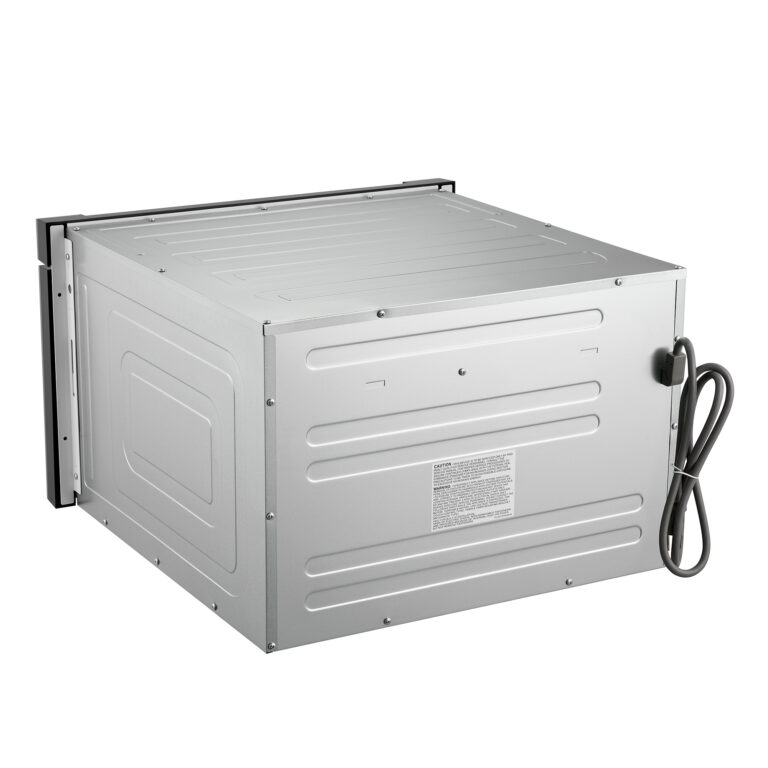 24" Built-In Microwave Drawer
COS-12MWDSS-NH
Save space in your kitchen by seamlessly integrating the Cosmo Microwave Drawer into your cabinetry. This top loading microwave drawer provides a clutter-free counter-top with its built-in installation. Make every meal delicious with 11 power levels and 1000 watts of cooking power. Easily open and close the microwave with the touch of a button on the easily accessible control panel. Effortlessly heat meals including melt, soften, popcorn and beverage automatic presets. Effectively thaw food with the weight or time defrost options; a defrosting rack is included, letting you make the the most of the microwave's capacity. This microwave is built with safety in mind, providing a child lock function. The sleek stainless steel build fits perfectly into any modern kitchen design.
Features
11 Power Levels
Four automatic presets, including melt, soften, popcorn and beverage
1000 watts of power for precise control
1.2 cu. ft. capacity
Easy-to-use touch screen control panel
Defrosting rack included for added convenience
Weight and timed defrost options to efficiently thaw food
Equipped with Child Lock Function
Electrical Requirements: 120V/ 60hZ
Exterior dimensions (WxDxH) 23.8″ x 24.5″ x 15″
UL Listed: Product samples have been tested and deemed by UL to have met UL's relevant safety standards, all of which are nationally recognized
Specifications
| | | | |
| --- | --- | --- | --- |
| Dimensions (HxWxD): 15″ x 23.8″ x 24.5″ | Number of Power Levels: 11 | Type: Drawer | Features: Child Lock Function; Drawer Lock |
| Capacity: 1.2 cu. ft. | Size: Mid-Size | Finish: Stainless Steel | Voltage: 120V/60Hz |
| Installation: Built-In | Net Weight 70.4 lbs. | Output Power: 1000W | Input Power: 1500W |
Manuals & Diagrams
Videos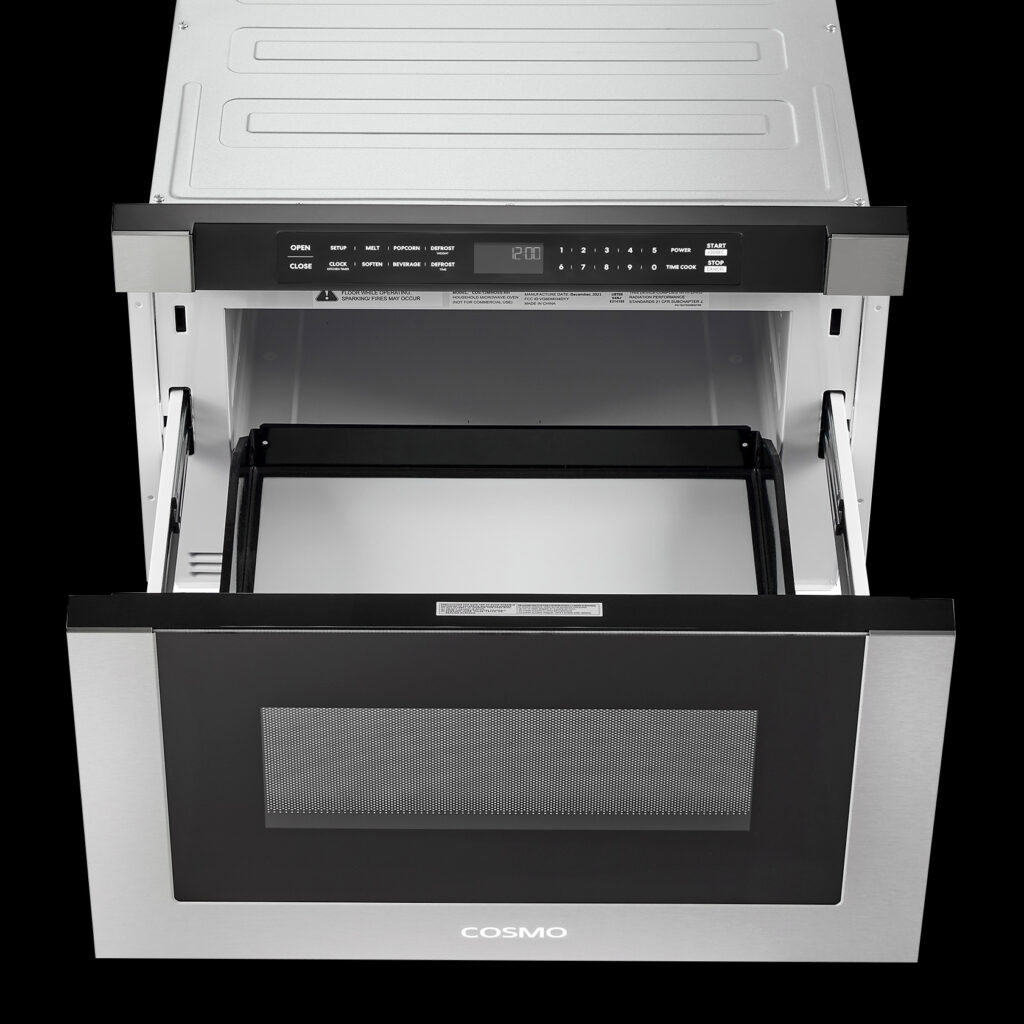 1000 watts with 11 power levels for precise control. Four automatic cooking options, including melt, soften, popcorn and beverage to calculate appropriate cook times.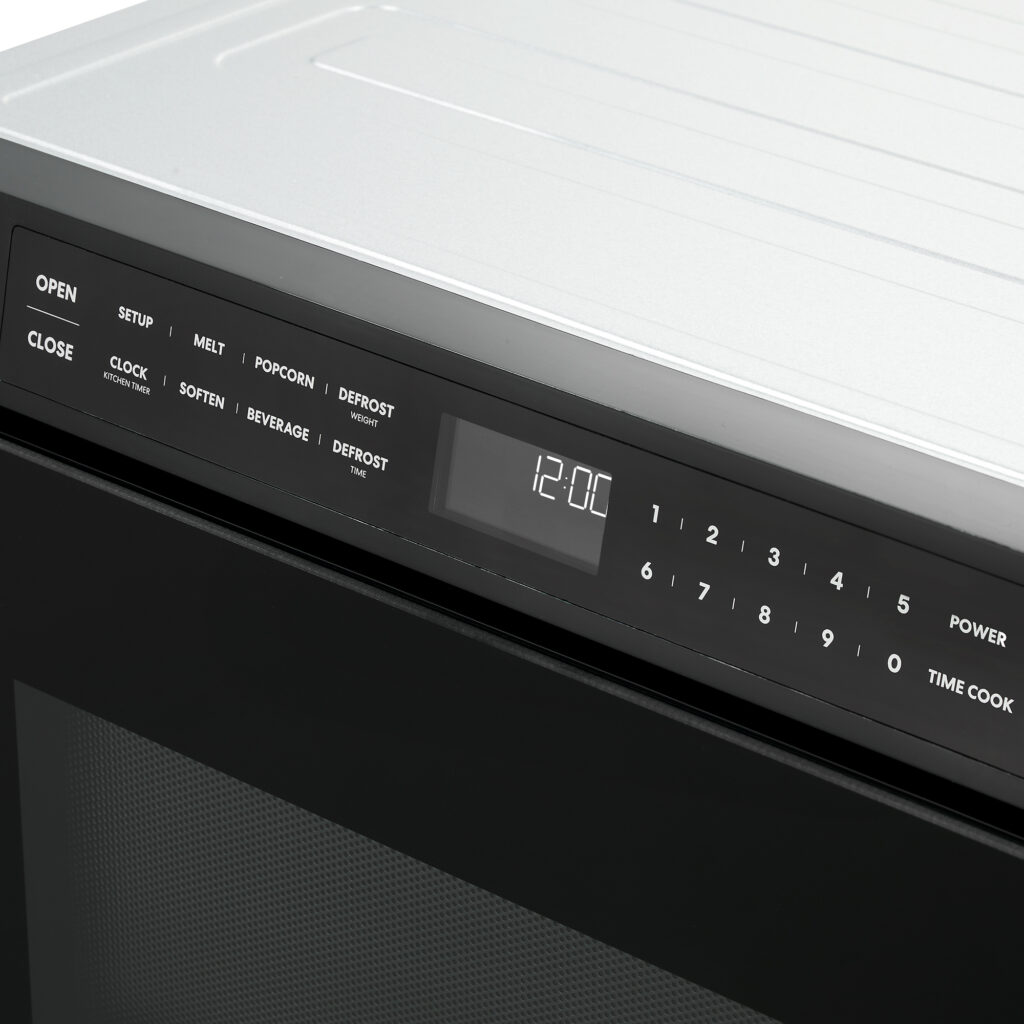 Equipped with an easy-to-use touch screen control panel. Open and close the microwave drawer with just the touch of a button. Includes effective defrosting with a weight or timed option.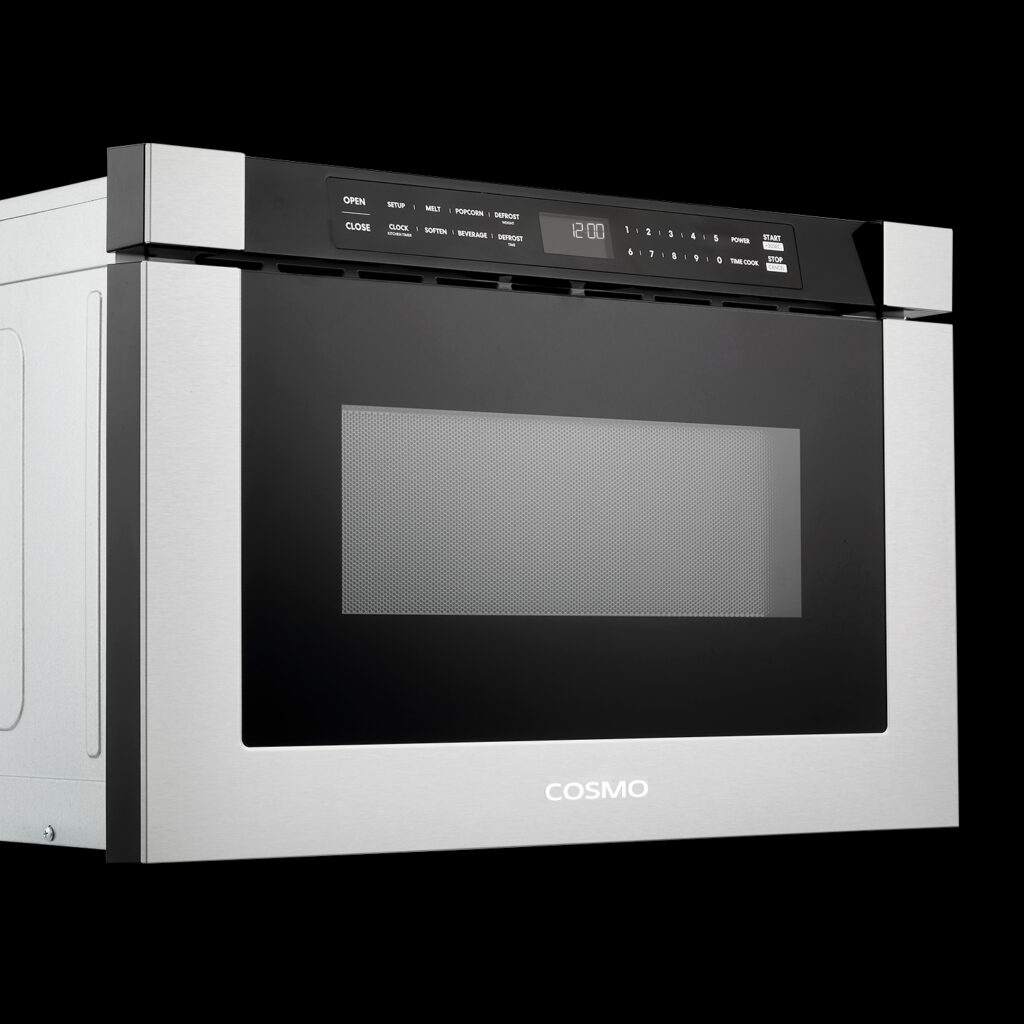 Microwave drawer integrates into cabinetry to save valuable counter-top space. The top loading design offers accessible operation. Defrosting rack included.
Hover over each icon for more information!
Tap each icon for more information!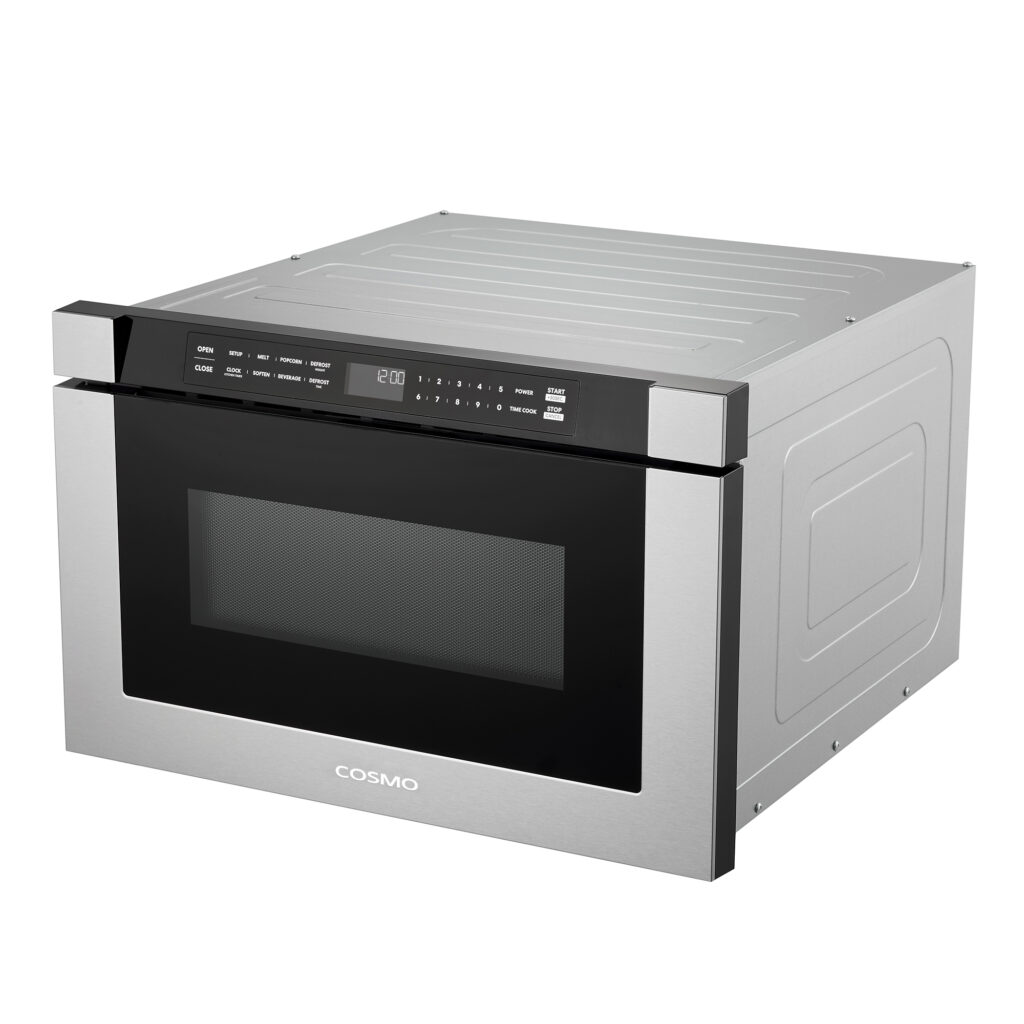 Overall Rating
5 out of 5 stars (based on 3 reviews)
Great look
While it did not fit exactly, we love the look in our new kitchen. The features such as the automatic door works great!
Sleek Look, Excellent Design
I love this Cosmo microwave . It has saved me space in my remodeled kitchen and I love the open / close feature . Defrosts very quickly as well! I get many compliments !
Perfect fit
Had to replace another brand that died on me after 12 years. Very happy with my new cosmo under counter microwave. Fit in perfectly and matches my other stainless appliances