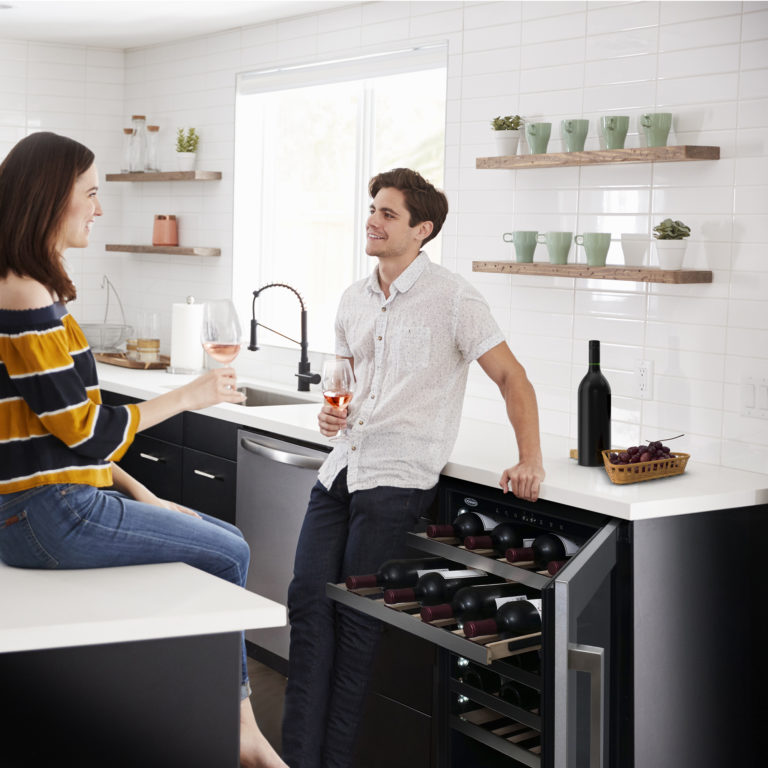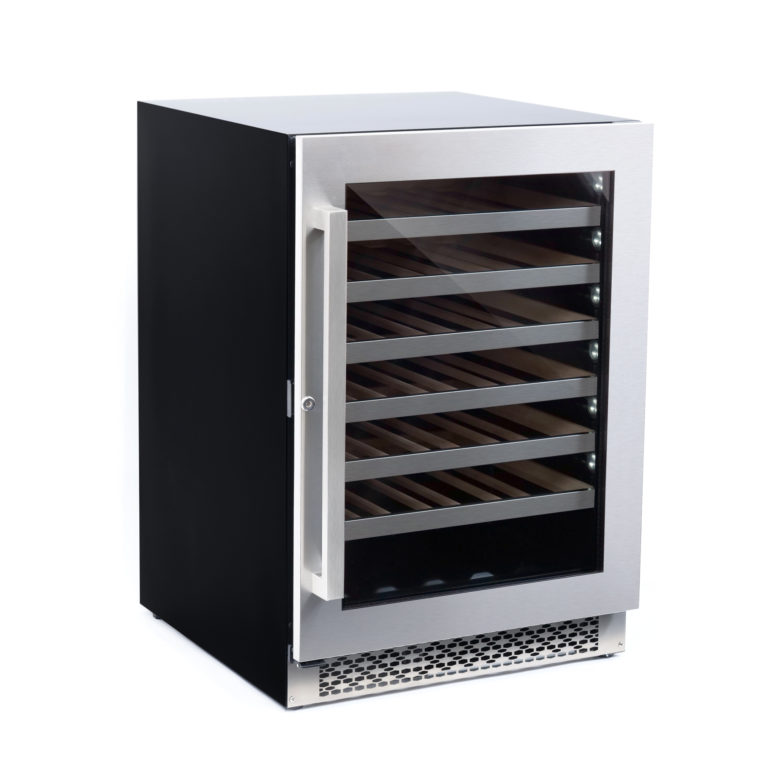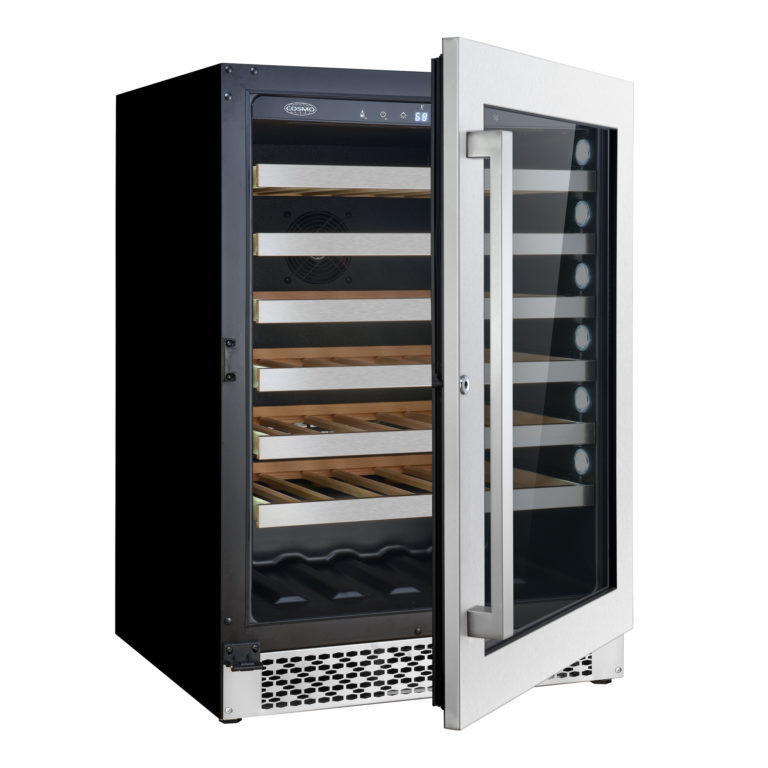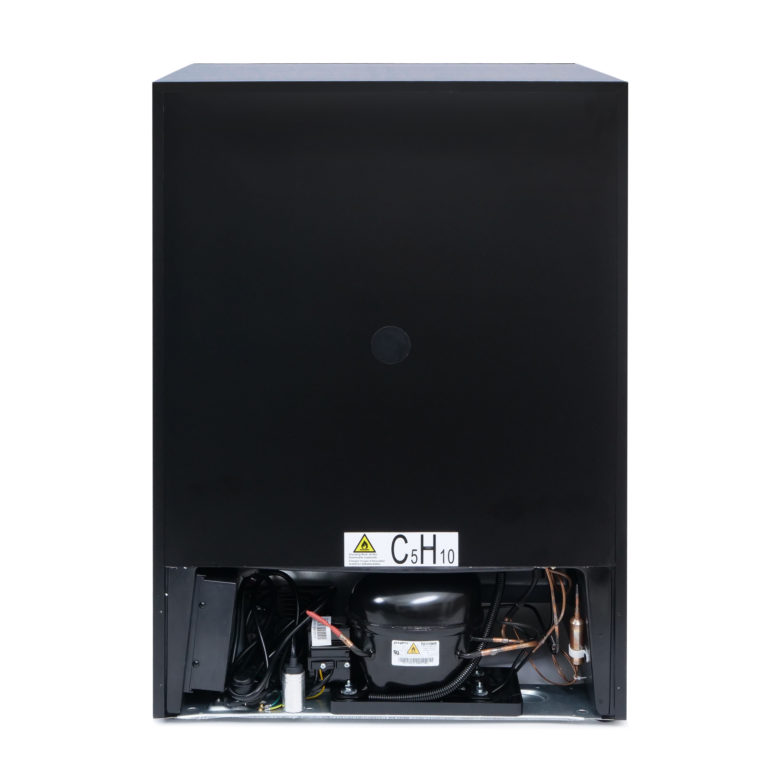 24" Stainless Steel 48-Bottle Wine Cooler
COS-24BIWCS
Cosmo's 146L (48 bottles) Single-zone Compressor Wine Cooler is designed to preserve and protect wine, by eliminating harmful light, fluctuating temperatures, humidity, and vibration. We've combined advanced technology and our signature sleek appearance for you to enjoy quick access to cold drinks and your favorite wines. Fine wine requires precision, our Wine Cooler features a seamless stainless steel door frame with 3-layer glass, and 6 beechwood shelves with telescopic sliding rails that can handle a large capacity of bottles. You have the power to maintain the flavor of your favorite wine with a temperature range between 5°C- 20°C / 41°F 68°F and a fan cooling system.
Features
Specifications
Manuals & Diagrams
Buy It Now
Features
Impressive compressor cooling system that will refrigerate your favorite wine with precision temperature accuracy
Premium-Grade Stainless Steel exterior
Built-In or Freestanding Installation allows you to place it anywhere
LED lighting illuminates the interior for elegant presentation of your collection
Stores up to 48 bottles of your favorite selection of wines at the right serving temperature
Insulated 3-layer glass door for an elegant look and heat-safe storage
Advanced fan cooling system technology
Digital touchpad controls enable easy use and control
6 Beechwood shelves with telescopic rails for convenient access to bottles
Internal Temperature Range: 5°C- 20°C/ 41°F 68°F
Door lock for security
CSA Certified: CSA mark demonstrates that a product has been rigorously tested to applicable North American and global standards
Specifications
Manuals & Diagrams
Buy It Now
The COS-24BIWCS wine cooler is built with a patented hidden advanced hinge mechanism, keeping the hinge out of sight for a more sleek look to any kitchen. 6 Beechwood shelves with telescoping sliding rails can handle large wine bottles while providing easy access to your collection.
Our wine cooler comes equipped with a total of 12 LED lights located on both sides of every shelf for added visibility. Elegantly illuminate your wine selection with these lights while saving energy year-round.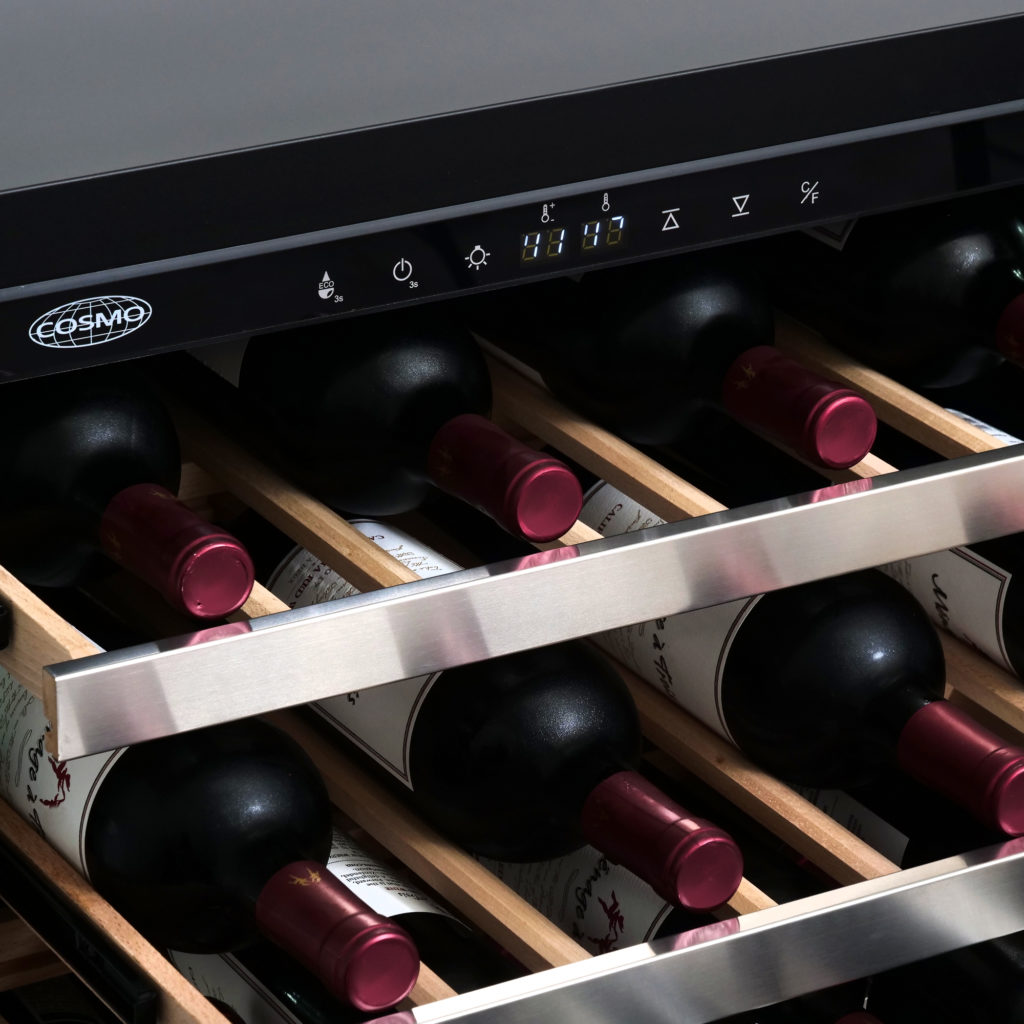 Digital Touchpad Controls
An easy-to-use digital touchpad control is located at the top of the wine cooler to control a variety of functions such as the power, lights and temperature. Hidden away, these controls are only visible once the wine cooler is open, adding a seamless look to any home.
5 out of 5 stars (based on 2 reviews)
Where design meets function!
Beautiful stainless steel exterior with blue light and amazing wood pull out shelves. Cools quickly and looks amazing in my kitchen against blue cabinets with white counter top.
Classy Wine Fridge
Love my new fridge! Cosmo is a reliable brand and such a classy addition to my new kitchen. Keeps the bottles at the perfect temp and so pretty with the lights on.