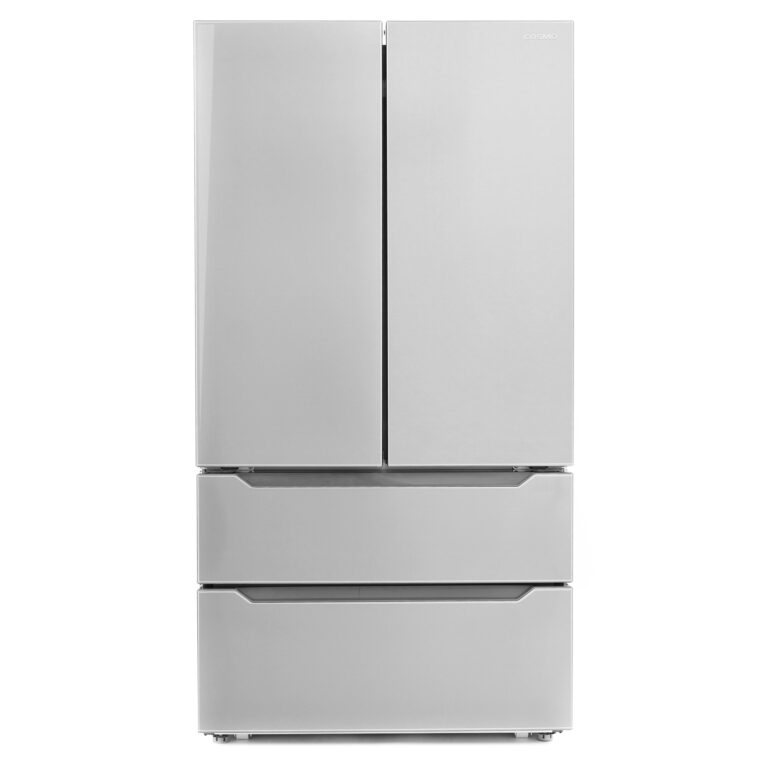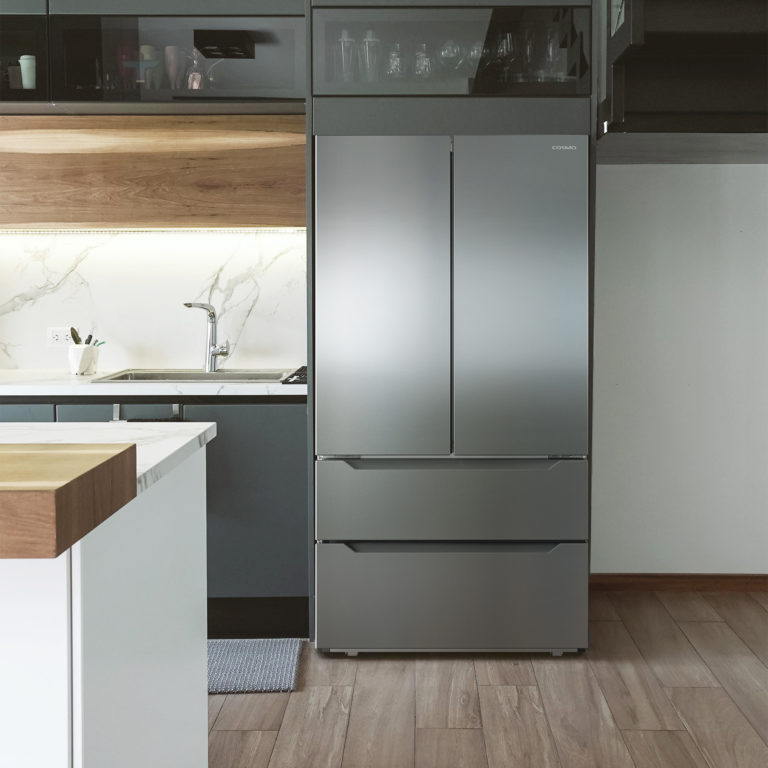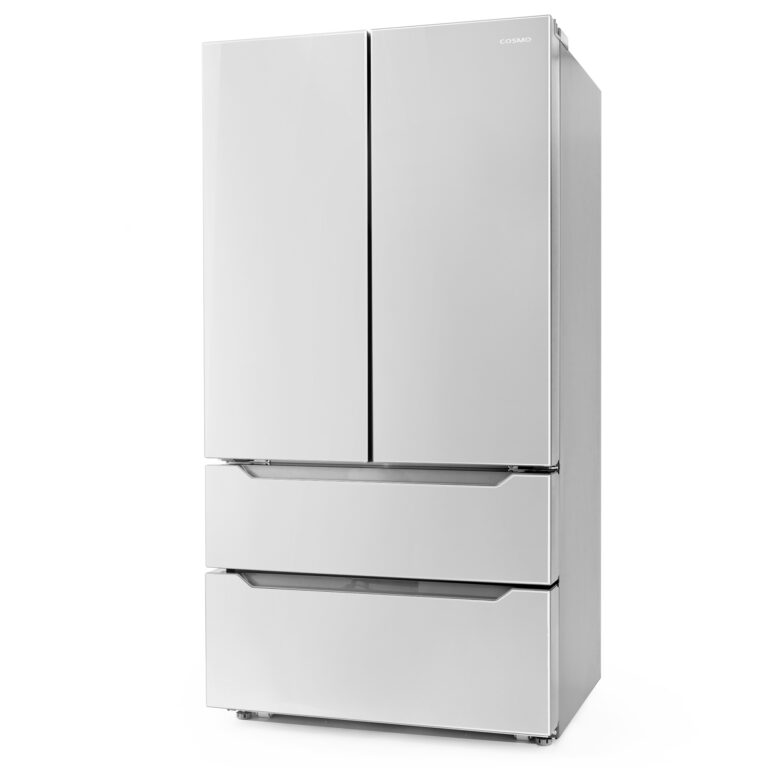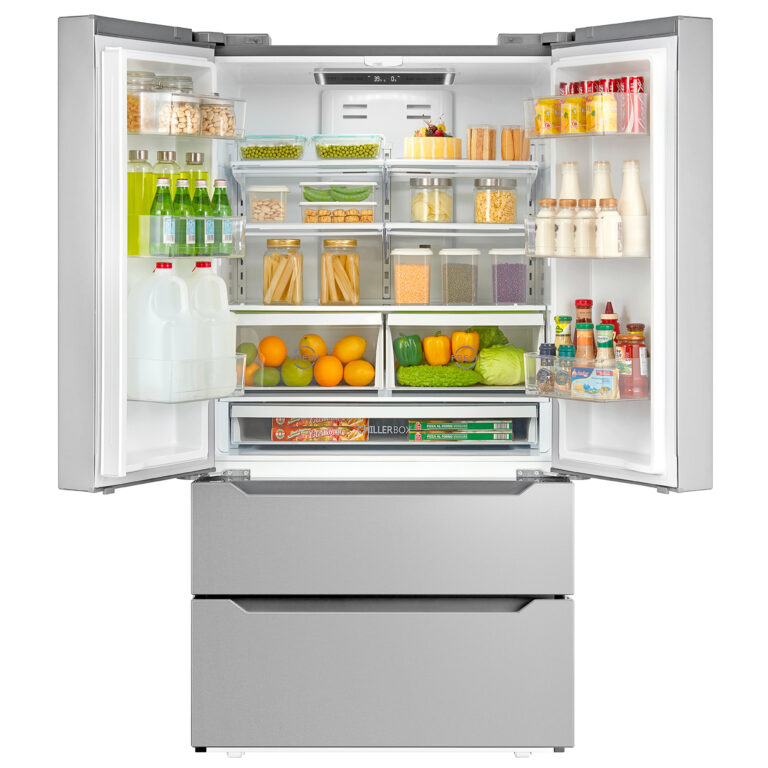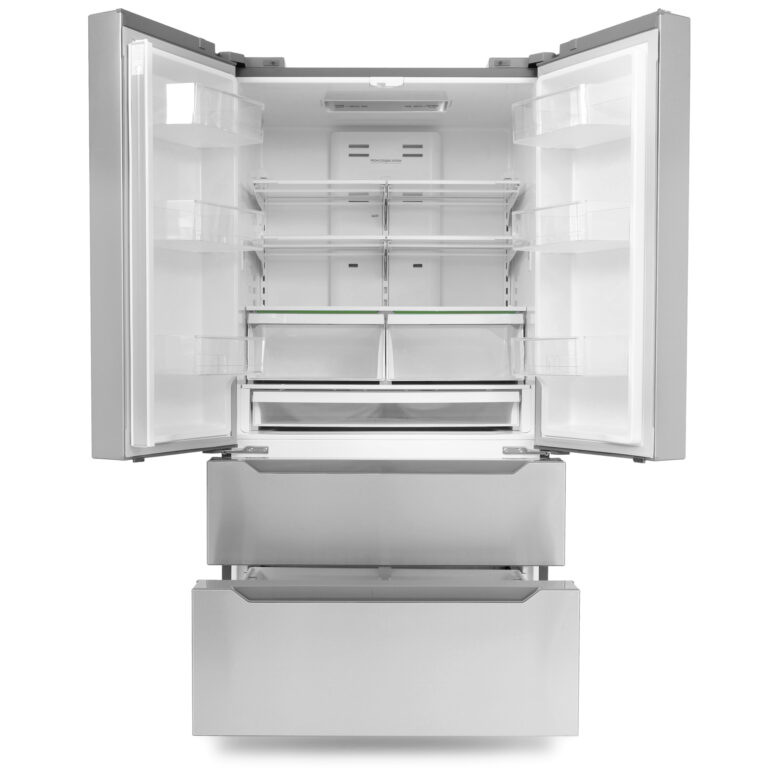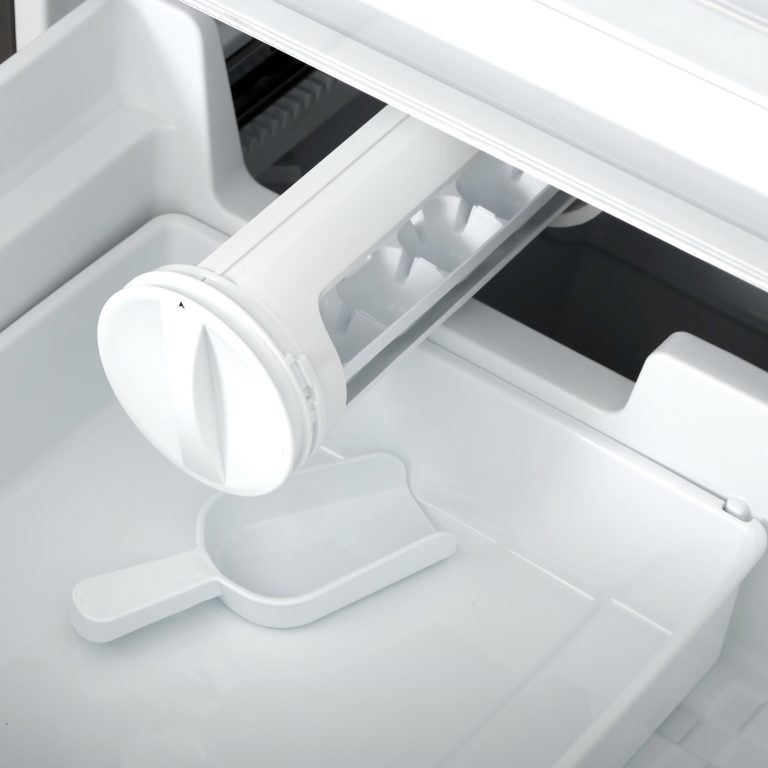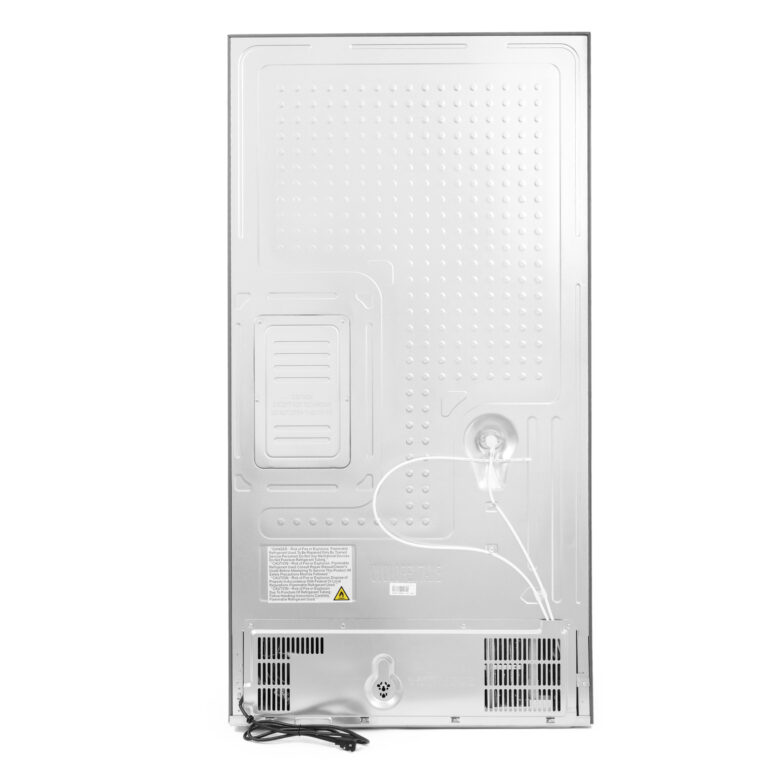 Counter Depth French Door Refrigerator
COS-FDR225RHSS
Cosmo's Counter Depth French Door Refrigerator with 22.5 cu. ft. capacity has a sleek and smooth exterior design with impressive innovative features. Including a spacious bottom-freezer, this refrigerator offers organizational versatility for effortless storage and access to a wide range of foods from meats to fresh produce. Fully extendable freezer drawers, adjustable shelves and energy-efficient LED lights provide a clear view of all your fresh food. Our advanced preservation technology ensures you experience pleasure and convenience on a whole new level with perfect storage temperatures for maintaining fresher fruit, vegetables, fish, meat and dairy products.
Features
Specifications
Manuals & Diagrams
Buy It Now
Videos
Features
A total of 22.5 cu. ft. capacity:  15.9 cu. ft. fresh food capacity provides ample fridge interior space, while 6.6 cu. ft. freezer capacity allows you to store plenty of your frozen foods with ease
Easy-to-reach digital touch temperature controls for both the refrigerator and freezer 
Simplify cleanup with durable, and easy-to-clean glass shelves 
Two slide-out freezer drawers designed to easily organize frozen food so you can maximize storage
Find what you need under crisp, clear LED interior lighting inside the refrigerator
Fingerprint and spot resistant stainless steel finish keeps your fridge looking as good on the outside as it works on the inside
The refrigerator comes with an automated ice-maker with a handy cube holder which transfers cubes into ice tray and scoop
ENERGY STAR rated
A door alarm feature will gently beep when refrigerator doors are left ajar for more than 2 minutes to ensure energy efficiency and longer service life
Equipped with a gentle soft-close door mechanism. This innovative closing system provides more quiet and convenient door closure
UL Listed: Product samples have been tested and deemed by UL to have met UL's relevant safety standards, all of which are nationally recognized
Specifications
Manuals & Diagrams
Buy It Now
Videos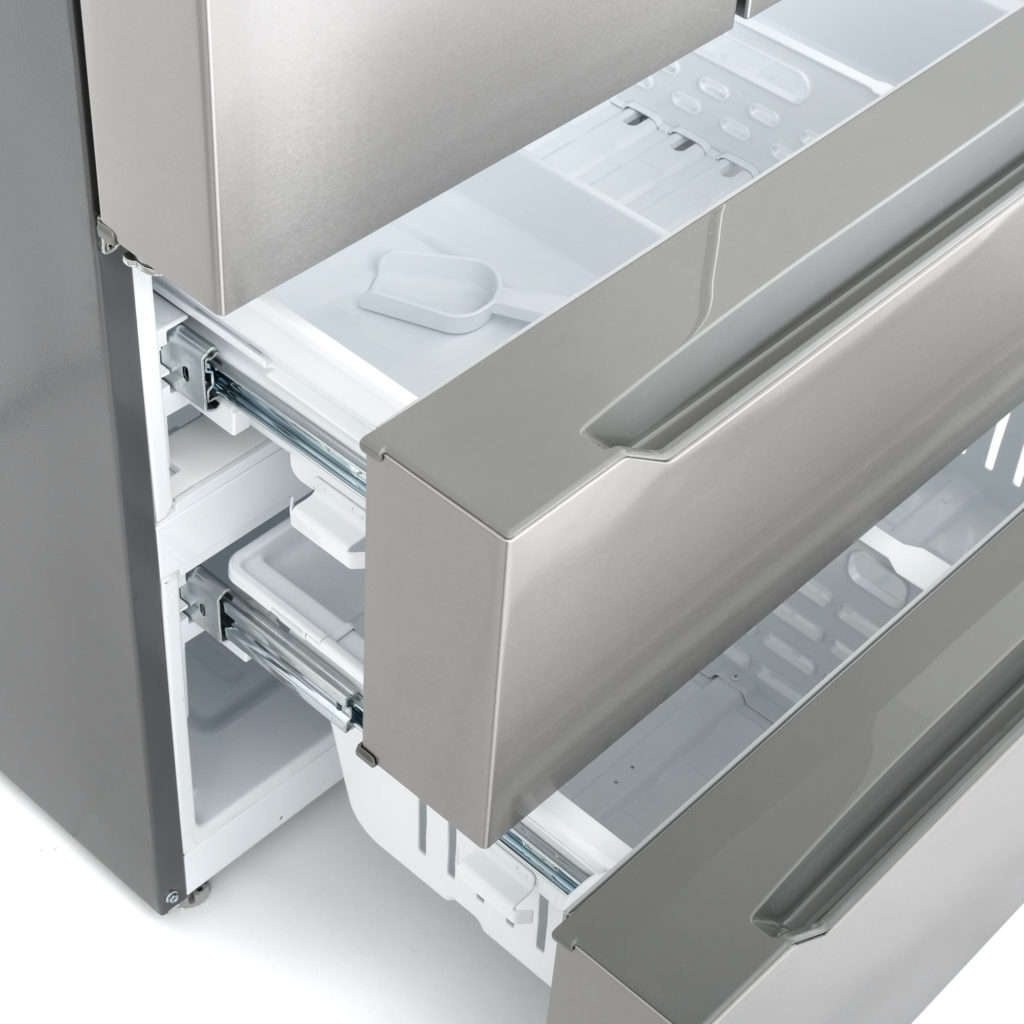 Easy-to-clean, Fingerprint Resistant Stainless Steel finish keeps your fridge looking as good on the outside as it works on the inside. Shelves built with spill-proof glass are durable and easy-to-clean.
Electronic Touch Controls
Featuring electronic temperature touch controls that are easy-to-reach for both the refrigerator and freezer section. Find what you need easily with clear LED interior lighting.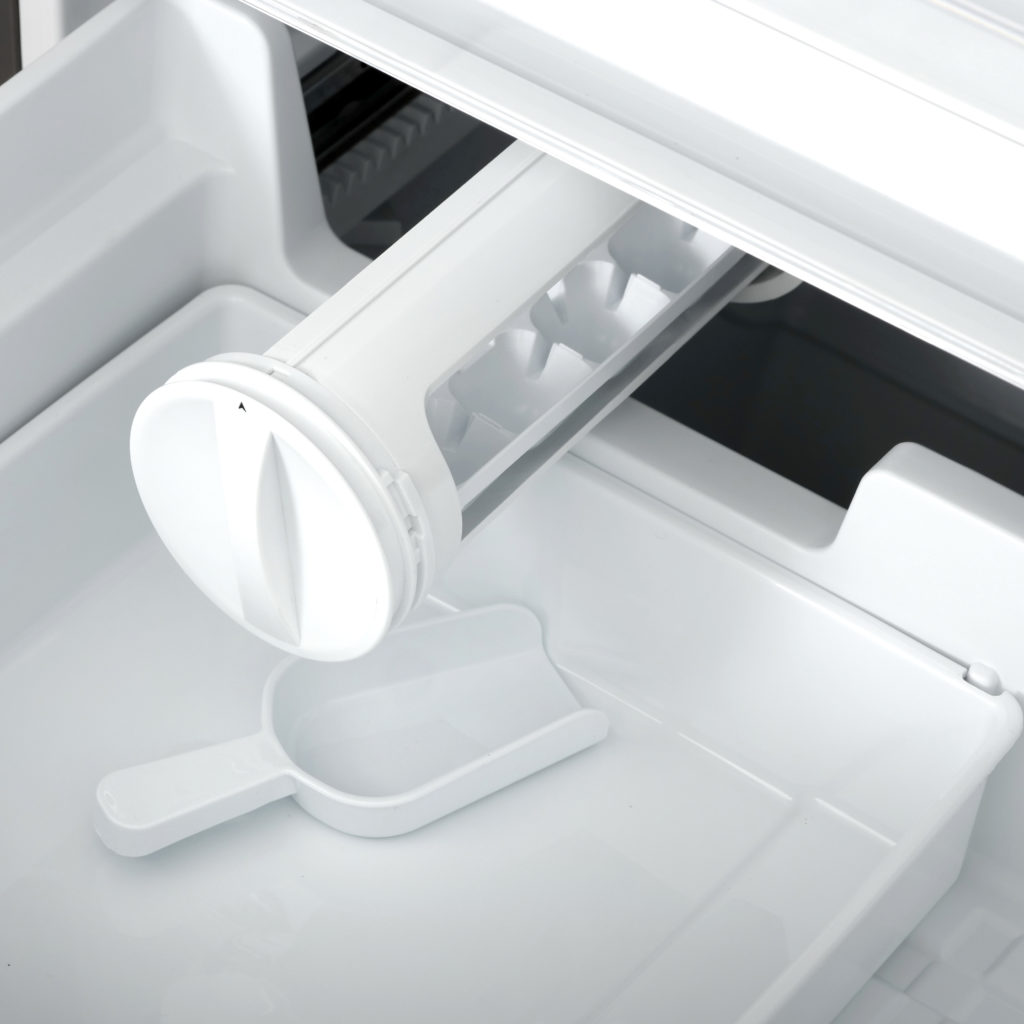 Includes an automatic ice maker with removable 12 cube ice tray and ice box with a scoop in the top freezer drawer. Equipped with 4 Freezer Baskets to accommodate a variety of foods. 
4.5 out of 5 stars (based on 2 reviews)
great
Roomy and Bright
I received my refrigerator a couple of weeks ago (it was on backorder, so took several weeks to arrive). So far, I am very pleased. I love the anti-fingerprint material on the frontside of the refrigerator, the bin sizes are great, and the deli drawer is perfect for my wines and cheeses. The shelves adjust with ease, and the lighting is perfect (my vision is horrible due to early onset cataracts). I did not like though that the rubber lining for the doors was not fully attached when the refrigerator arrived…simple enough though to push it in. Also, the drawer handles appear to have moisture in them that I cannot dry out because of the tightness of the seal (main reason for the 4 starts vs 5). I am not sure what issues that might cause down the line, but will be on the lookout for any and update my review in a few months of use. other than these things, the refrigerator is perfect for what we need, has a great sleek look, and I love that it is counter depth which gives me a little more room in my kitchen to move around.