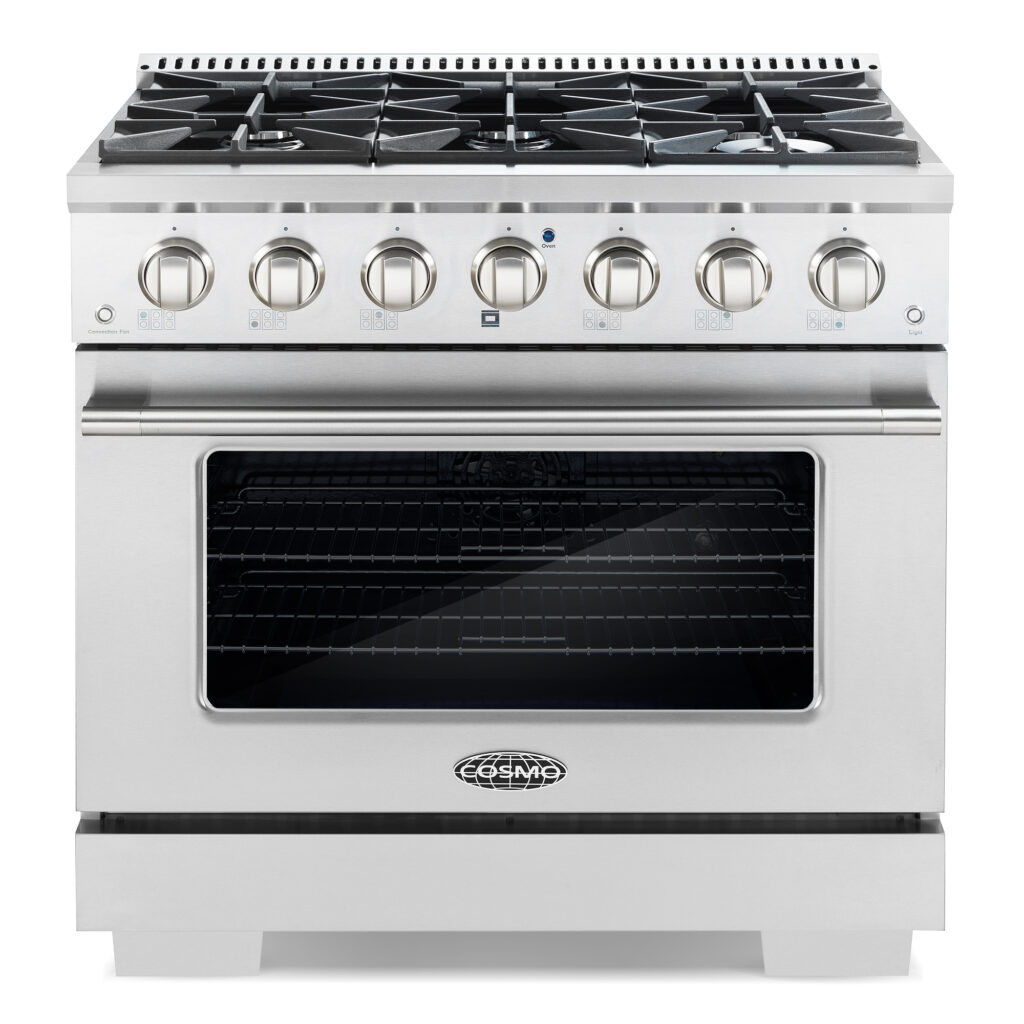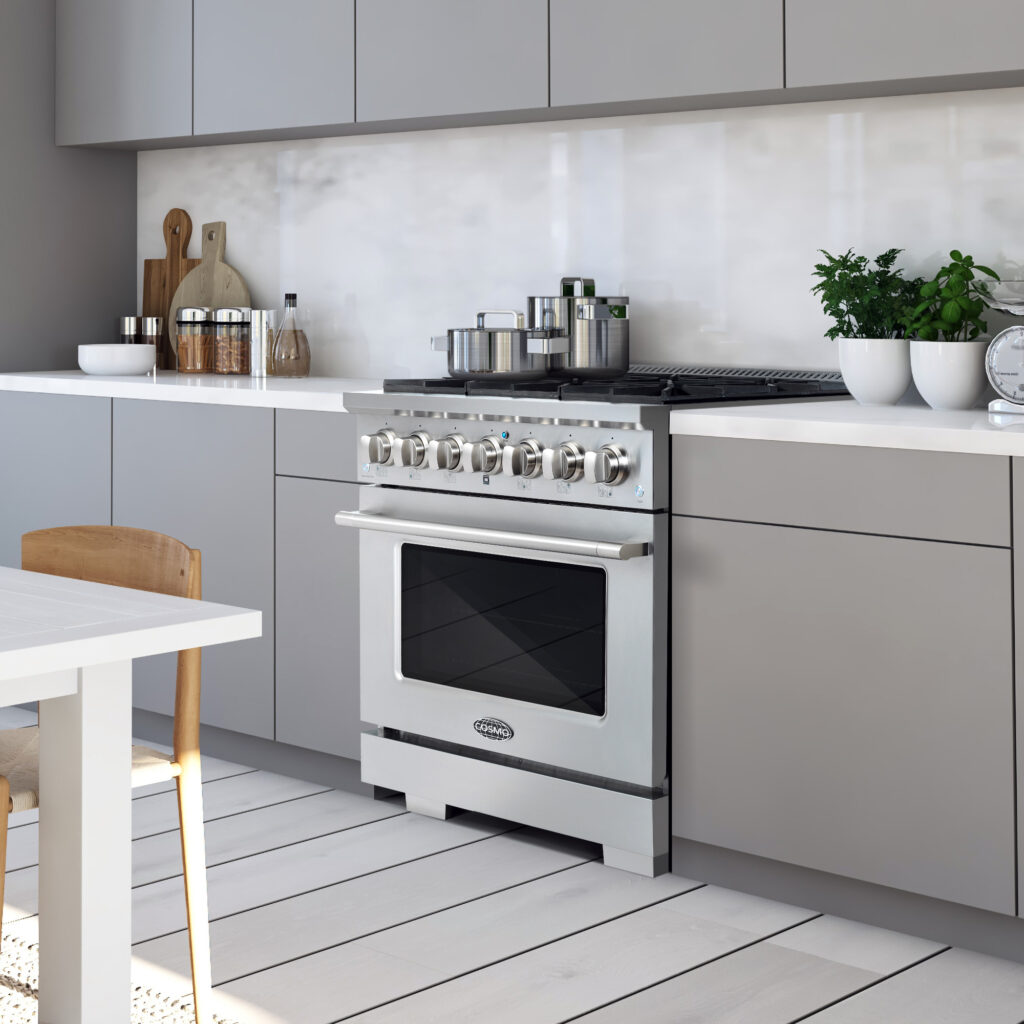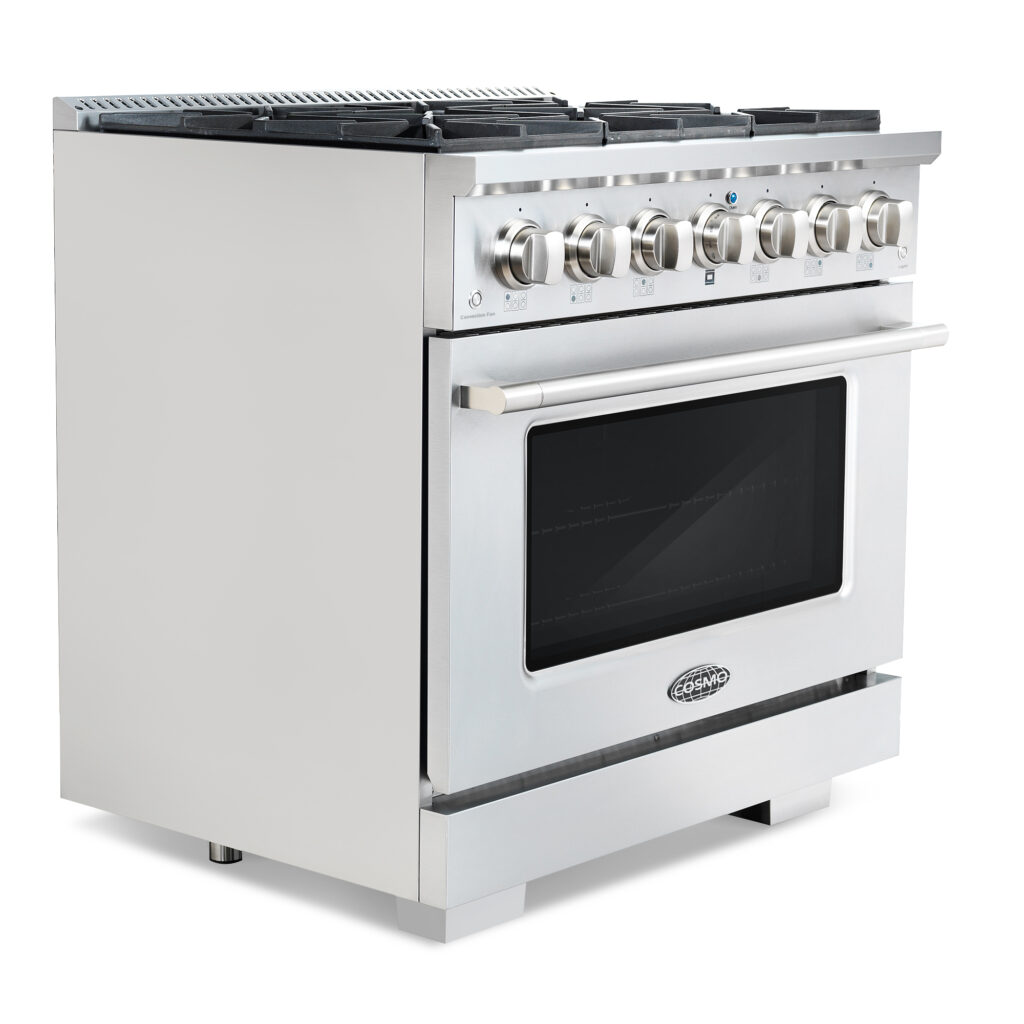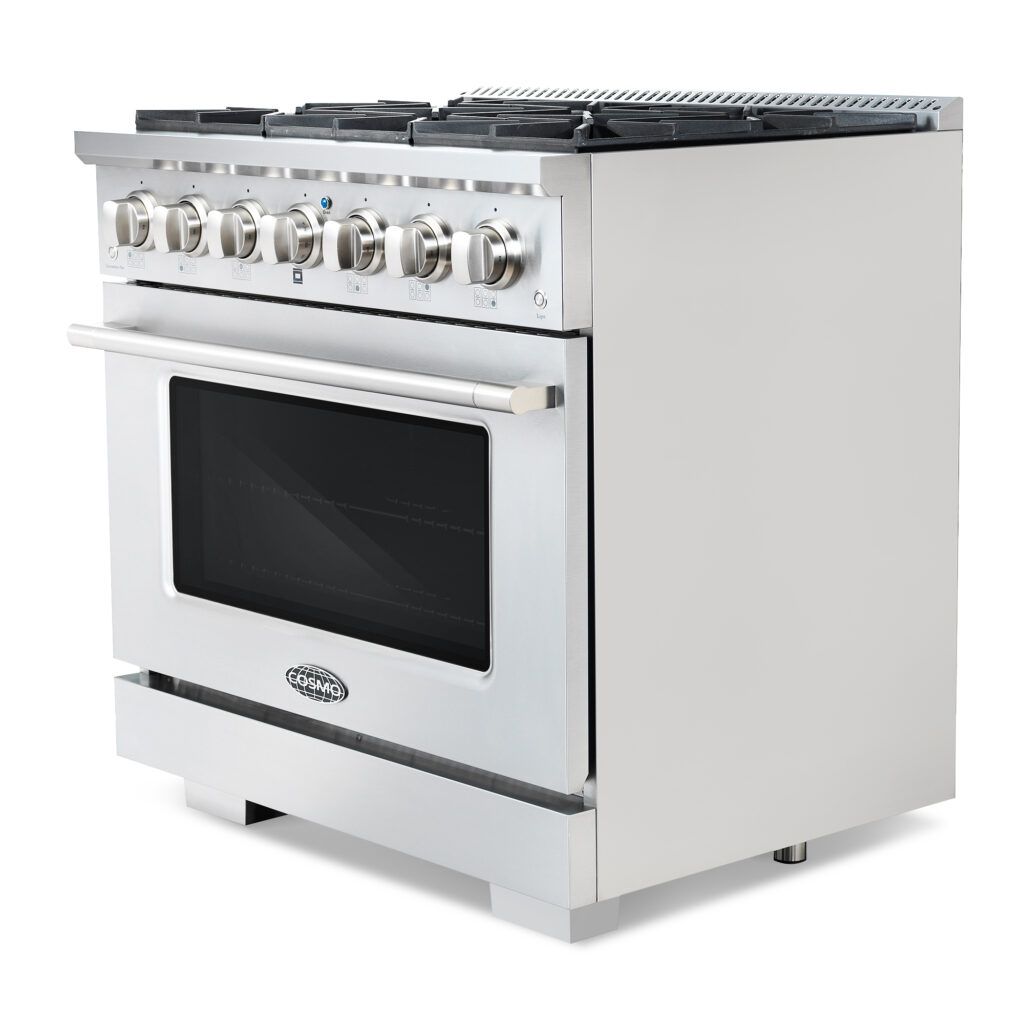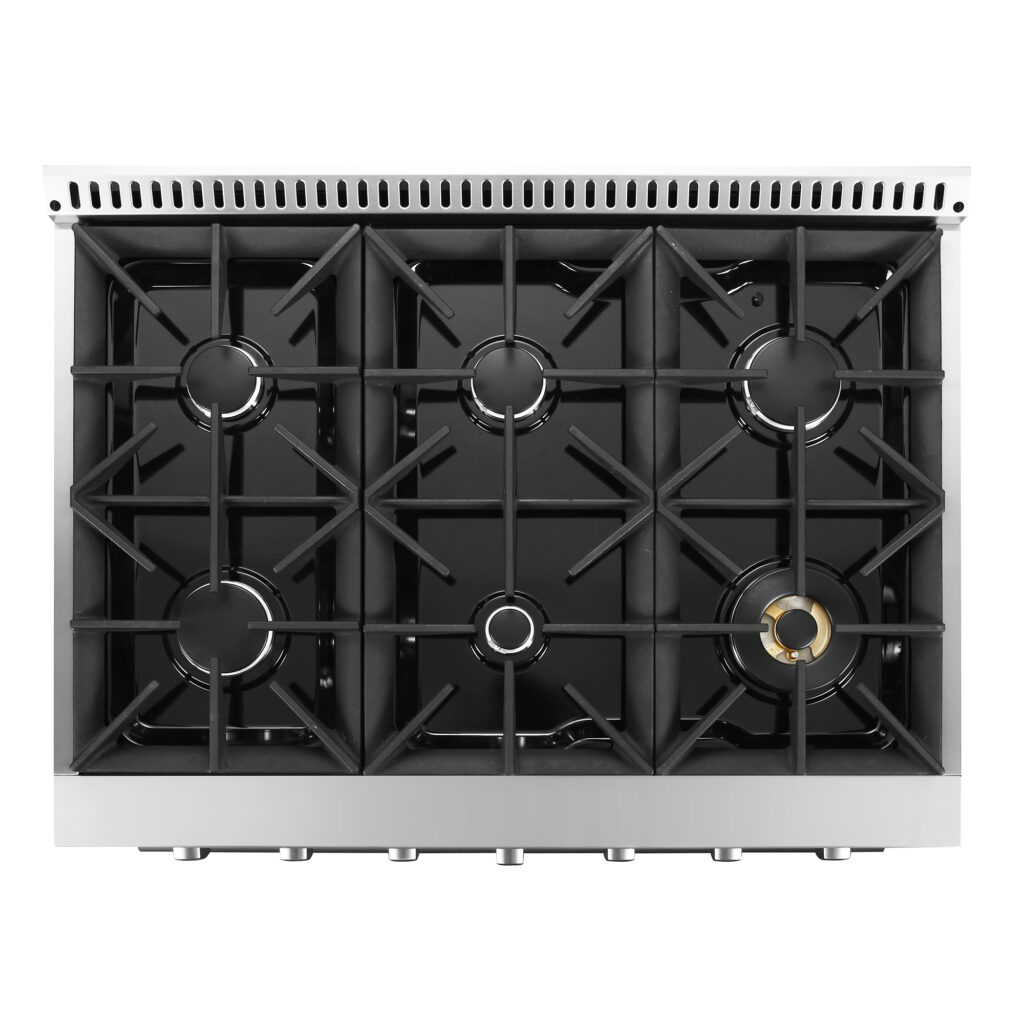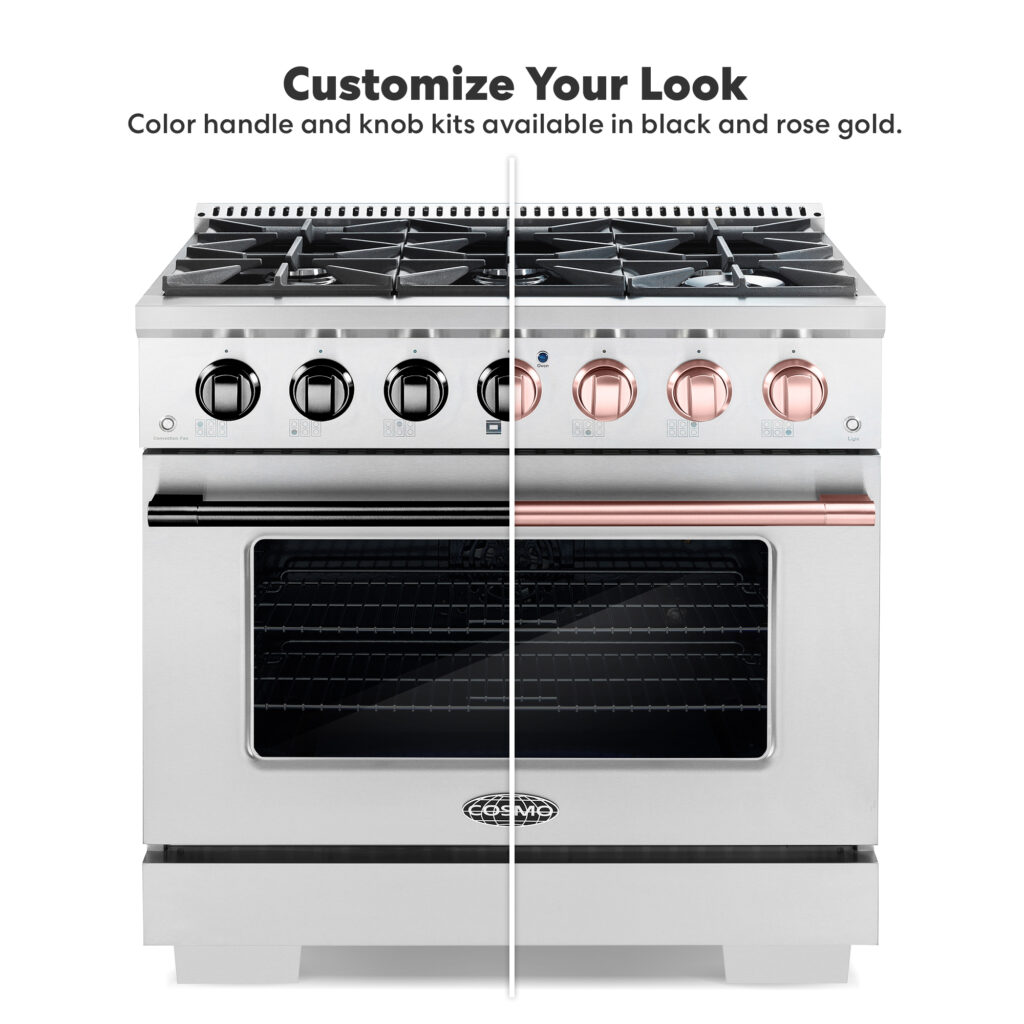 36" Professional Style Gas Range
COS-GRP366
Cosmo's COS-GRP366 36 in. gas range brings professional styling and quality into your home kitchen. The large 4.5 cu. ft. oven capacity lets you bake for a crowd, and the gas cooktop with 6 sealed Italian-made burners can handle all your pots and pans with ease. The cooktop is equipped with a variety of different burners to suit needs from the largest pots and pans down to the most delicate sauces: 1 x 20,000 BTU, 1 x 15,000 BTU, 1 x 12,000 BTU, 2 x 9,000 BTU and 1 x 6,000 BTU. In the rapid convection oven, a powerful fan circulates air for fast, perfectly cooked meals every time. Six special oven functions give you the precision to create everything from juicy roasts to delicate desserts. Designed for durability, this 36 in. gas range is constructed with industrial, corrosion-resistant 304-grade stainless steel. A removable backsplash means this range is suitable for either freestanding or slide-in installation.
Looking for something that fits a smaller space? Try the COS-GRP304.
Features
Specifications
Manuals & Diagrams
Buy It Now
Features
Constructed of corrosion-resistant 304-grade stainless steel, with full metal knobs and a matching stainless steel oven door handle
Gas cooktop comes equipped with 6 sealed Italian-made burners
20,000 BTU burner (x1)
15,000 BTU burners (x1)
12,000 BTU burner (x1)
9,000 BTU burners (x2)
6,000 BTU burner (x1)
Cooktop is equipped with auto re-ignition for added safety
4.5 cubic foot oven features a fan designed to distribute heat evenly around the food and eliminate cold spots in the oven cavity
Our ranges are designed with safety in mind, featuring an oven cavity cooling ventilation system for safe heat dissipation, overheating protection, and a cool-to-touch oven handle to prevent burns
Large oven window and oven light combines for easy monitoring of food and better overall visibility
Removable backsplash allows this range to be used in either freestanding or slide-in installation
Freestanding gas range stove with oven comes configured standard for natural gas, a conversion kit is required to use this range with Liquid Propane, available here
1-year limited parts and labor warranty means you can trust our single oven gas range to perform worry-free for years to come
Electrical requirements: 120V/60Hz, 8.73A, 3-Prong Plug
ETL Listed: ETL Listed products demonstrate compliance to North American safety standards published by relevant NRTLs (Nationally Recognized Testing Laboratories)
Specifications
Manuals & Diagrams
Buy It Now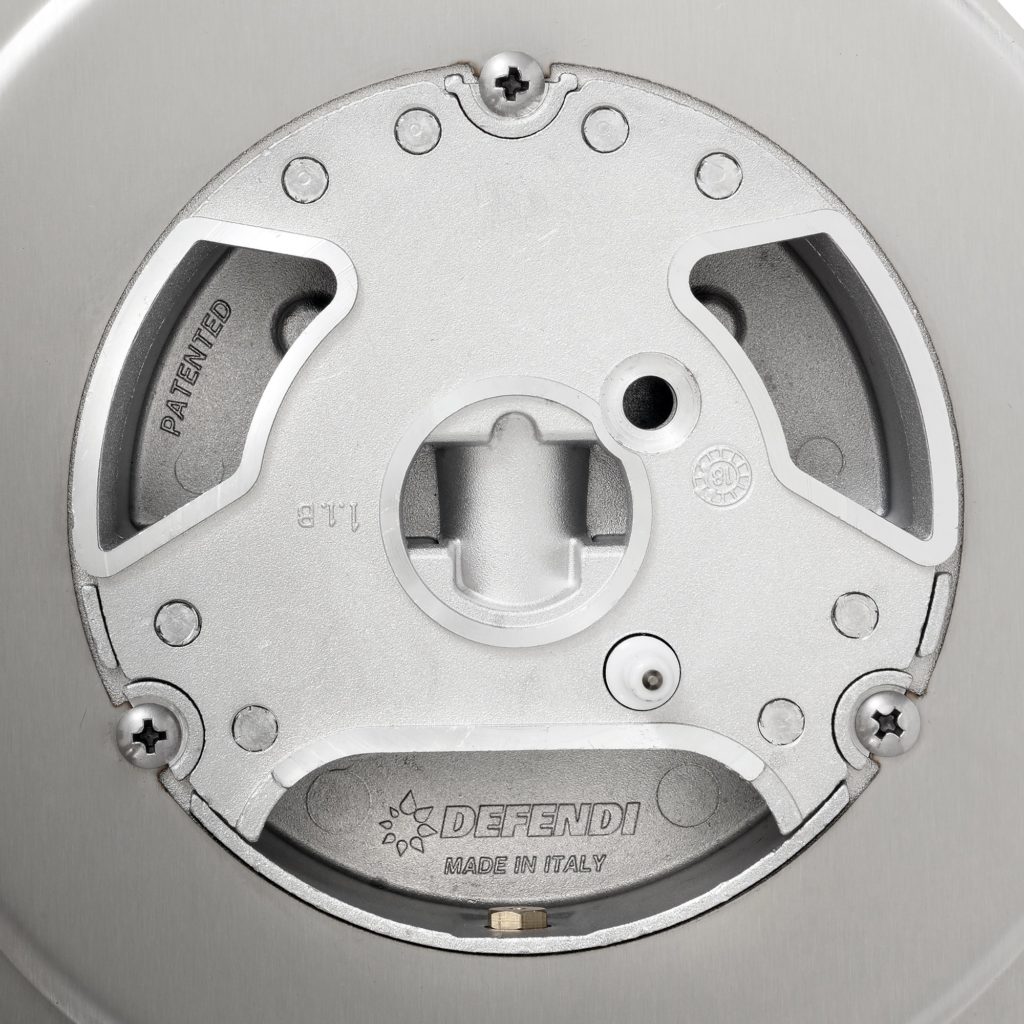 6 high performing, sealed Italian-made gas burners for all your cooking needs: a 20,000 BTU Burner, 15,000 BTU Burner, 12,000 BTU Burner, two 9,000 BTU Burners and a 6,000 BTU Burner. Cook from a high heat to speed up preparation with a fast boil or sear, or adjust to gentler heat to melt chocolate or simmer delicate sauces like an expert.
Rapid Convection for fast cooking and even heating using a powerful fan to circulate air for perfect and evenly cooked meals. Six special oven functions ensures you have the juiciest roasts to the sweetest desserts: Bake, Convection Bake, Broil, Convection Roast, Convection Defrost, Convection Dehydrate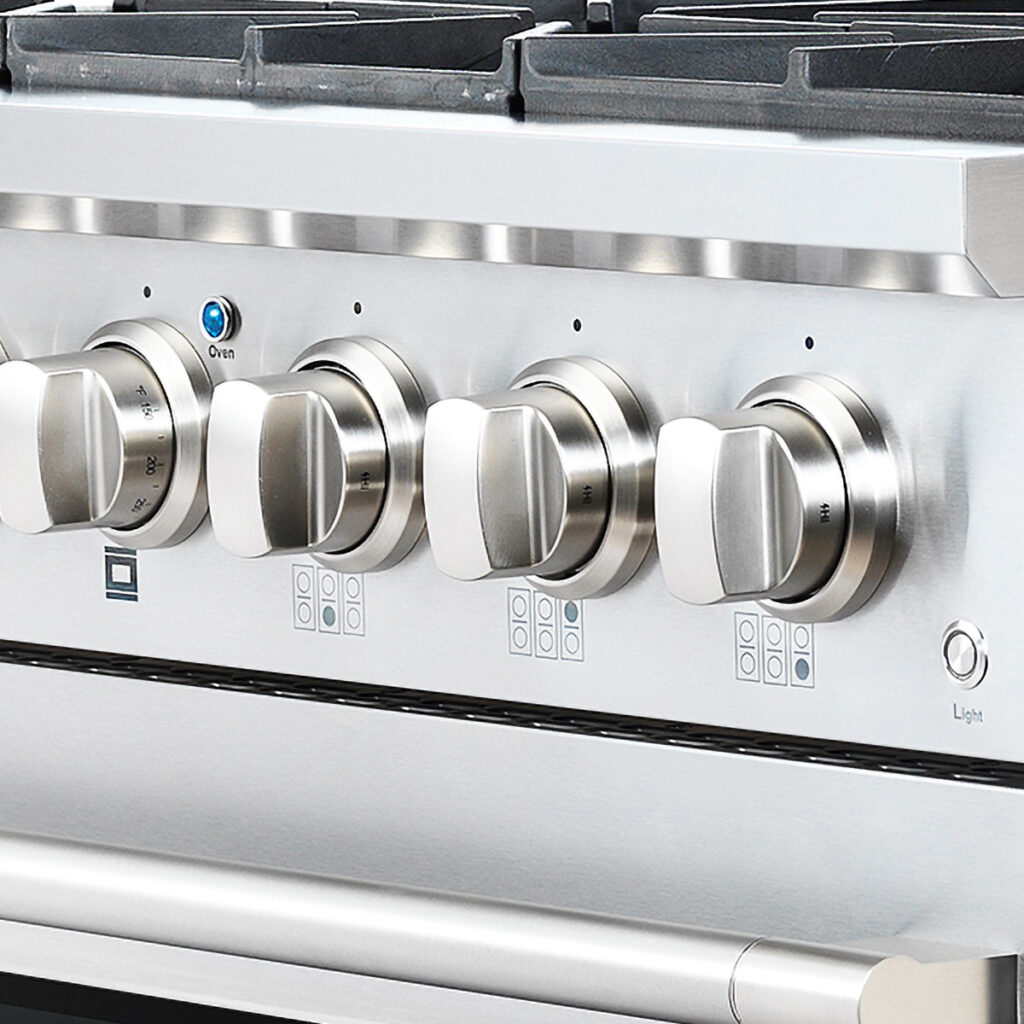 Our gas range is constructed of premium 304-grade stainless steel that easily wipes clean. Heavy-duty metal knobs and a matching stainless steel door handle complete the professional look.
Color handle and knob kits available in black and rose gold.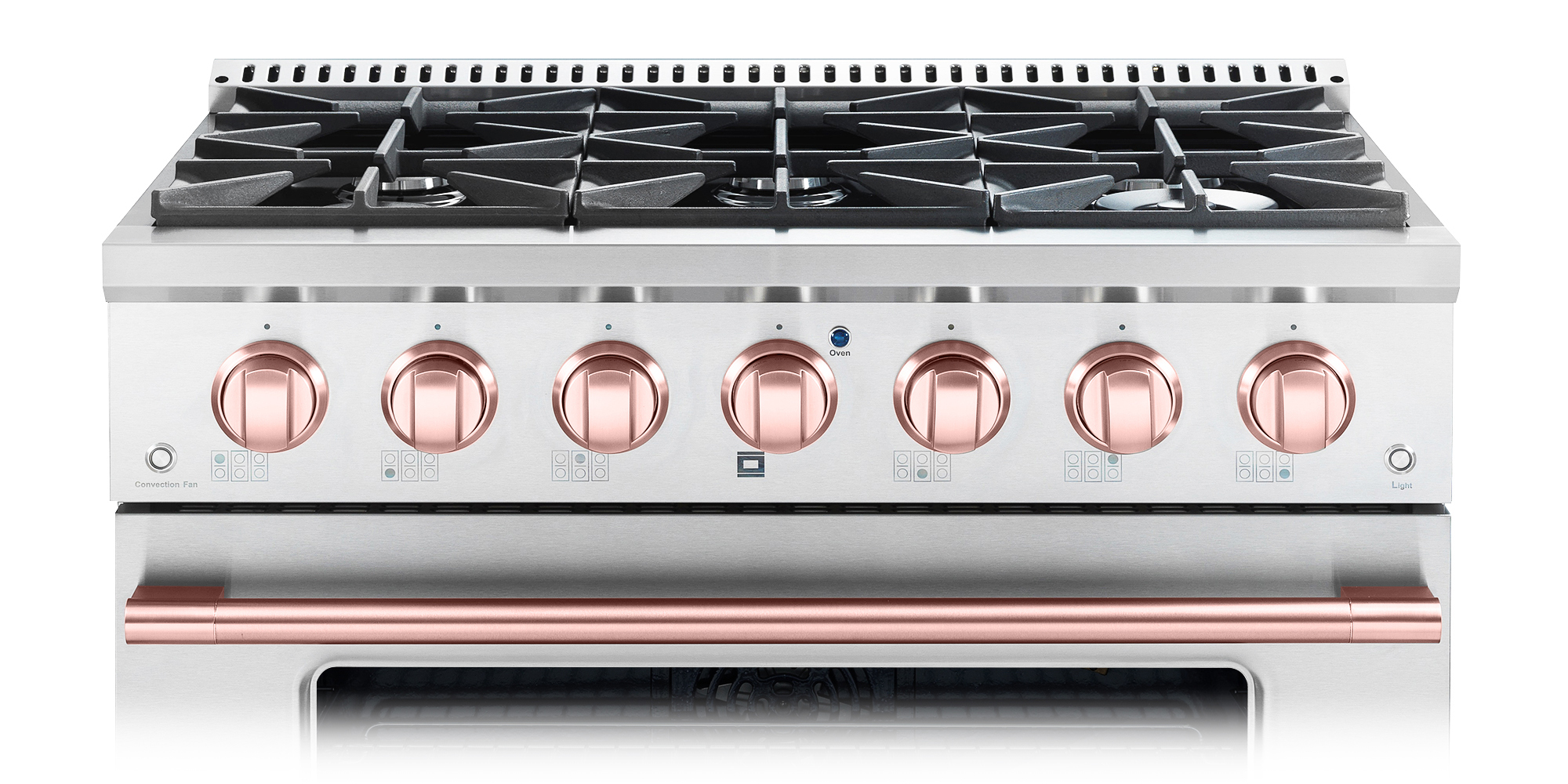 4.7 out of 5 stars (based on 6 reviews)
Professional style range at a reasonable price
Our 36" 6 burner range was installed today and we are in the conditioning process now. It looks great. The burner grates are very professional with an even sliding surface from on burner to another like restaurant commercial stoves. Everything is working well. We'll see later how it performs. It's filling big shoes – our previous stove was a professional Garland, the same model as Julia Child had.
Brand New
Just received our oven and it relaces a 17 year old stainless steel commercial type oven. The oven on this new one is just FANTASTIC. Two shelves, easy to clean inside and the cooktop as well. Hope it lasts as long as my last one.
Best oven.
I love to cook and bake. So when we were building our house, the kitchen was going to be my home, my safe space and where life will happen with our new little family. We bought the oven April 2023 and used it very little over the heat (no ac unit) but we've been using it a lot more. It's the best thing ever. It cooks evenly through, is SUPER hot and powerful. It cuts the cooking down on items because it gets so warm in the oven. I seriously love the product. I don't have any regrets at all.
Good Quality
Replaced an 2 yr old electric LG stove that came with the house and quit working, unit was only 3 yrs old. Had plumber install gas line. Beautiful oven, still adjusting to temperature settings and how it bakes. Cook top is amazing. Only drawbacks: No indicator or chime to let you know when oven has preheated to your selected set temperature. Also, no clear line on knob to indicate what temp oven has been set at. The knobs are a bit hard to see temperature gauge lines, have to bend down and get real close to set desired temperature.
It looks great