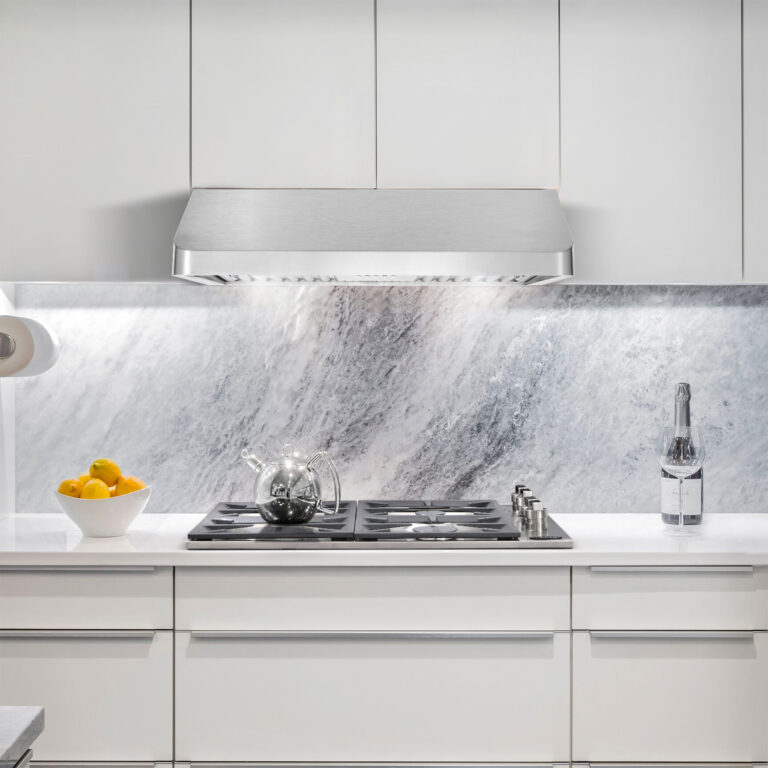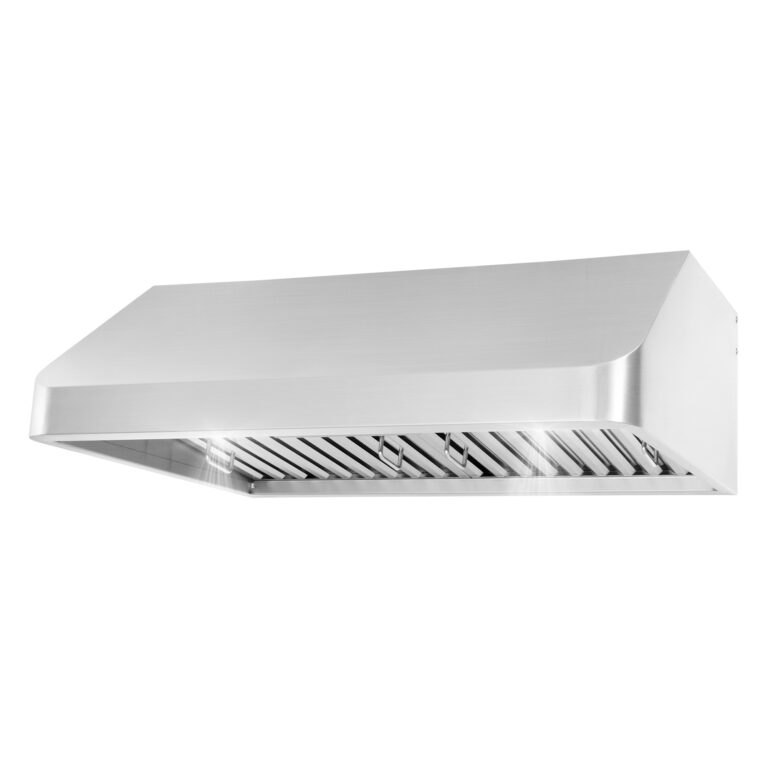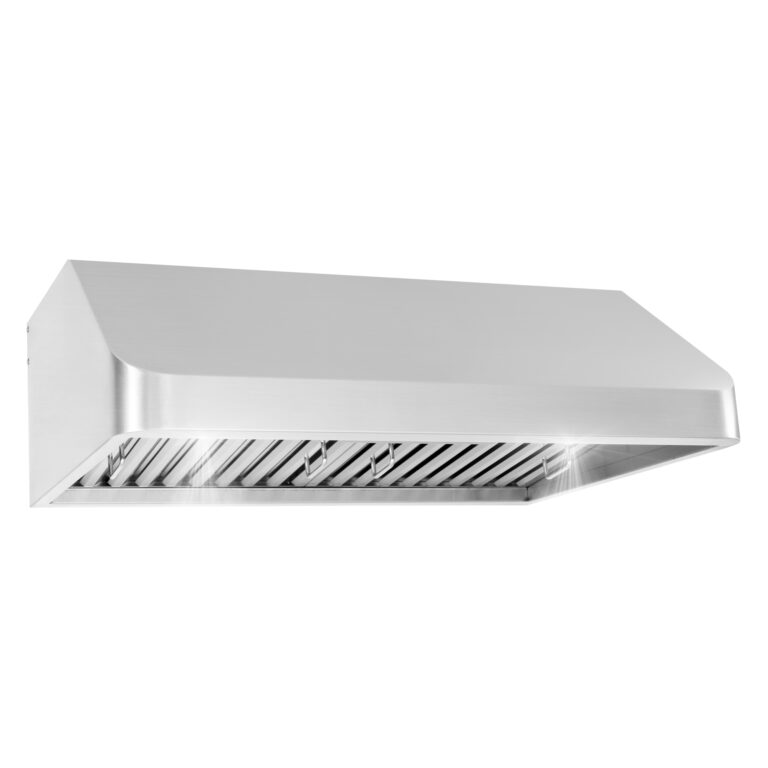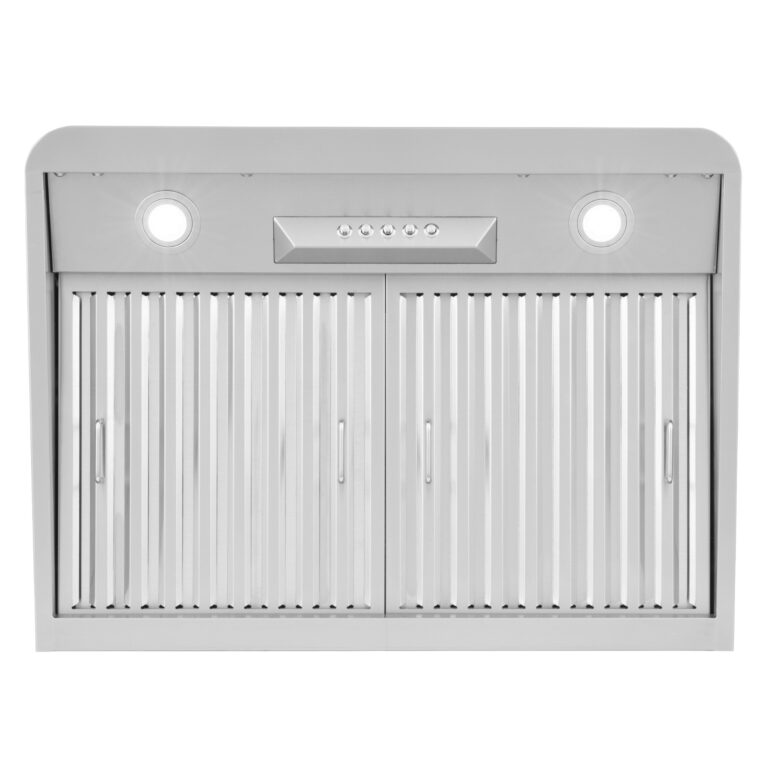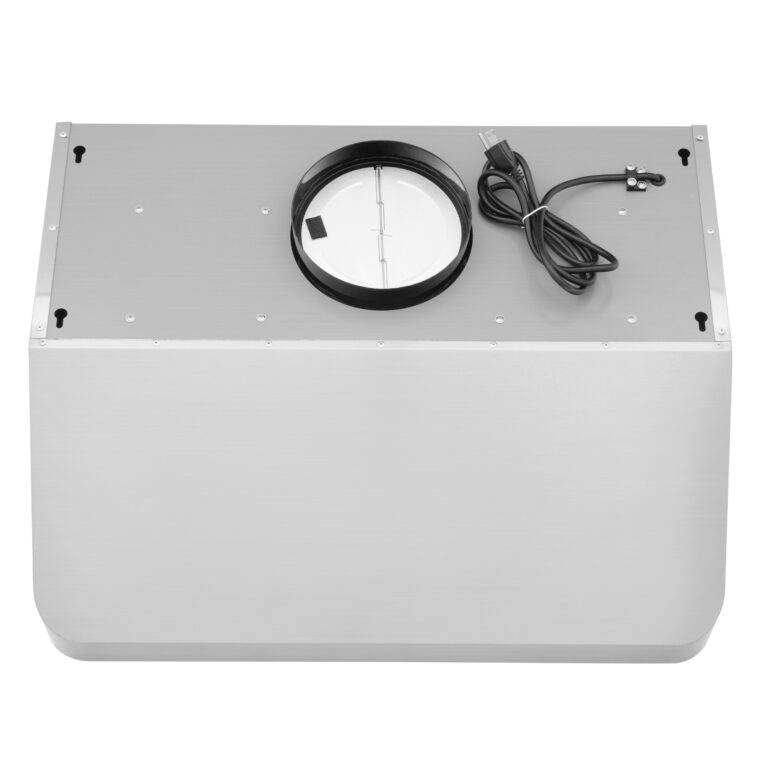 30" Under Cabinet Stainless Steel Range Hood with Push Button Controls
COS-QB75
Cosmo presents a modern professional under cabinet range hood that adds bold, distinct flair to your kitchen. This 30 inch range hood fits easily underneath an existing cabinet, and has a premium brushed stainless steel body that matches seamlessly with existing kitchen appliances for a modern upscale look. Our under cabinet range hood features high efficiency motors to move 500 CFM of air through our premium Cosmo ARC-FLOW® permanent filters to trap grease, oil and odors. Our permanent stainless steel filters save you money on replacements year after year, and are dishwasher safe for added convenience. Our newly designed under cabinet range hood is both energy efficient and quiet, utilizing high lumen LED lighting for year round cost savings. A 3-prong, 120V power cord is included for easy installation. Trust Cosmo for your next kitchen appliance for premium quality at factory-direct prices.
Features
Specifications
Manuals & Diagrams
Buy It Now
Videos
Features
Ultra-quiet design with under cabinet range hood mounting
Sleek stainless steel push button controls operate the fan and lights and integrate seamlessly with the range hood design
3 fan speeds to adjust to your needs, choose from high, medium and low suction to suit a variety of foods and cooking
500 CFM airflow capacity provides efficient performance
Noise level as low as 40 dB on lowest fan speed with rigid ducting (sold separately) under optimal conditions; range hood comes with flexible ducting for convenient installation
Energy efficient LED lights illuminate your cooktop surface for added visibility
Cosmo ARC-FLOW permanent filters are constructed of high quality stainless steel to effectively capture grease and cooking odors and keep the air clean. These filters are dishwasher-safe and extremely durable- no need to replace the filters, simply drop them in the dishwasher for easy maintenance
7.5 in. round duct exhaust opening, back draft damper is included to prevent air coming back inside
Under cabinet range hood is made of premium 430 grade stainless steel, 18-Gauge thickness
3-prong 120-Volt power cord included for easy hookup
Convertible to ductless operation with Carbon Filter Kit Part CFK5-JL (sold separately)
ETL Listed: ETL Listed products demonstrate compliance to North American safety standards published by relevant NRTLs (Nationally Recognized Testing Laboratories)
Specifications
Manuals & Diagrams
Buy It Now
Videos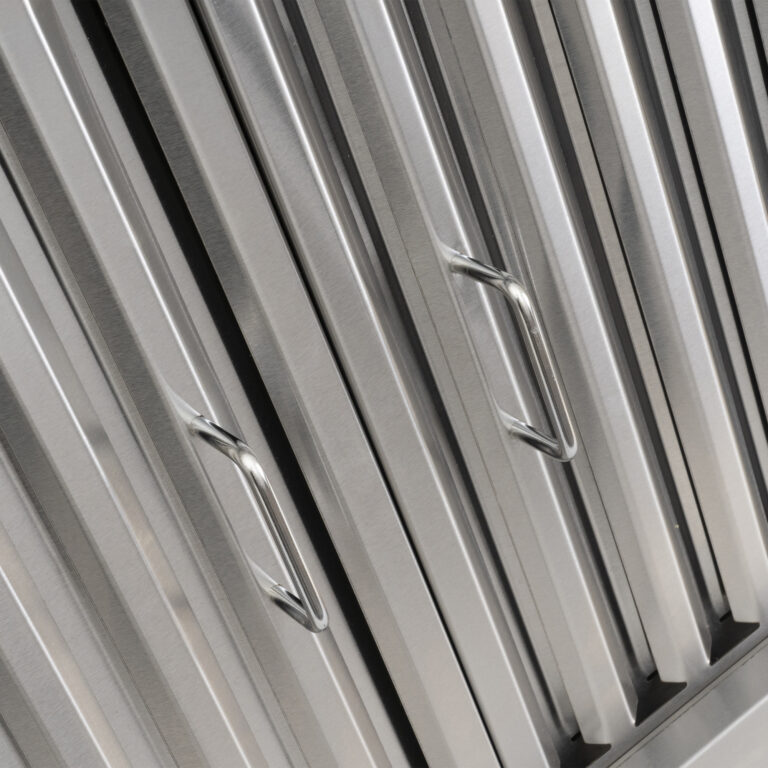 500 CFM of suction rids the kitchen of harmful pollutants, odors and grease with ease. ARC-FLOW permanent filters are constructed of high quality stainless steel to effectively capture grease and cooking odors and keep the air clean.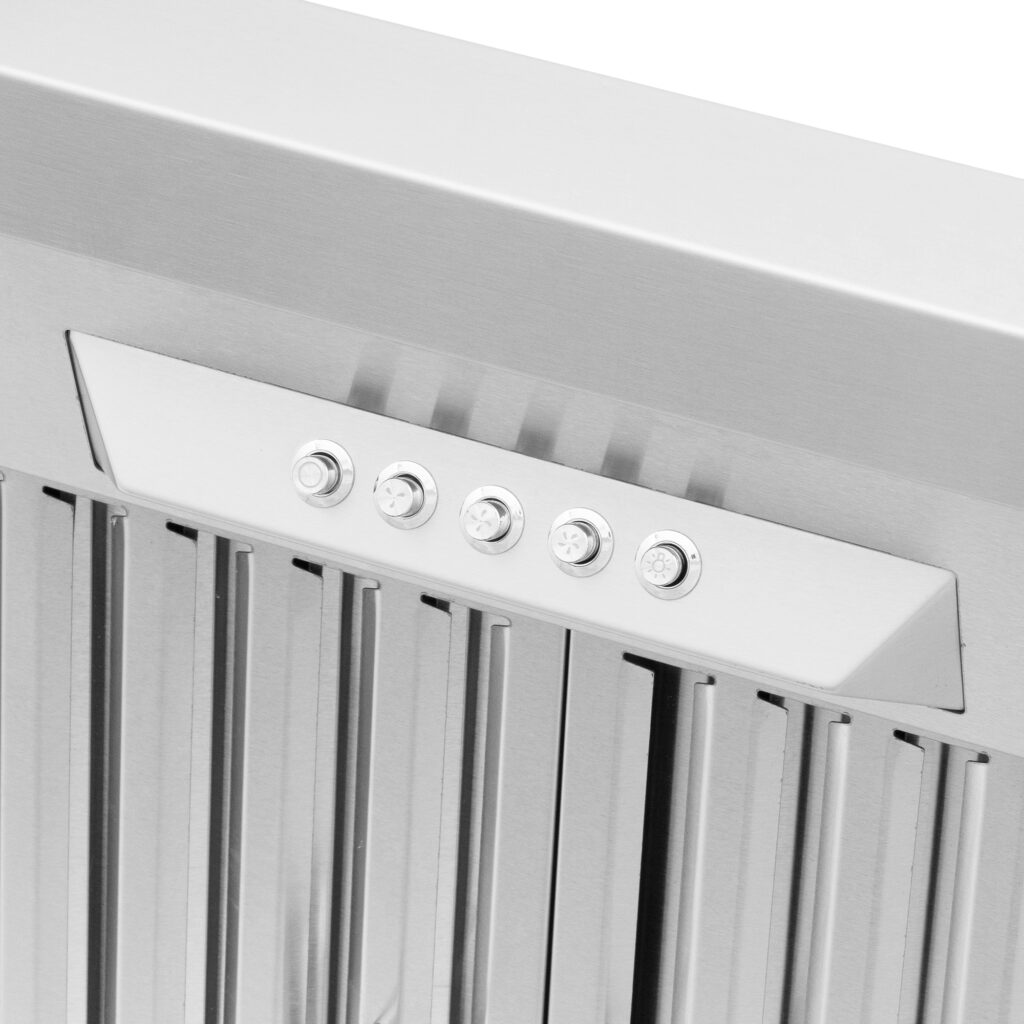 With the push button controls, it's as easy as the push of a button to control the power, lights and 3 fan speeds of this brushed stainless steel range hood by Cosmo. Choose from high, medium and low suction to suit a variety of foods and cooking.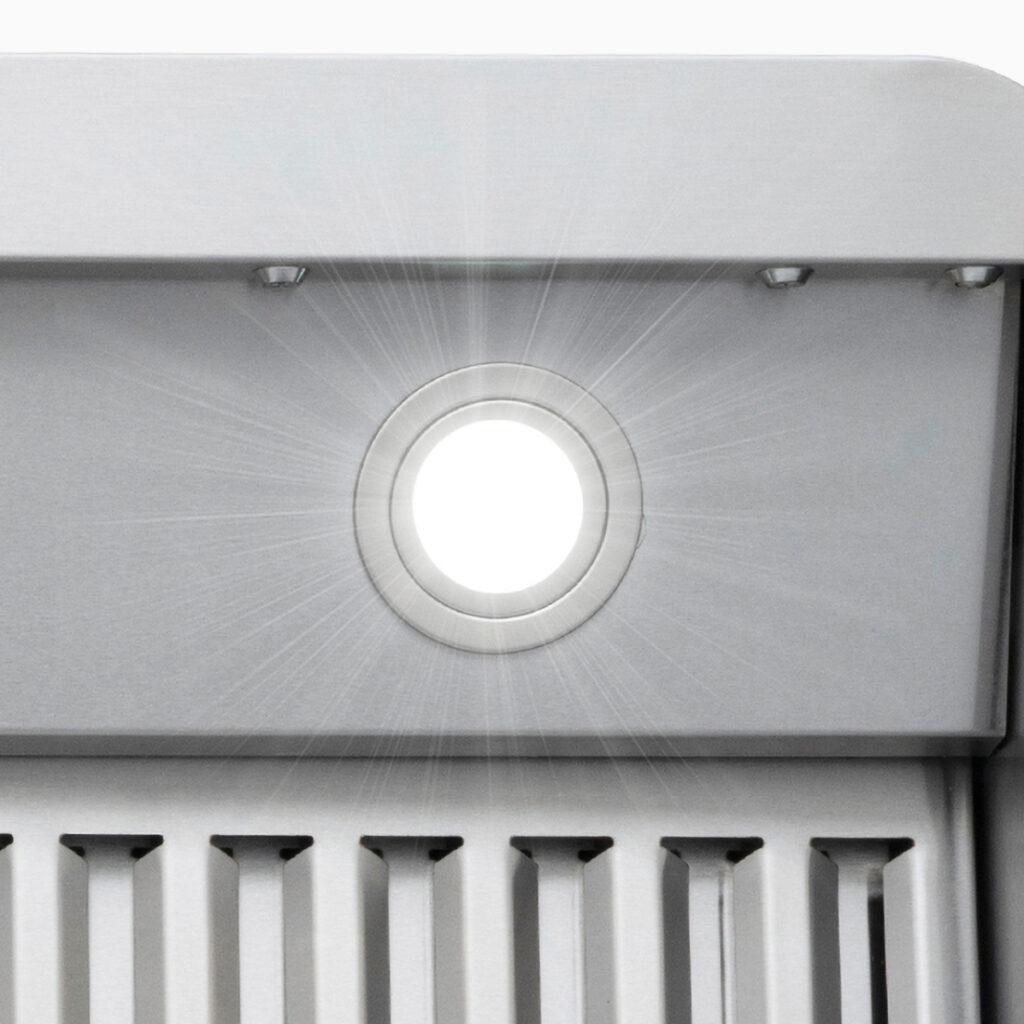 Energy Efficient Lighting
With two front 1.5W LED lights, you can rest assured this is an energy saving solution to lighting up your cooking area with style. Mounted directly below the range hood, cook and see better in the dark.
5 out of 5 stars (based on 7 reviews)
Hood Fan
We've had the hood fan for three weeks and love it. The fan on low is very powerful for most of our cooking. We would purchase it again.
So far I'm loving this unit
Bought this to replace an over the range microwave that just blew smoke up into the ceiling. Installation wasn't too bad, but it'd definitely a 2 person job. The toughness of the job depends on how your cabinets are laid out and how much of a relief there is on the bottom, but that's not a fault of the unit itself. A couple things to note since I missed them in the product description (either due to not reading closely enough or my supplier didn't list them):
1) The exhaust is 8″ in diameter. It's oversized for a 500CFM unit and could have been 6″ with no downsides. A 8″ to 6″ reducer made finding a hole saw for the wall much easier. I was able to get a 6 3/8″ hole saw and 6″ flexible ducting and it worked perfectly.
2) The LED color tone is very daylight blue. A softer white would probably fit the majority of under cabinet lighting people are installing. You can find stick on filters to warm it up a bit.
Other than that it's exactly what I expected. I was able to sear some steaks indoors without setting off the fire alarm so I'm a happy camper. Highly recommend for anybody who enjoys cooking and has the ability to vent the exhaust outside. Time will tell if the filters do a good job of removing the grease, but anything is better than the terrible mesh filters on most over range microwaves.
Excellent value, looks great!
We picked this hood for the price point, power, and aesthetics. I love that it goes perfectly well with the other stainless steel appliances in the kitchen. It is so effective at removing cooking odors that you can't even tell that anything is cooking — and we do a LOT of cooking.
Extremely nice hood!!
We purchased this from Lowes which was a good experience. I picked this hood because of the air flow and low noise level. I set it up to vent vertically straight out the roof. It has three speeds and can't imagine ever having to use the 2nd or 3rd speed! On low it draws all smoke and smell from the kitchen. It looks great, very professional cooking. No more smoke alarms going off when my wife creates her incredible cooking!!
Elegant and sleek!
The Cosmo-qb75 range hood is an elegant and sleek range hood that is affordable and high quality. This hood is eye candy for your kitchen and I have received many compliments on this hood. The hood is quiet and the lighting is a beautiful LED cool white color. I am enjoying using this hood and find that I'm able to cook with a clear, bright view. Great hood, Cosmo. Lovely product.