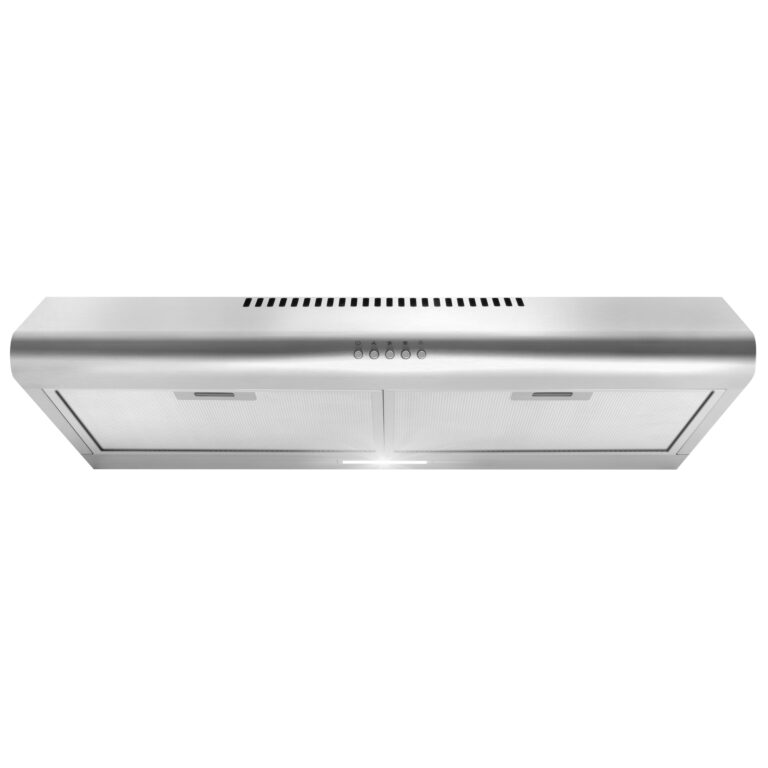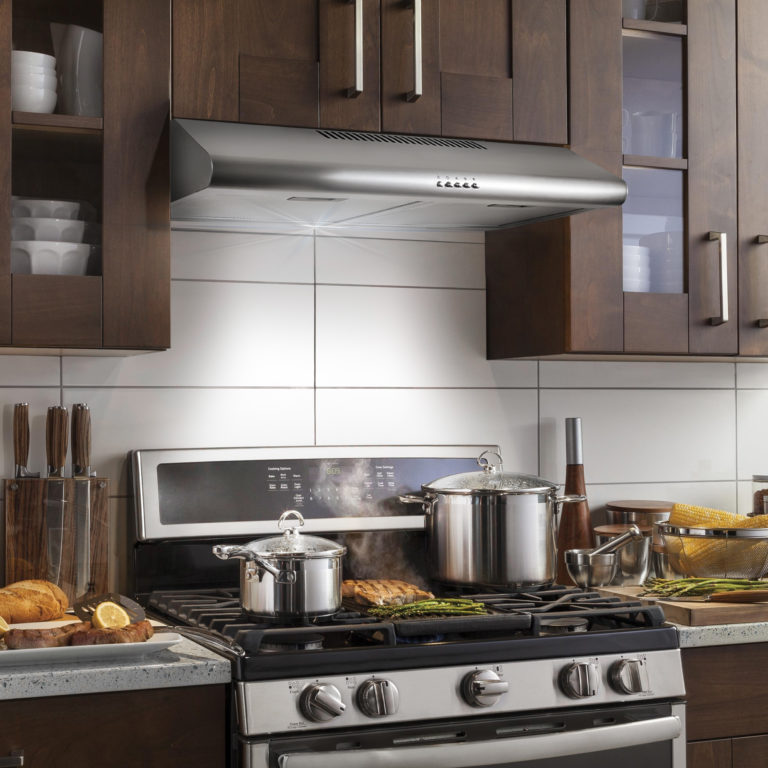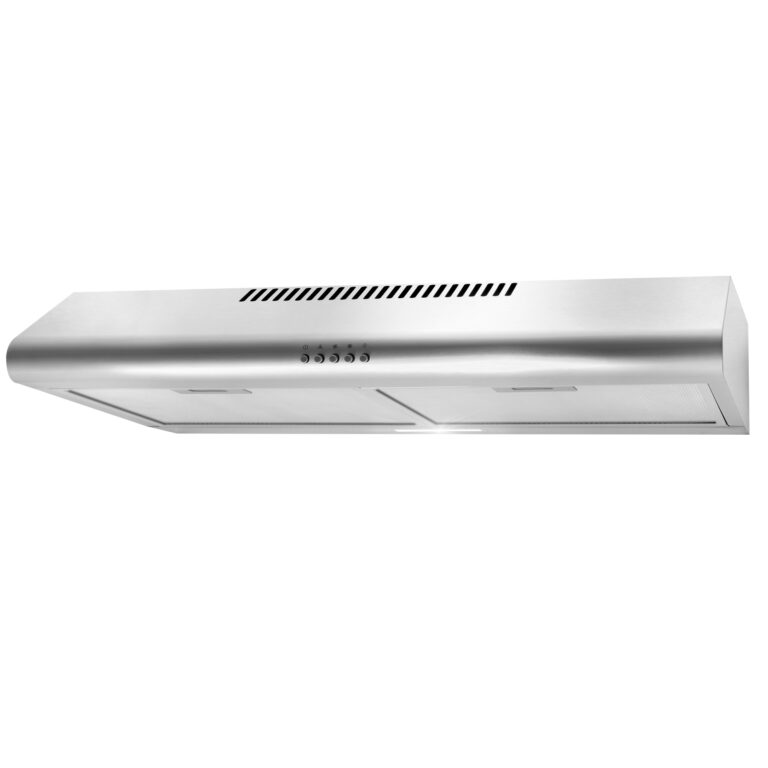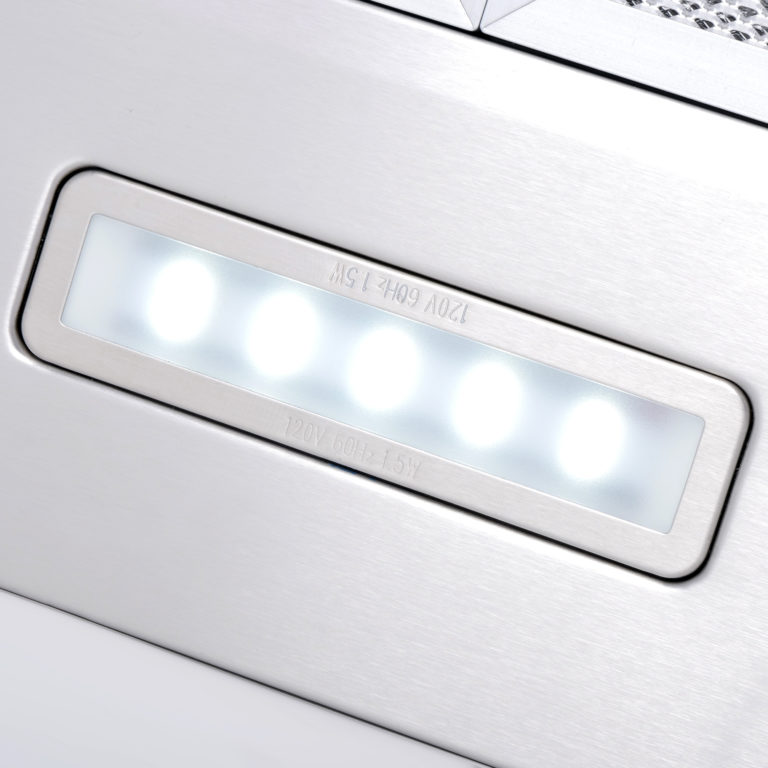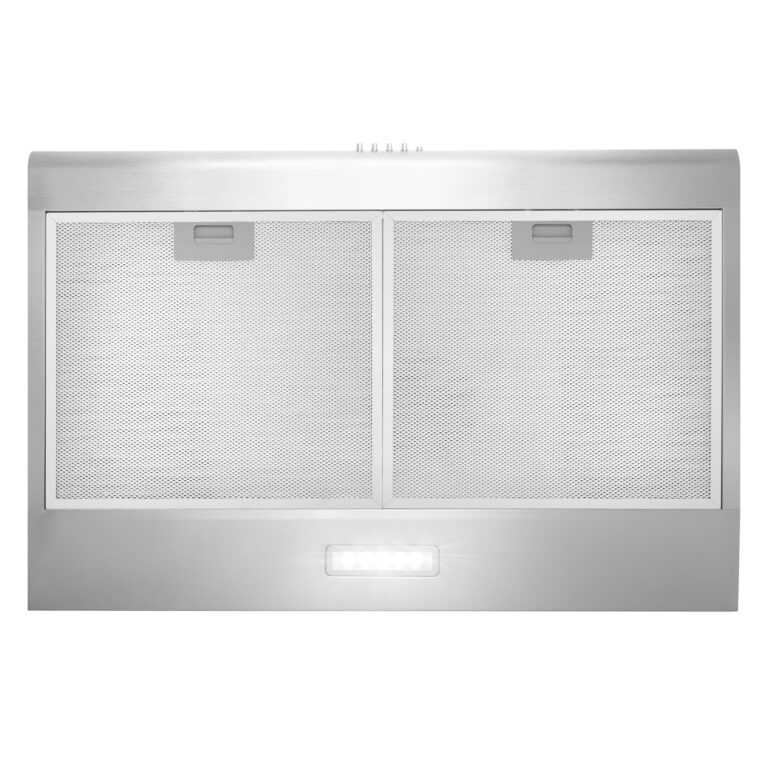 30" Under Cabinet Stainless Steel Range Hood with Removable Aluminum Mesh Filters
COS-5MU30
Cosmo's COS-5MU30 under cabinet range hood has modern styling for any kitchen décor. Featured in brushed stainless steel, efficient suction removes smells and odors with ease. Two aluminum mesh filters collect unwanted grease and oil from the air. Easy push button controls make using our hood easy. Built-in LED lighting ensures visibility for cooking at all times of the day.
Features
Specifications
Manuals & Diagrams
Buy It Now
Videos
Features
Slim profile saves space, great for condos and apartments
Suitable for top or back venting
3-Speed motor to choose from high, medium and low suction to suit a verity of foods and cooking
Noise level as low as 50 dB on lowest fan speed with rigid ducting (sold separately) under optimal conditions
Constructed with premium 430-grade stainless steel, 20-gauge thickness
Easy 5-button push control panel for lights, power and fan speed
(2) 3-Watt LED energy efficient lights for year-round cost savings
Durable reusable aluminum mesh filters included to trap grease and oil
5 in. round duct exhaust opening
Convertible to Ductless operation with Carbon Filter Kit CFK4 (sold separately)
ETL Listed: ETL Listed products demonstrate compliance to North American safety standards published by relevant NRTLs (Nationally Recognized Testing Laboratories)
Specifications
Manuals & Diagrams
Buy It Now
Videos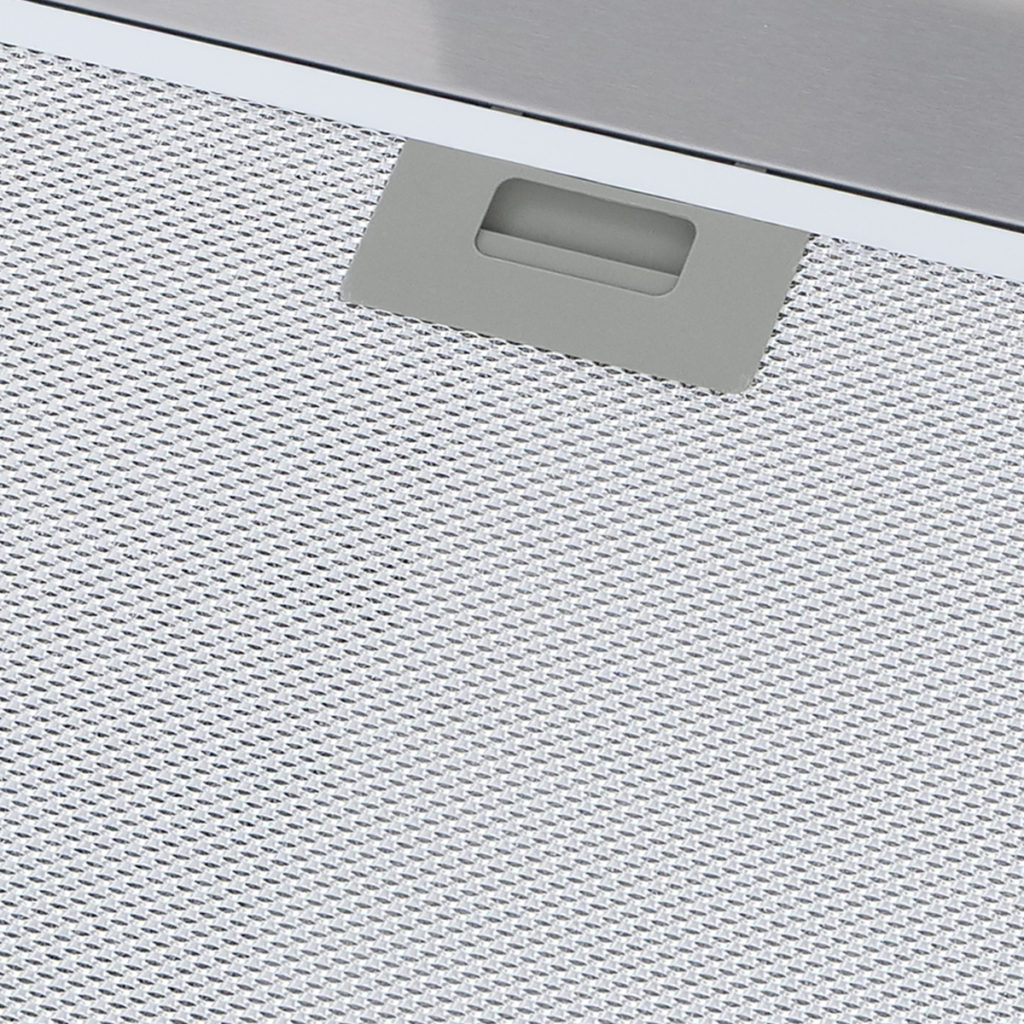 Efficient airflow rids the kitchen of harmful pollutants with ease. Clear-Flow Multi-layer Aluminum Mesh Filters capture unwanted cooking grease and oil in the air and away from your family. These filters can be hand washed and cleaned to increase the time between replacements.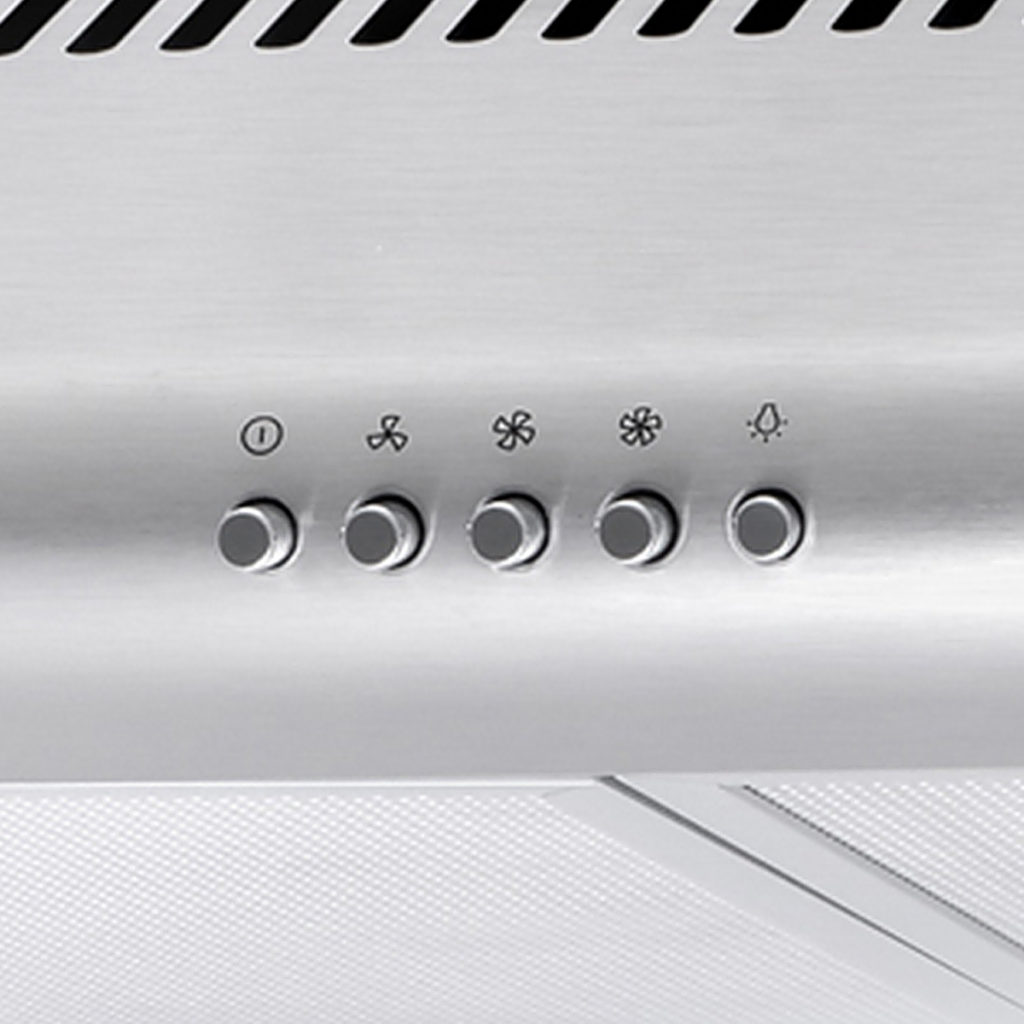 With the push button controls, it's as easy as the push of a button to control the power, lights and 3 fan speeds of this brushed stainless steel range hood by Cosmo. Choose from high, medium and low suction to suit a variety of foods and cooking.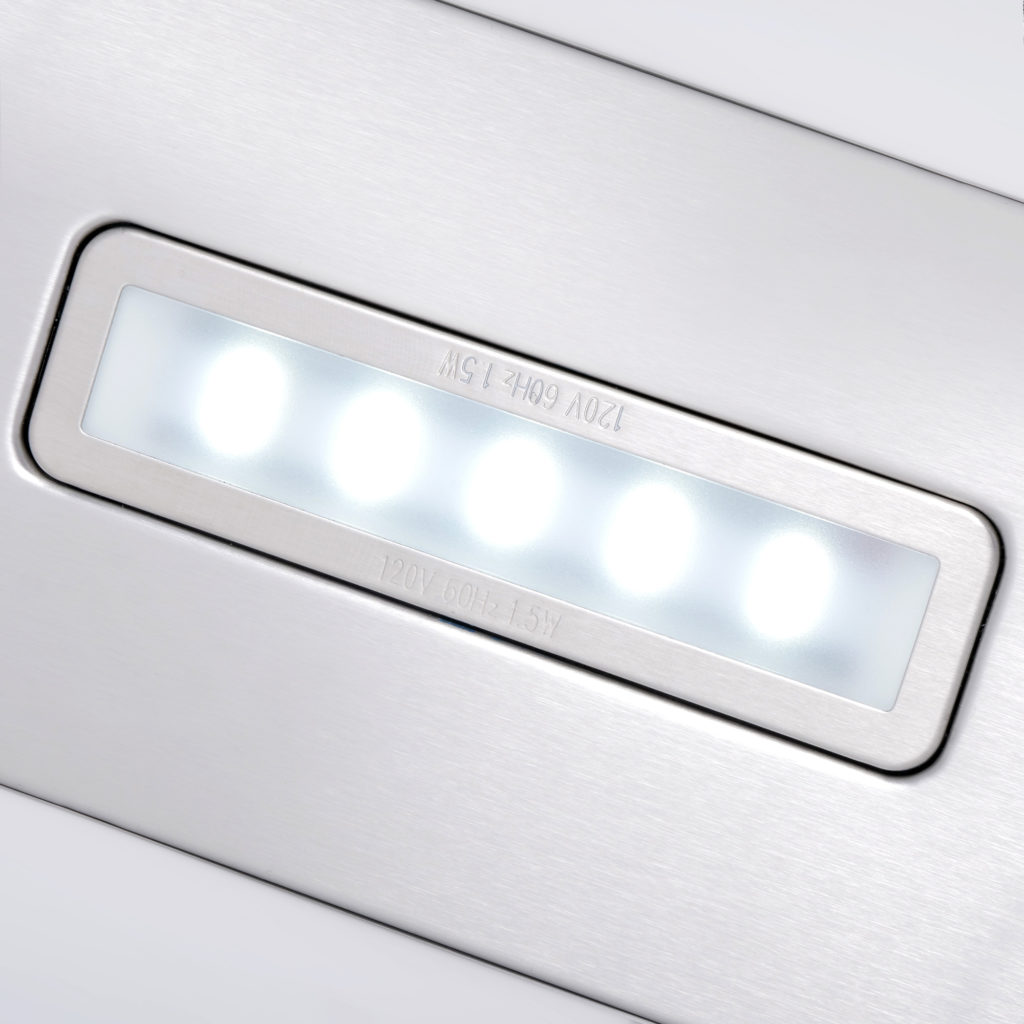 Energy Efficient Lighting
With the included two back 3W LED lights, you can rest assured this is an energy saving solution to lighting up your cooking area with style. Mounted directly below the range hood, cook and see better in the dark.
4.9 out of 5 stars (based on 35 reviews)
Cosmo range hood
easy to install and works great. I love the sleek design and setting choices. it's so quiet
Excellent range hood in the market
It's a great looking and works perfectly. Low noise and good suction. Installation kit comes with the layout and it helps. Good product overall.
Effective Product, Recommend to All Apartment Dwellers
My five-star rating is based on four factors: effectiveness, ease of installation, appearance, and cost.
The COS-5MU30 Model exceeds my expectations regarding product effectiveness: the power of the built-in ventilation system is top-tier. The hood is not very heavy, so it can be installed quickly with a helping hand, reading the manual, and/or watching a video. The hood looks sleek; I especially like the way the steel filters cover the entire bottom surface. Finally, I think the cost is fair and affordable for the service the hood will provide (especially for those living in an apartment and don't want the smoke detector going off on you every time you cook).
The hood is not perfect, of course. The fan is a little loud when put at its highest setting (but it is also reassuring to know that the fan is working properly, and I doubt you'll need the fan at its highest setting often). The stainless steel filter should be handled with care as the metal might scratch your skin (just wear gloves when installing or cleaning). Finally, (this is more of a personal preference) the button design on this model is not my favorite as they protrude out (but it's not a deal breaker).
Great Range ventilator
This is an amazing ventilator for it's price range. One thing I feel could be made better is the small light on the vent which is very small and dim to be honest, but a great product.
Works as stated.
Compliments our stainless steel appliances. Works great, definitely worth the purchase.