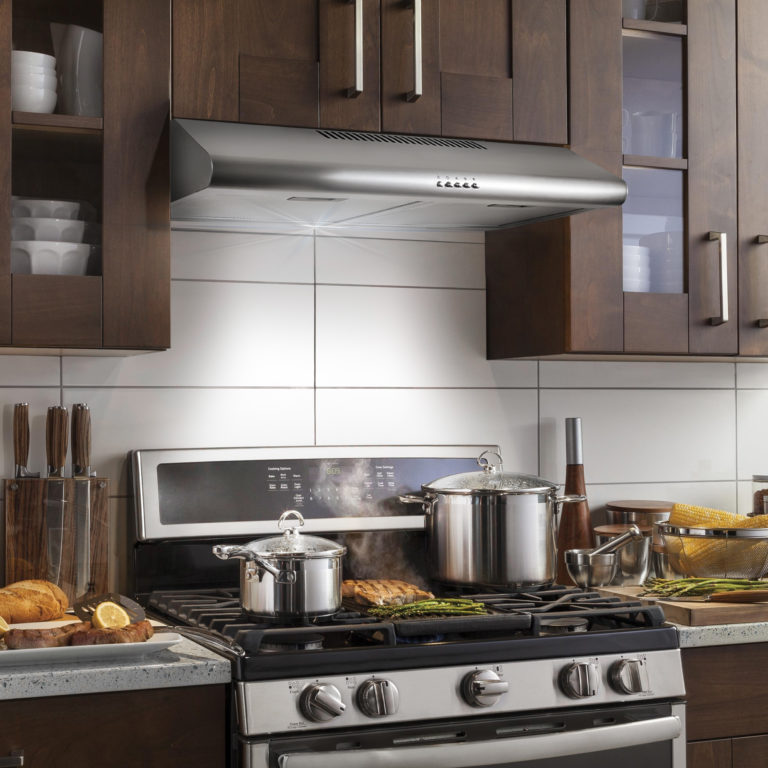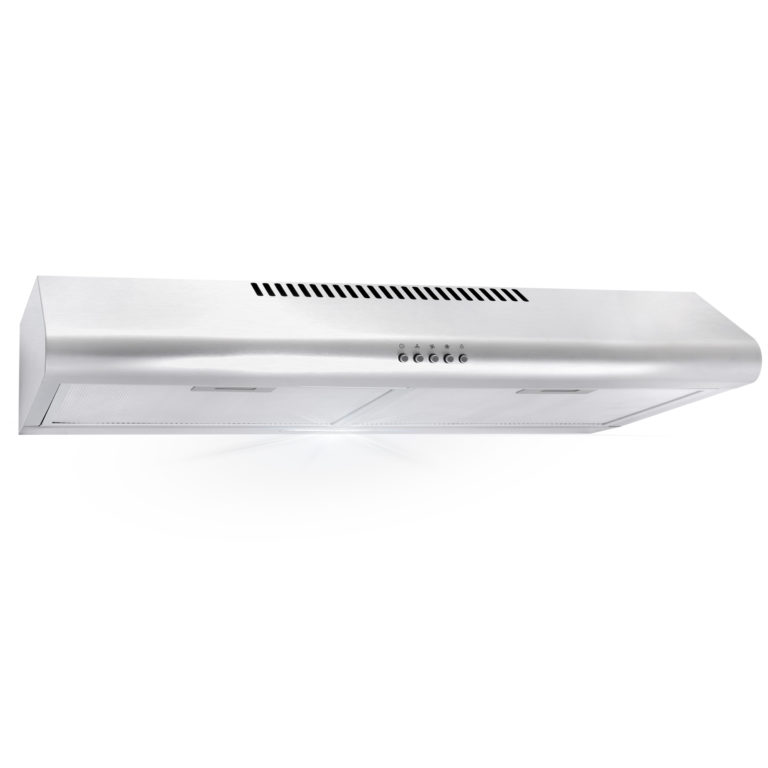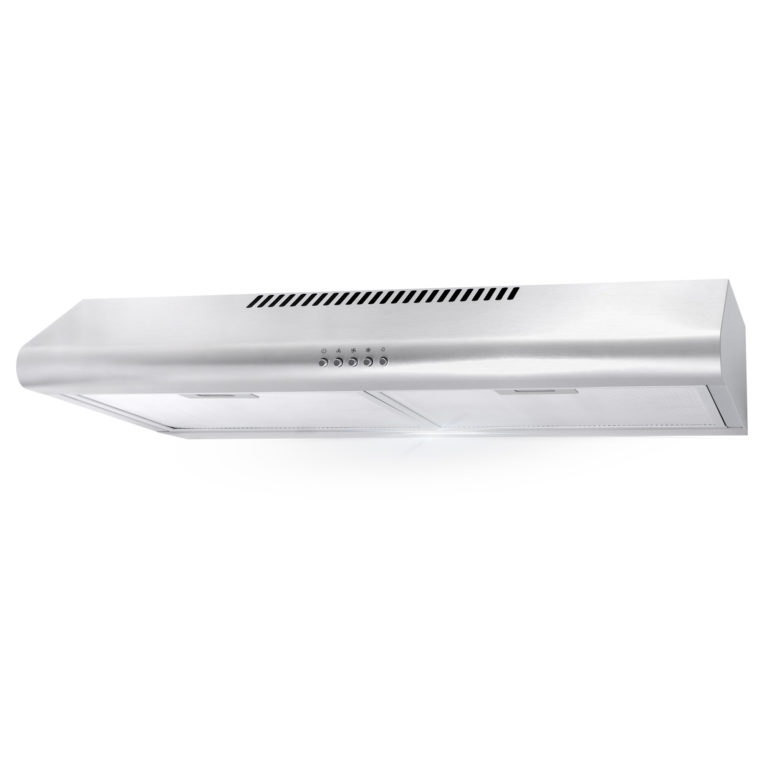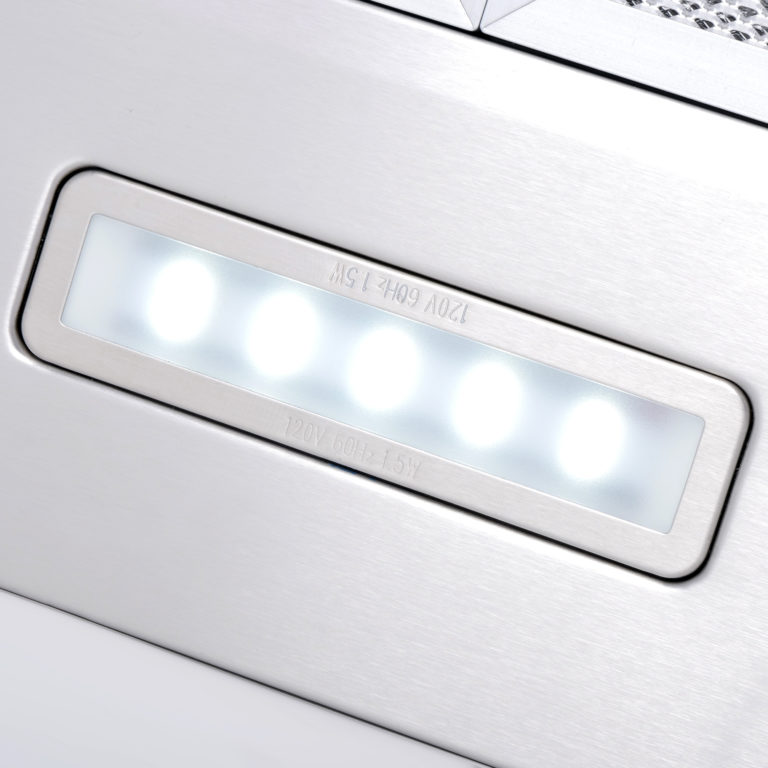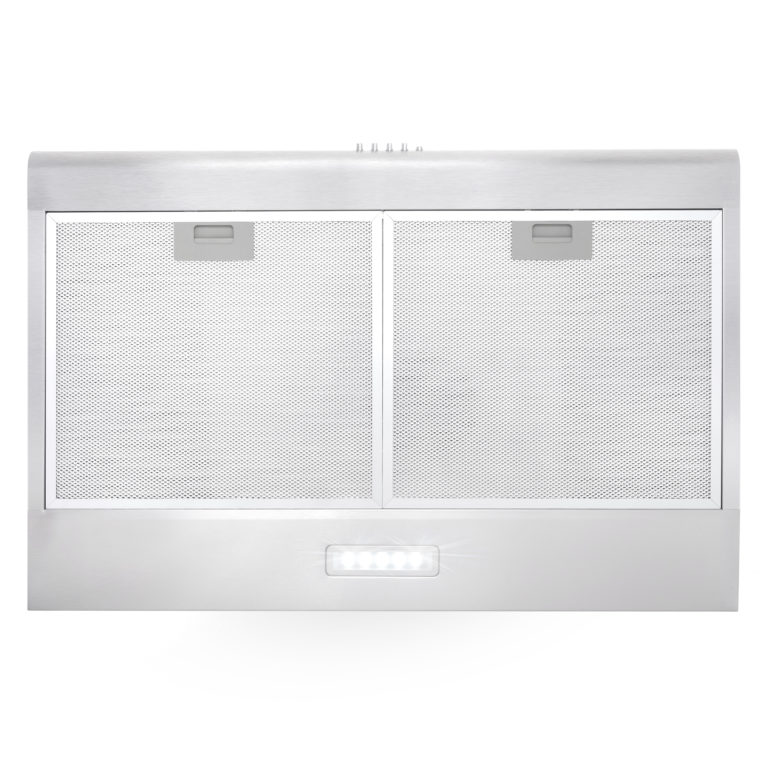 30" Under Cabinet Stainless Steel Range Hood with Removable Aluminum Mesh Filters
COS-5MU30
Cosmo's COS-5MU30 under cabinet range hood has modern styling for any kitchen décor. Featured in brushed stainless steel, efficient suction removes smells and odors with ease. Two aluminum mesh filters collect unwanted grease and oil from the air. Easy push button controls make using our hood easy. Built-in LED lighting ensures visibility for cooking at all times of the day.
Features
Slim profile saves space, great for condos and apartments
Suitable for top or back venting

3-Speed motor to choose from high, medium and low suction to suit a verity of foods and cooking

Maximum noise level of 56dB allows the range hood to be non-obtrusive

Constructed with premium 430-grade stainless steel, 20-gauge thickness
Easy 5-button push control panel for lights, power and fan speed
(2) 3-Watt LED energy efficient lights for year-round cost savings
Durable reusable aluminum mesh filters included to trap grease and oil
5 in. round duct exhaust opening
Convertible to Ductless operation with Carbon Filter Kit CFK4 (sold separately)
Specifications
| | | | |
| --- | --- | --- | --- |
| Dimensions (HxWxD): 5.5″ x 29.75″ x 19.75″ | Air Movement: Efficient | Control Type: Push Button Controls | Lighting Type: LED |
| Cutout Dimension: 30″ | Filter Type Aluminum Mesh Filters | Material: Stainless Steel | Voltage: 120V/60Hz |
| Installation: Under Cabinet | Vent Style: Ducted/Ductless | Noise Level: 56 dB Max | Ductless Filter Kit: CFK4 |
Manuals & Diagrams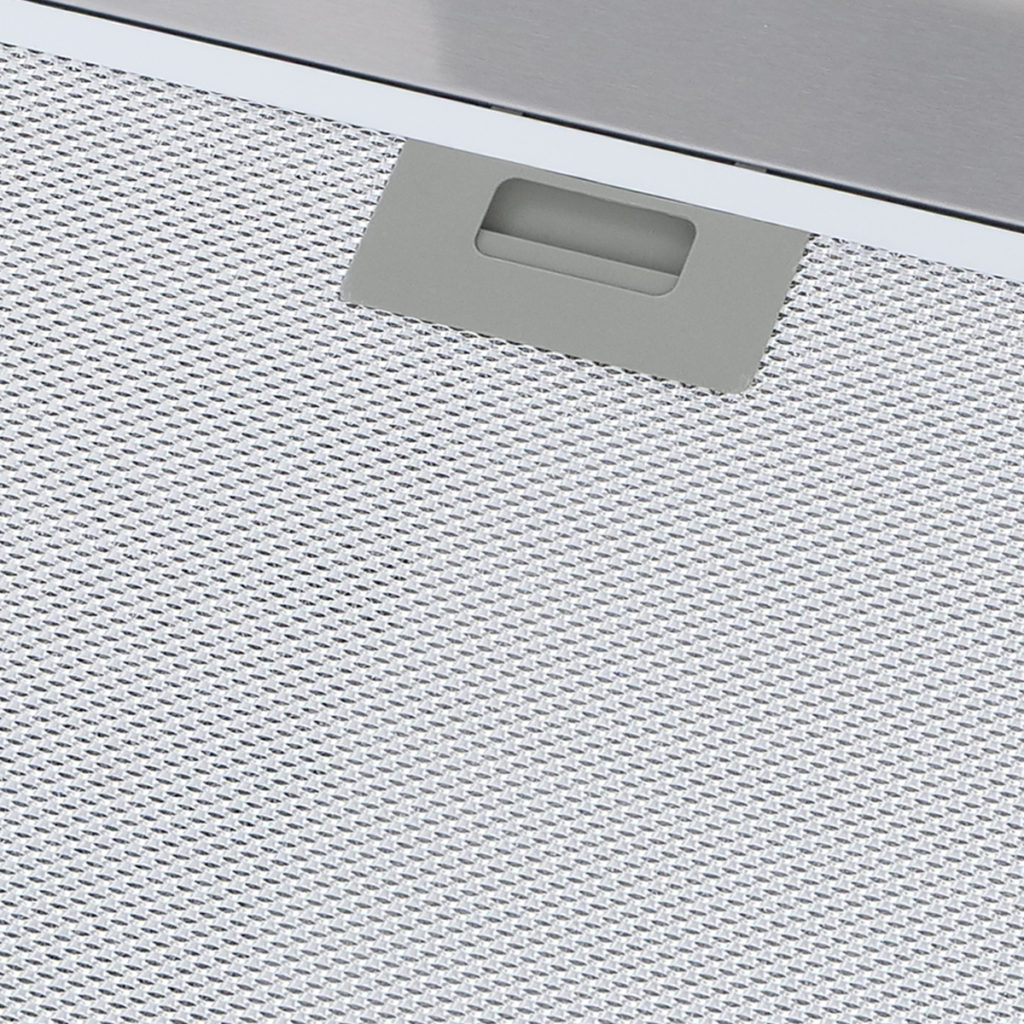 Efficient airflow rids the kitchen of harmful pollutants with ease. Clear-Flow Multi-layer Aluminum Mesh Filters capture unwanted cooking grease and oil in the air and away from your family. These filters can be hand washed and cleaned to increase the time between replacements.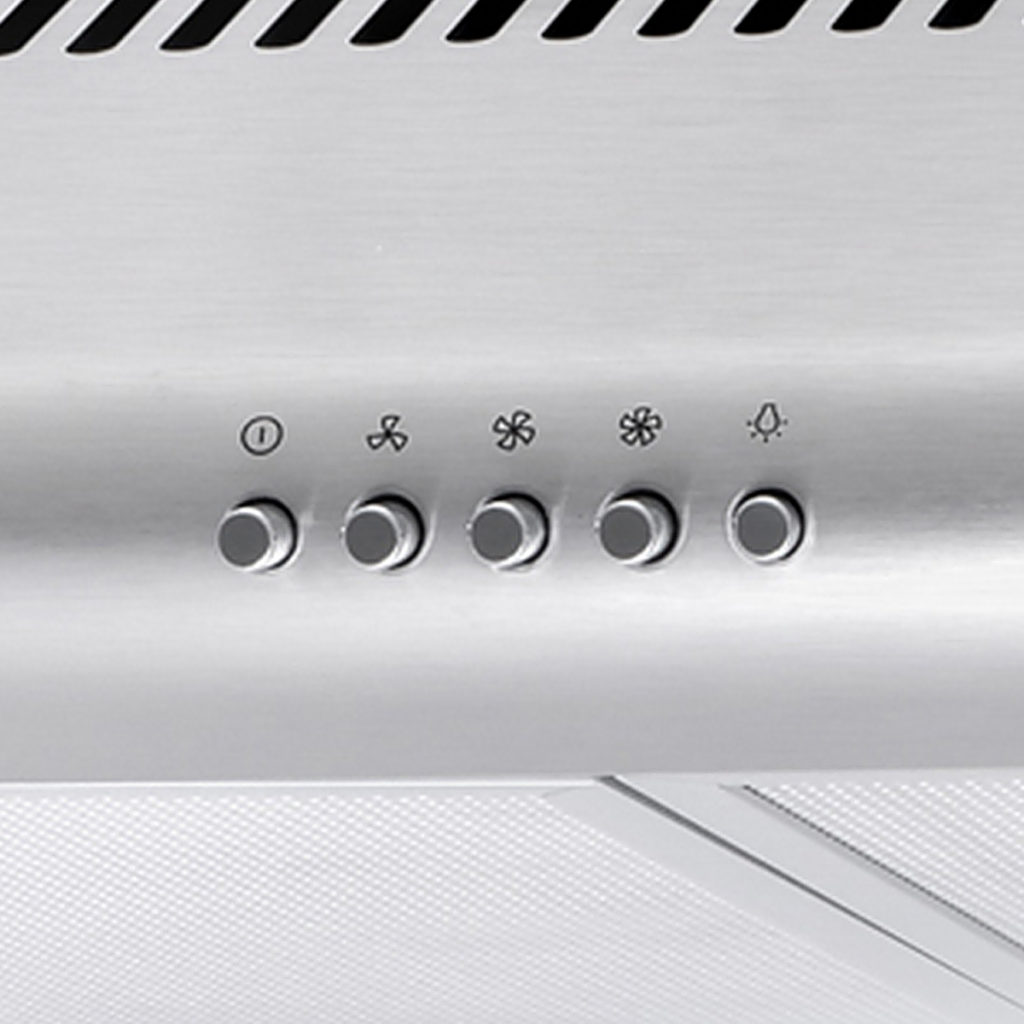 With the push button controls, it's as easy as the push of a button to control the power, lights and 3 fan speeds of this brushed stainless steel range hood by Cosmo. Choose from high, medium and low suction to suit a variety of foods and cooking.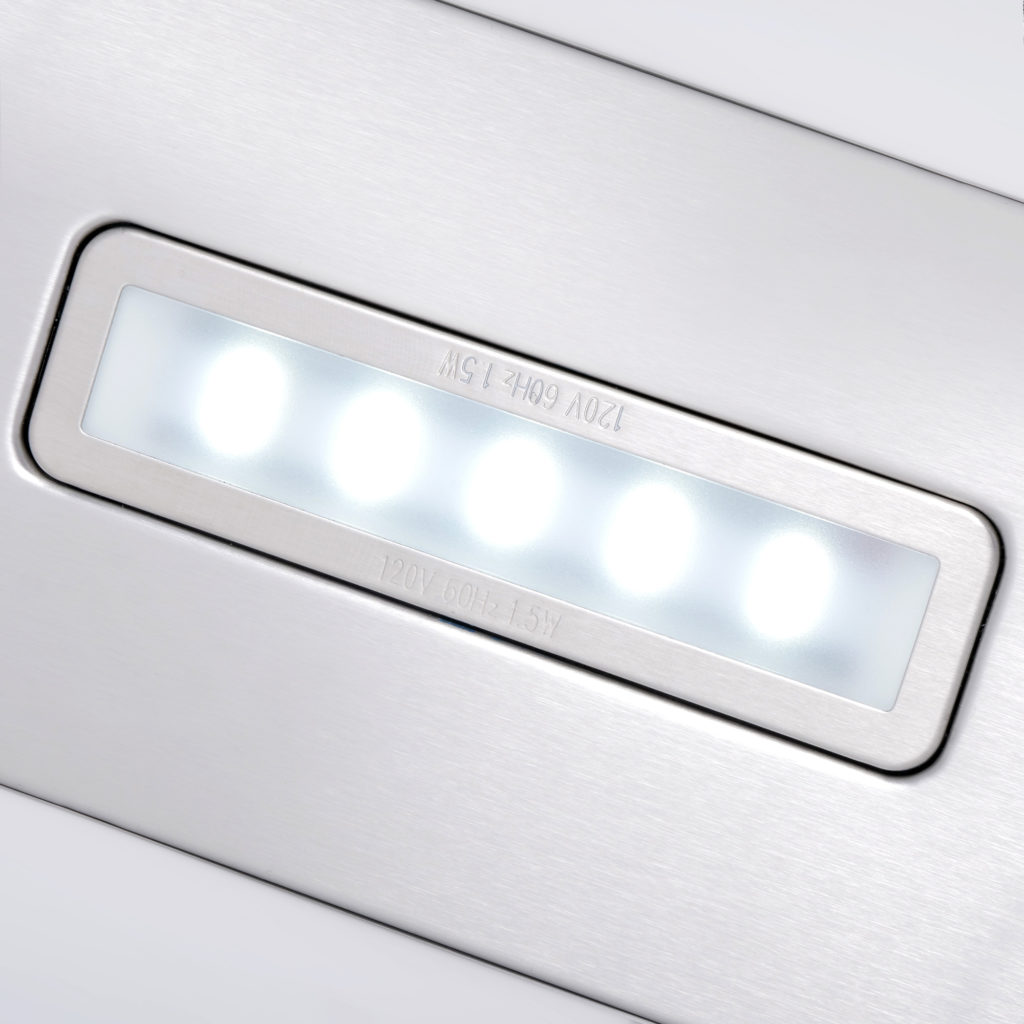 Energy Efficient Lighting
With the included two back 3W LED lights, you can rest assured this is an energy saving solution to lighting up your cooking area with style. Mounted directly below the range hood, cook and see better in the dark.
Hover over each icon for more information!
Tap each icon for more information!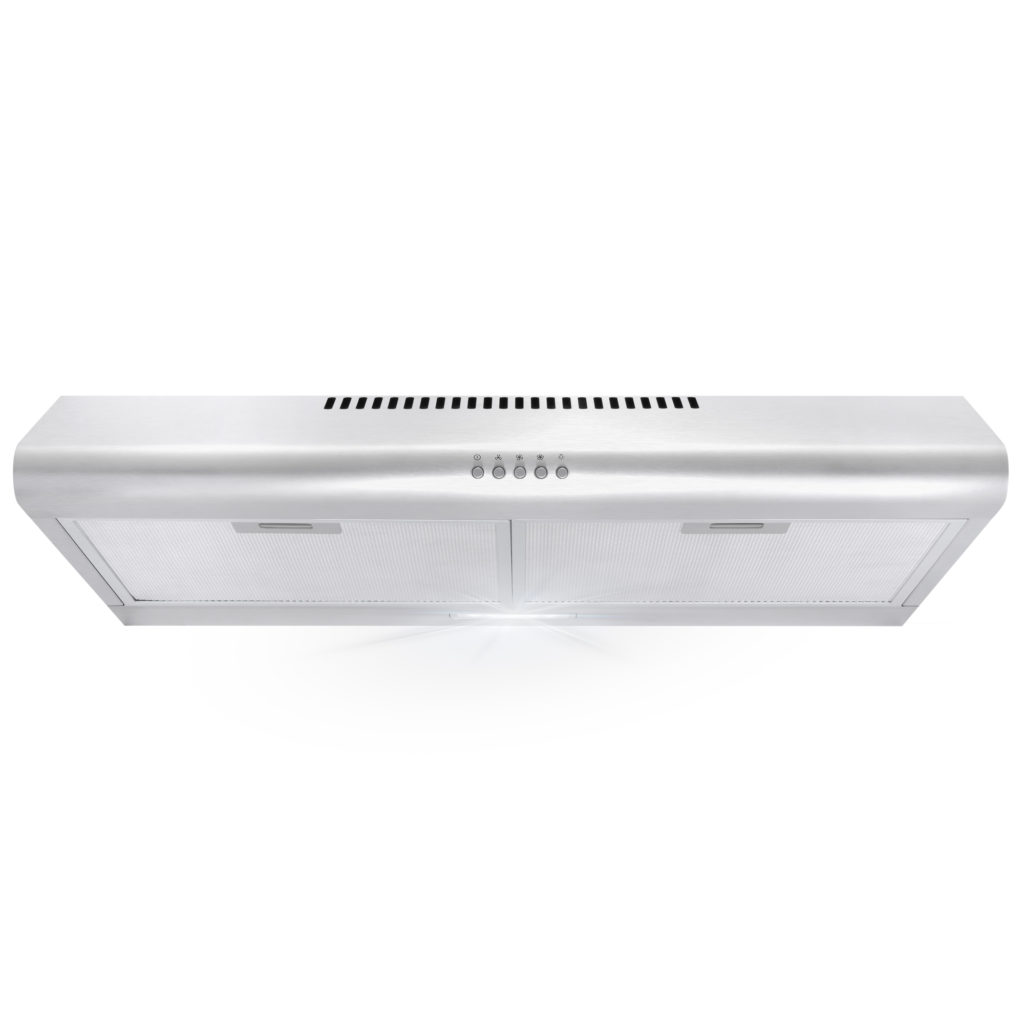 Overall Rating
4.7 out of 5 stars (based on 7 reviews)
Great value, elegant design and quiet performance
The unit is very well made using the perfect gauge stainless sheet that is not too thick and heavy or too thin and weak. The electric spot welds were numerous, strong, and clean looking, while the fan unit can be mounted 2 ways; recirculating or vented exhaust. The controls are straightforward and provide 3 buttons for fan speed, 1 light button, and an Off button for a total of 5. Finally, the creative use and decorative placement of the 2 main grease filters not only did their job but also looked great and served to tell the user when it is time to clean or replace the unit.
After reading the instructions I was impressed with how well Cosmo provides the installer with a well-written Install, Use, and Care Guide, the kit also included a full-size paper template so you can accurately mark the placement screws without worrying if you placed or spaced them apart correctly.
The only negative comment about this 5MU30 unit is the size and placement of the LED lighting unit. For starters, it does provide adequate lighting, but its position towards the very back of the exhaust vent leaves less than adequate lighting when cooking with the 2 front spots of a typical 4 burner cooktop. Note how grainy the 1st picture is compared to the lighting provided by the added and bigger LED lighting panel this user installed towards the front of the vent appliance.
In essence, this tough but fair customer is one happy camper, this product is an excellent value and a good buy. The Cosmo 30 inch 5MU30 gives you a clean and elegantly designed exhaust vent, ample lighting for well-lit kitchens, quiet but strong fan, installation hardware, a full-size template, and well-written guides. All this at a price that is well within reach at a little over $100, a definite strong contender for those on a budget who want to look chic but not skimp on performance.
As expected!
It looks very sleek and fits nice. I had an older range and wanted to upgrade to stainless steel. Works well!
Easy install
I purchased this hood to replace an older hood. My wife was extremely pleased with the sleek appearance and she liked the push buttons. We both appreciate the LED lighting – it really lights up our entire kitchen space. I was hoping to hardwire this into our existing power supply, but using the power cord was easy enough for me. With that being said – I have experience with appliance installation, but if you know how to drill a hole, you can make it work!
Incredible product- Must have in kitchen
I have been using COSMO 5MU30 for the last four years. No issues so far. Long lasting if we maintain it properly. I recommend to buy this product. Important we need to install the carbon filter as well which doesn't come alone with the initial purchase.
clean lines
This stainless steel range hood is a beautiful addition to our kitchen. It has very clean lines, easy to clean, great lighting, quiet 3 speed fan & was easy to install. All of that and was very affordable.