With so many Americans preparing meals at home, the practice of cooking once and eating twice can extend your grocery budget while also making meal planning less stressful and more comforting.
Cook a base dish that can be enjoyed today and used for an entirely different meal tomorrow. It's a kitchen practice as simple as it sounds. For example, bake some fish for tonight's dinner, and   fish tacos for tomorrow's lunch.
Cooking meals that feed the entire family is essential and even better if they give you a jump on a second meal. Whether your love for cooking runs deep or is being newly discovered, keep the following in mind when planning to cook once and eat twice:
Stock up on staples. Before heading out to the store, develop a list of ingredients that can be used for multiple dishes. Canned goods, such as black beans and corn, are great items to store in the pantry and have on hand for a variety of favorite family recipes. Other basics like corn tortillas can be used in multiple ways, such as tacos, casseroles and even salads. Don't forget produce. To increase flavor and nutrition, adding produce is key in your planning. 
Make meat go further by using the same meat base two days in a row in two different ways in dishes like Mexican Lasagna and Tacos. 
Beef Tacos
Makes: 8 tacos
Ingredients
1 lb. 90% to 93% lean ground beef
1 Tablespoon chili powder
1 teaspoon ground cumin
3/4 teaspoon salt
1/2 teaspoon dried oregano
1/2 teaspoon garlic powder
1/4 teaspoon ground black pepper
1/2 cup tomato sauce
1/4 cup water
12 taco shells – either hard shells or small 6-inch soft flour tortillas will work
Optional Taco Toppings: shredded cheese shredded lettuce, chopped tomatoes, diced red onion, taco sauce, sour cream, guacamole, etc.
Instructions
Add the beef to a large skillet over medium-high heat. Break the meat apart with a wooden spoon. Add the chili powder, cumin, salt, oregano, garlic powder, and pepper to the meat. Stir well. Cook until the meat is cooked through, about 6-8 minutes, stirring occasionally.
Reduce the heat to medium. Add the tomato sauce and water. Stir to combine. Cook, stirring occasionally, for 7-8 minutes, until some of the liquid evaporates but the meat mixture is still a little saucy. Remove from the heat.
Warm the taco shells according to their package directions.
Fill the taco shells with 2 heaping tablespoons of taco meat. Top with desired taco toppings: shredded cheese, shredded lettuce, chopped tomatoes, diced red onion, taco sauce, sour cream, guacamole, etc.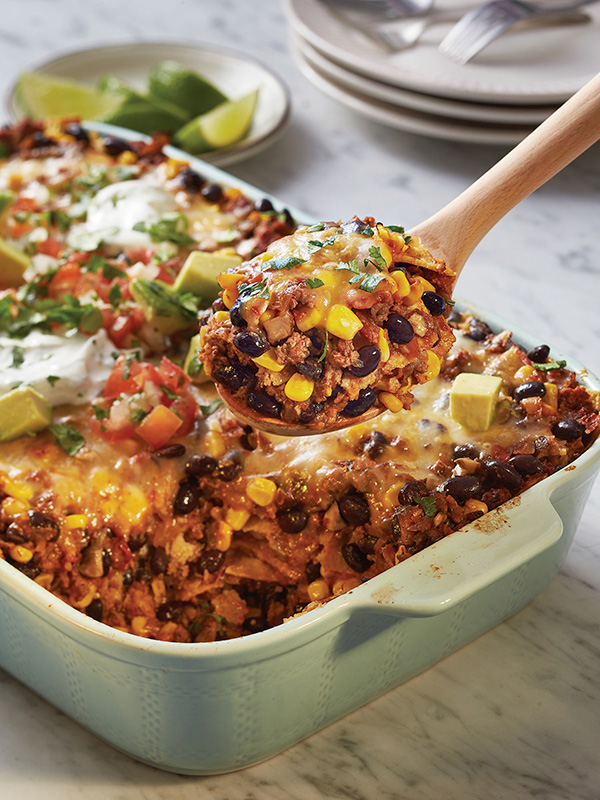 Mexican Lasagna
Servings: 6-8
Ingredients
1 pound ground beef 
1 package taco seasoning
1 (10 ounce) can of tomatoes with green chilies, undrained
1 (15 ounce) can refried beans
1 (15 ounce) can corn, drained and rinsed
1 (15 ounce) can black  beans, drained and rinsed
2 cups shredded cheddar cheese
1/2 cup sour cream
10-12 corn tortillas
Instructions
Preheat oven to 350
In a large skillet brown ground beef, drain off any grease.
Add the undrained tomatoes with green chilies and package of taco seasoning, stir mixture until seasoning has dissolved. Let mixture simmer until all liquid is gone, about 6 minutes. Then remove from heat and set aside.
Meanwhile, drain and rinse the black beans and corn. Set aside. Open refried beans and set aside.
Spray a 9×13 casserole dish with cooking spray.
Begin your casserole with a base layer of corn tortillas 4-6 depending on the size.
Then layer the rest of the ingredients in this order, refried beans, taco meat, corn, black beans, sour cream and cheese.
Repeat, until your fillings are gone.
Bake 30 minutes, let cool 5 minutes before serving.
Top with your favorites like avocados, tomatoes, and cilantro!