Learning how to optimize your cooking space is the first step to remodel your kitchen cost-effectively. With limited space, trying to update your kitchen with quality products that work and fit into your home can be a difficult task to accomplish.  
 Maximizing your kitchen space is a lot easier when you choose the right cabinet and appliance options. Kitchen cabinets can be the most cluttered space in any kitchen because of all the utensils needed for cooking. This is especially true with confined drawers because you end up putting all your eggs in one basket-so to speak! The good news is that there are simple and efficient ways to maximize your cabinet space.
 For quick and easy access having food items next to your cooking area is a must! With a spice filler kit, you can neatly place your spices in your drawers at any angle to see each spice or any other food items for easy identification and removal. 
Another useful way to organize your kitchen is with swing-out shelves that offer great visibility and easy access. These handy shelves remove the pain of having to search for hard to reach cookware and containers. Finding a place to store small appliances in small kitchens can be a huge challenge when you don't want your counter space overrun with kitchen devices, you've got to get nifty. A kitchen with clutter-free counters is not only more aesthetically pleasing but also offer you the most cooking space possible. 
Over-the-range microwaves are the ideal choice for small kitchens, but very few can fit in a compact space. The perfect over the range microwave for limited spaces is the COS-2413ORM1SS by Cosmo without having to settle for low power. This microwave has an impressive 1000 watts for precise control to give you excellent results with a range of touch presets and 10 power levels and sensor cooking to prepare your favorite meals and snacks. Eliminate smoke, steam, and cooking odors from your kitchen with built-in exhaust fans. This OTR microwave's sleek black glass finish brings an ultra-chic look to your kitchen, and it's wonderfully complemented by convenient functions like the ability to disable the glass turntable and child locks for safety. To seal the deal it boasts a very affordable price tag.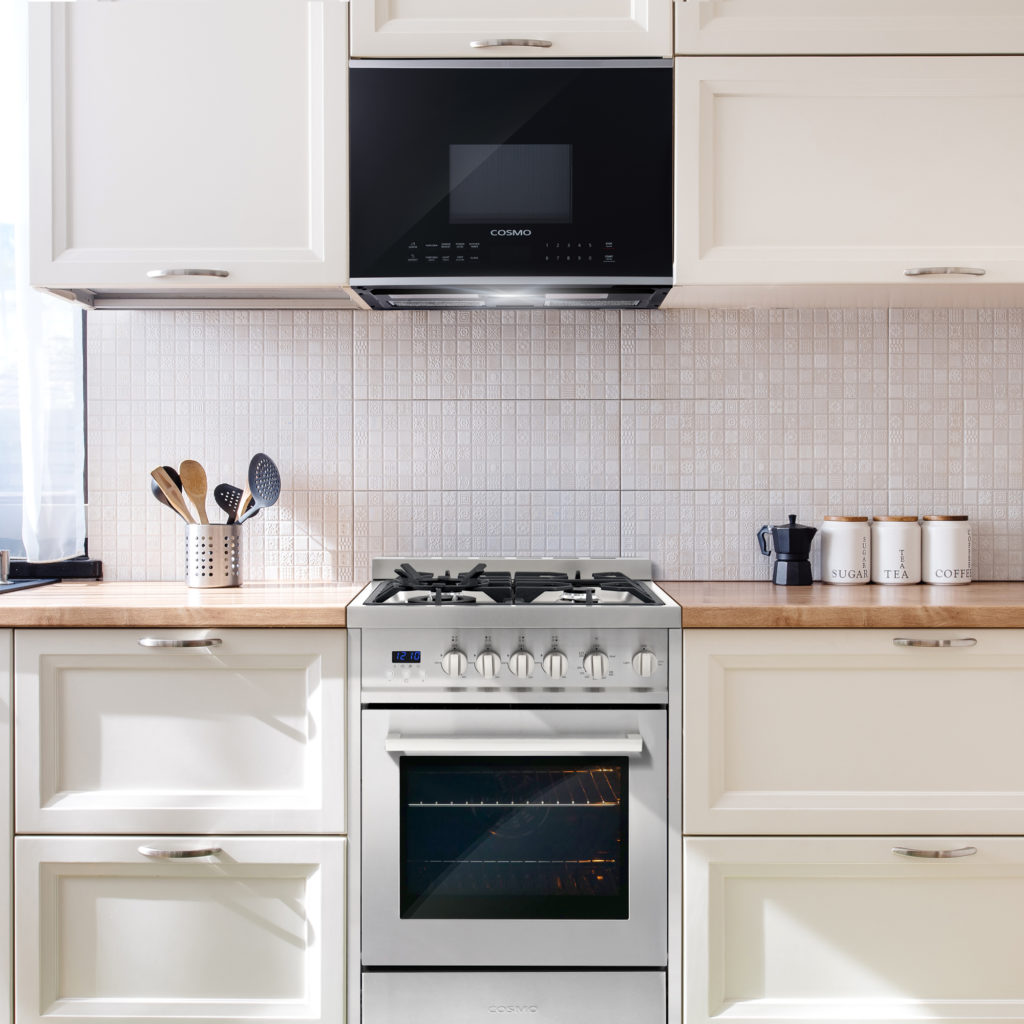 The refrigerator is the safeguard of produce, frozen foods, meat, dairy products to maintain the freshness of our food items 24 hours a day, but can also take up most of your kitchen space. For small kitchens, our French Door Refrigerator can make your cooking space feel larger and help improve mobility to be at eye-level with your food items.
Here is a refrigerator to meet your everyday grocery demands, Cosmo's FDR225RHSS 22.5 cubic feet 4-Door French Door Refrigerator. A Modern refrigerator that will make a statement but still takes up less space in your kitchen, so you'll walk through it with ease. This refrigerator provides better storage for oversized and small items, its total storage capacity includes 15.9 cu. ft. fresh food capacity provides ample interior space, while 6.6 cu. ft. freezer capacity allows you to store plenty of your frozen foods with easy access. Sophisticated aesthetic features like a stainless steel finish that's fingerprint resistant to keep your fridge looking spotless, and digital temperature controls and display for accurate monitoring. Our intelligently crafted refrigerator is here to provide you with easy access to your food items, ample kitchen space, and an automated ice-maker.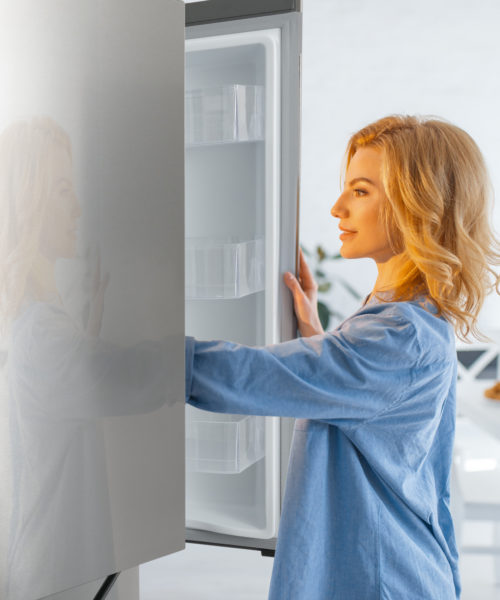 A kitchen renovation is a formidable undertaking on its own with multiple areas to touch base. Especially choosing what appliances fit best with your cooking space. Cosmo offers a variety of products that make renovating for space easier with appliances that fit each unique kitchen area to maximize the utility and spaciousness of your kitchen.