As we approach the end of 2020, we can look forward to what we want to do differently for 2021. Eating healthy may have been on your to-do list for this year, but we want to make it easy on you with these new recipes. Don't let healthy eating stop at just foods, learn how to make nutritional drinks too, courtesy of Zevia.
Quinoa Salad with Orange Cilantro Salad Dressing
Yield: 2 cups
Dressing: 
1/2 cup Zevia Orange Soda
1/4 cup lime juice
1/2 cup olive oil
1 cup fresh cilantro
1/2 avocado
1 teaspoon garlic
Quinoa Salad:
1 cup quinoa
leafy greens (optional)
1 orange, cut into pieces (optional)
1 grapefruit, cut into pieces (optional)
1 lime, juice only
1/2 avocado, diced (optional)
1/4 cup feta cheese (optional)
1/4 cup diced red onion (optional)
Tools needed: Food processor
To make dressing: In food processor, pulse orange soda, lime juice, olive oil, cilantro, avocado and garlic until consistency is smooth.
To make quinoa salad: Cook quinoa according to package directions and let cool.
Once quinoa is cool, add to bowl with orange pieces, if desired; grapefruit pieces, if desired; lime juice; avocado, if desired; feta cheese, if desired; and diced onion, if desired. Top with orange cilantro salad dressing.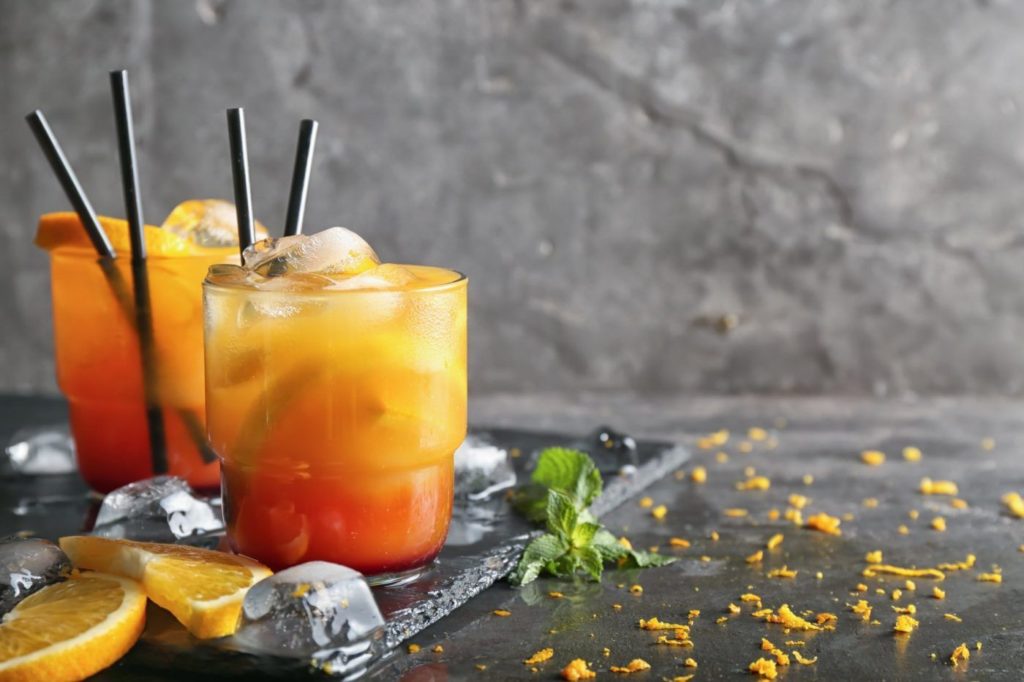 Spiced Citrus Ginger Mocktail
Yield: 1 mocktail
Concentrate:
1 cup fresh-squeezed orange juice
1/2 cup fresh-squeezed lime juice
1 orange peel
1 lime peel
1/2 teaspoon black peppercorns, lightly crushed
5 cardamom pods, lightly crushed
2 cinnamon sticks, lightly crushed
Mocktail:
1/3 cup concentrate
1 can Zevia Ginger Ale
ice
lime wedge, for garnish (optional)
orange wedge, for garnish (optional)
To make concentrate: In small saucepan, combine orange juice, lime juice, orange peel, lime peel, black peppercorns, cardamom pods and cinnamon sticks. Bring to boil over high heat then turn to low; simmer until liquid has reduced by half, 3-4 minutes. Let cool and strain out solids. Transfer to glass jar and store until ready to use.
To make mocktail: Combine concentrate with ginger ale over ice.
Garnish with lime wedge or orange wedge, if desired.
Sources: Zevia