Four Irish Recipes to Celebrate St. Patty's Day
From hearty stews to minty pies, St. Patrick's Day celebrations are all about enjoying the flavors of the holiday. Whether you're cooking up a feast or simply serving appetizers, this Irish Potato Bread is a simple, tasty snack to feed your guests.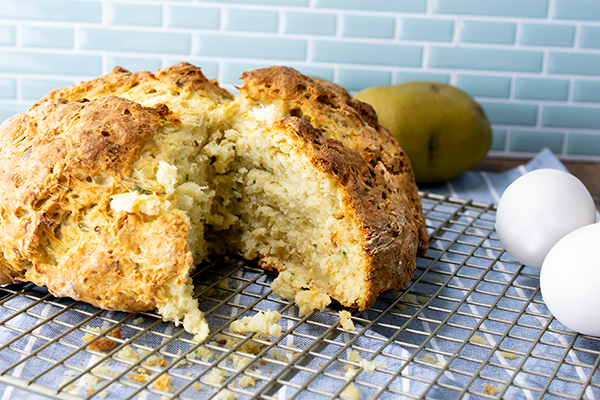 Irish Potato Bread
INGREDIENTS
2 medium or large russet potatoes
1 egg
1 egg white
1/3 cup canola oil
3/4 cup milk
2 tablespoons green onion, minced
1/2 teaspoon caraway seeds
3 1/4 cups all-purpose flour, plus additional for dusting and kneading
1 1/2 tablespoons baking powder
1 teaspoon salt
DIRECTIONS
Heat oven to 375° F.
Peel potatoes. Slice one potato and boil in saucepan 15 minutes, or until tender. Remove potato from saucepan into large bowl. Mash potato then set aside.
Grate second potato onto cloth. Wring potato in cloth to remove excess water. Add grated potato to mashed potato in large bowl. Add egg, egg white, oil, milk, onion, caraway seeds, 3 1/4 cups flour, baking powder and salt. Stir with wooden spoon until mixture is soft and sticky.
Turn dough onto floured surface. Adding flour as needed, knead dough to form 8-inch round shape with slight dome. Place dough onto baking sheet lined with parchment paper. Cut large "X" on top of dough about 1/2 inch deep.
Bake 55 minutes until golden brown. Cool on wire rack 1 hour before serving.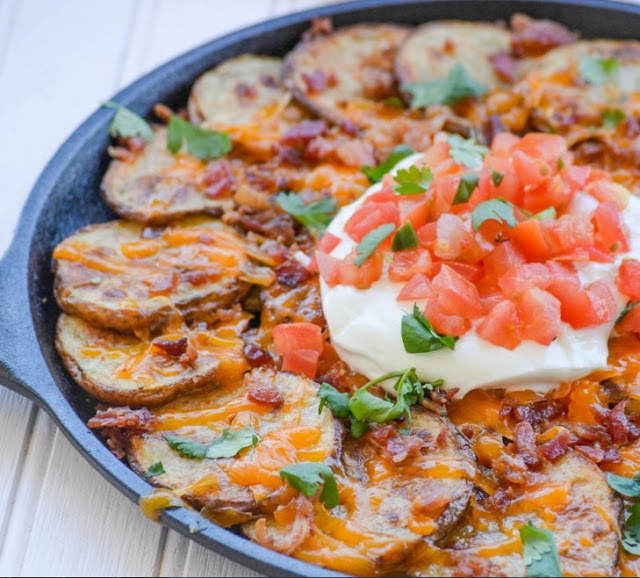 Irish Beef Stew
As most stews go, this is a humble and forgiving recipe. Add your favorite root vegetables and serve with mashed potatoes. Serves 6.
INGREDIENTS
3 tablespoons olive oil, divided
3 pounds beef chuck, excess fat trimmed, cut in 1 1/2 inch pieces
Salt
Freshly ground black pepper
4 cloves garlic, chopped
1/3 cup tomato paste
2 cups beef stock
1 1/2 cups stout beer
2 teaspoons dried thyme
2 bay leaves
3 large carrots, sliced 1/4-inch thick
1 large yellow onion, cut in 1-inch pieces
1 large rutabaga, cut in 3/4-inch pieces
1 large parsnip, cut in 3/4-inch pieces
DIRECTIONS
Preheat oven to 325 F. (170 C.) Heat 2 tablespoons oil over medium-high heat in an oven-proof pot or Dutch oven. Season the beef all over with salt and pepper. Add beef in batches to pot in one layer, without overcrowding. Brown on all sides, 6 to 8 minutes. Transfer to a plate. Repeat with remaining beef. Return beef to pot and add the garlic. Sauté 2 minutes. Add tomato paste and cook stirring, one minute. Add stock, beer, thyme, bay leaves, 1 teaspoon salt and 1 teaspoon black pepper. The meat should be just covered with liquid. If not, add additional stock or beer to cover. Bring to a boil; reduce heat to a simmer and cover. Transfer pot to oven. Bake until meat is tender, 1 1/2 to 2 hours.
While the meat is cooking heat 1 tablespoon olive oil in a deep skillet or large pot over medium heat. Add vegetables and lightly sprinkle with salt. Sauté the vegetables until they brighten in color and begin to take on a golden hue, 2 to 3 minutes.
Remove beef from oven. Skim any fat on the surface of the liquid with a spoon. Add vegetables to the beef, stirring to combine. Return beef to the oven, uncovered. Bake one hour, stirring once or twice, until the sauce is slightly reduced, the vegetables are tender and the meat is fork-tender. Remove and taste for seasoning. Serve hot with mashed potatoes.
Source:
http://gardenandtable.net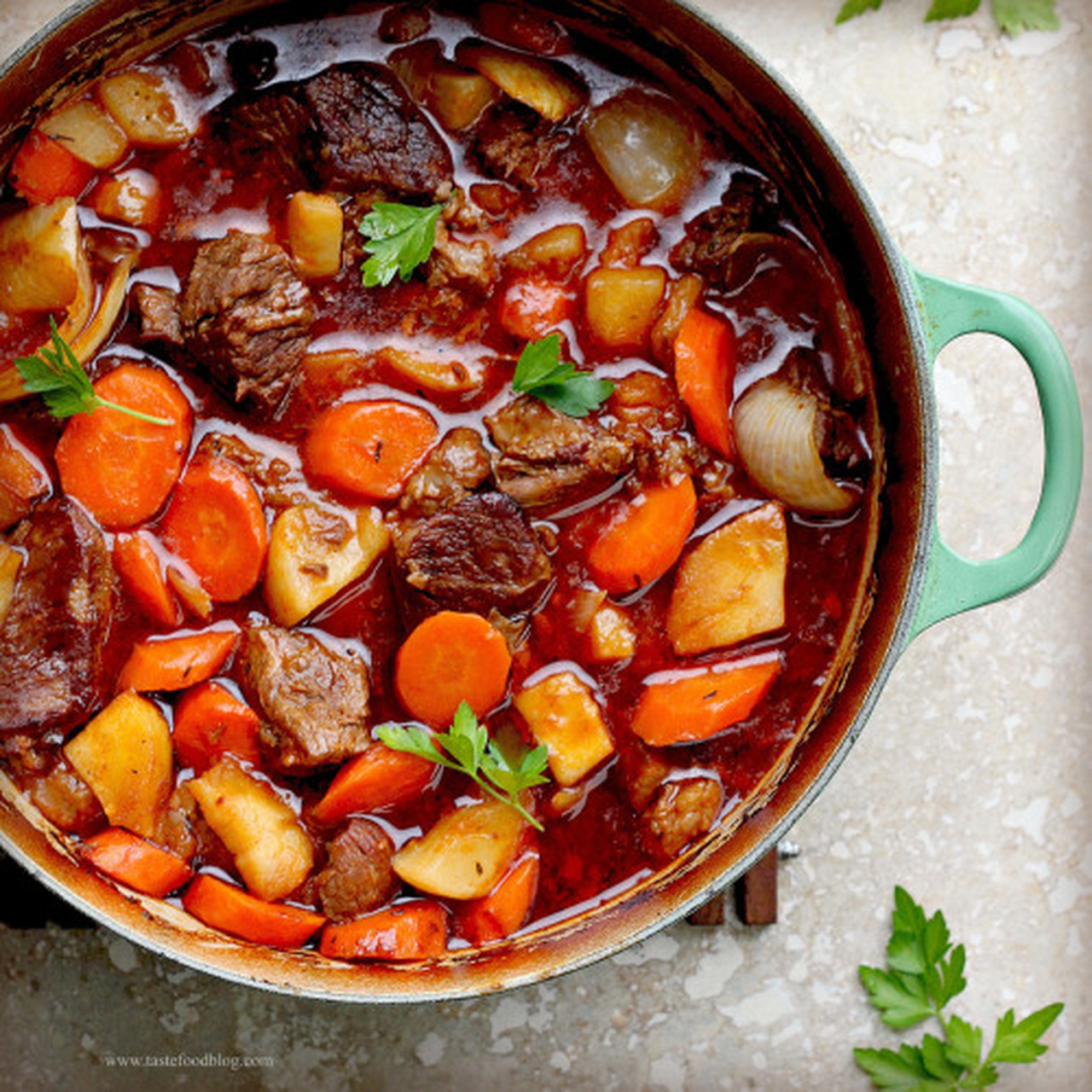 Irish Pub Nachos
If there's one thing the Irish, it's how to celebrate with good food. These potato based nachos feature some of your favorite toppings, making them perfect for sharing at any get together.
INGREDIENTS
1 1/2 lbs russet potatoes, scrubbed and sliced into quarter inch coins
2 tbsp olive oil
1/2 tsp dried rosemary leaves
scant 1/2 tsp ground thyme
salt and pepper, to taste
1 cup shredded cheddar cheese
5 slices thick cut bacon, cooked crisp and crumbled
sour cream, or Greek yogurt, to taste
pico de gallo, to taste
2 green onions, thinly sliced optional
1 tbsp chopped fresh cilantro leaves
DIRECTIONS
Make sure you've washed and scrubbed your potatoes. Use a clean dish towel to dry up any of the excess moisture.
Use a sharp knife to slice them into 1/4 inch thick coins. Add the potatoes to a large mixing bowl.
Drizzle them with olive oil. Add in the seasonings–rosemary, thyme, salt, and pepper. Use a spatula to toss them to coat, gently but until all the spices and oil are evenly covering all the potatoes.
On a large, rimmed baking sheet place the potatoes out in an even, single layer. Drizzle any remnants from the bowl evenly out over top.
Bake the potatoes at 450 degrees for 20 minutes, flip the potatoes oven, and then return them to the oven to bake for a final 20 minutes.
Let the potatoes cool just enough to safely handle. Transfer them to a flat cast iron pan, with the edges slightly overlapping in a spiral pattern.
Spread the cheese and bacon out evenly over top. Bake another 4 minutes, or until the cheese is melted. Remove the skillet from the oven and let the potatoes rest for a minute.
Serve these nachos with a scoop of sour cream in the center, a dollop of pico, and with green onions or cilantro sprinkled over top.
Source :
https://bit.ly/2V4lSv1
Luck o' the Irish Mint Pie
Even if you're not Irish, a green treat like this Luck o' the Irish Mint Pie can get you and your guests into the festive spirit. With enough seasonal flavor to go around, this recipe makes two pies, so be sure to cut every leprechaun a generous portion.
Watch this video to see how to make this yummy recipe!
Makes: 2 pies (9 inches each)
INGREDIENTS 
3 3/4 cups heavy whipped cream, divided
8 ounces cream cheese, softened
1 1/4 cups, plus 2 tablespoons, powdered sugar, divided
5 drops green food coloring
1 1/4 teaspoons vanilla extract, divided
1/4 teaspoon mint extract
1 bag mint chocolate candies, chopped, divided
2  chocolate cookie crusts (9 inches each)
1 bag mint chocolate candies
DIRECTIONS
To make filling: In bowl of stand mixer, whisk 2 1/2 cups heavy cream until stiff peaks form. Transfer to bowl.
In separate stand mixer bowl, beat cream cheese on high 2 minutes. Gradually add 1 1/4 cups powdered sugar and green food coloring; mix until smooth. Add 1/4 teaspoon vanilla and mint extract; mix well.
Fold prepared whipped cream into cream cheese mixture. Fold 1 cup chopped mint chocolate candies into filling.
To make frosting: In bowl of stand mixer, whisk remaining heavy cream and remaining powdered sugar. Add remaining vanilla extract and mix until stiff peaks form.
Pour filling into crusts and smooth tops.
Fill decorating bag with frosting and pipe thick band around edges of pies. Then pipe circle dollops evenly around edges of pies.
Scatter 1 cup chopped mint chocolate candies in middle of pies. Place whole mint chocolate candies into each dollop of frosting around edges of pies.
Refrigerate until firm, 5-6 hours.
Source: Culinary.net