If the dishes you've been cooking feel bland and boring, fresh herbs are a great way to give them some liveliness- but herbs can be hard to keep and store in the fridge, and always seem to wilt just when you want to use this.  If you want fresh herbs easily accessible year round, you can start a small kitchen garden in a sunny window, and with our top seven picks, you'll be covered for a variety of cuisines with no worries.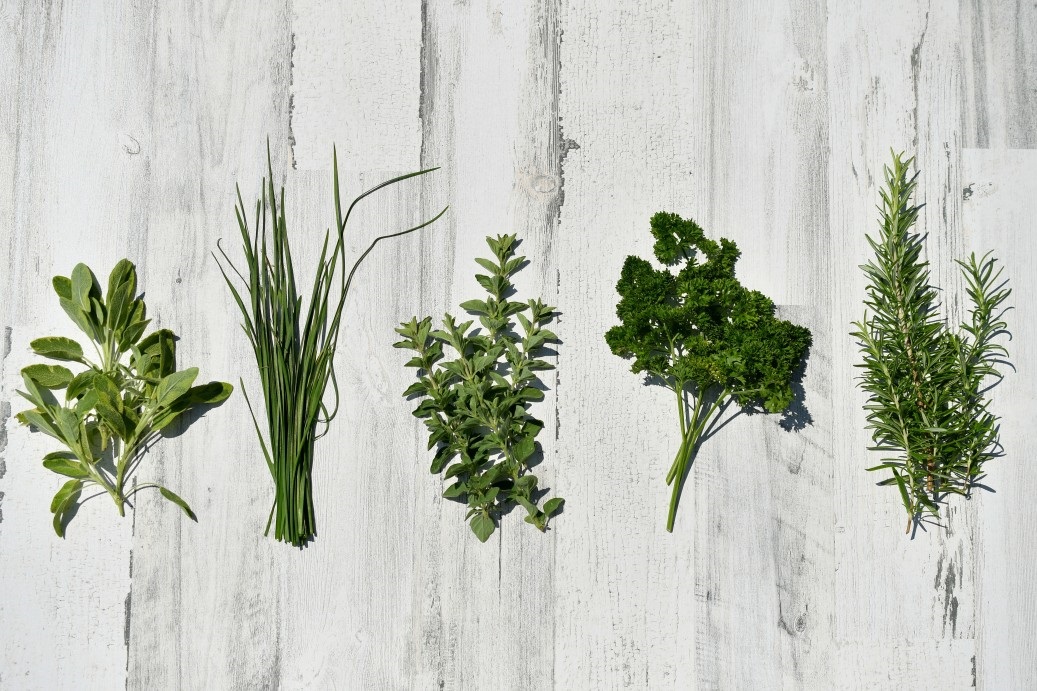 Oregano: A far cry from the dried flakes you can find in pizza parlors, fresh oregano packs a punch. This earthy herb pairs well with boldly flavored dishes, proteins, especially poultry, and vibrant veggies like bell peppers.
Cilantro: This staple of Mexican food can taste soapy to some, but for others, it's a welcome addition to tacos, rice and other foods.
Parsley: Not just the weird green decoration on the sides of your plate, parsley can add a clean, fresh flavor to almost any dish. It plays especially well with citrus and fish.
Chives: This kissing cousin to onions pairs with nearly anything. It's a friend to baked potatoes, soups and more- chop it up and sprinkle on top for a sweet, almost delicate onion flavor
Rosemary: A bush rather than a plant, rosemary is a friend to proteins and potatoes. This woodsy herb is best left on the stem and removed before serving, or chopped finely enough that its sometimes tough texture isn't a problem.
Thyme: Indispensable in so many cuisines, Thyme is commonly used in French, Italian, Greek, Cajun and Creole food. It blends beautifully with other herbs to make wonderful seasonings.
Basil: With so many varieties, basil compliments cuisines from Italian to Thai and even more. Pair sweet basil with tomatoes, fresh mozzarella and quality olive oil for a dreamy Caprese salad.
The best time to have started a kitchen garden would have been a few weeks ago, but the second best time is now. Put your planters together and assemble this all-star team to liven up your foods in no time.  
For more recipes, ideas and inspiration, visit our website at 
https://www.cosmoappliances.com or follow our Facebook page at 
https://www.facebook.com/cosmokitchenappliances