Put Your Convection Oven to the Test with These Delicious Recipes
If you're trying to figure out how best to cook with your convection oven, we've got some helpful advice and delicious recipes to get you started.
Cooking Tips:
Cooking simple dishes (like cookies) or shorter cooking times, lower the expected temperature by 10-15 percent.
Cooking complex dishes (like roasts) that require a lot of time, lower the temperature by as much as 30 percent.
Convection is good for:
Roasting ham, turkey, roast-ready beef cuts, and similar meats
Roasting vegetables and potatoes for an extra crisp
Cookies and muffins—especially when you have a big batch to bake at once. 
Pies and pastry
Casseroles—when covered they won't lose much moisture.
Toasting breads or buns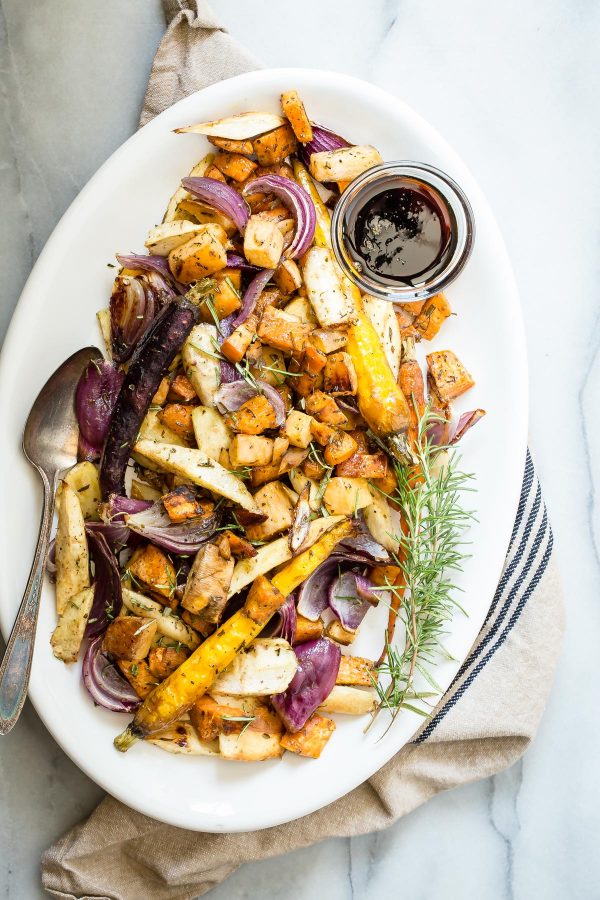 Maple Balsamic Roasted Vegetables
Vegetables roasted with rosemary and olive oil, then finished with a drizzle of maple balsamic reduction. These vegetables are a must for your next dinner party.
Prep Time: 20 minutes
Total Time: 1 hour 10 minutes
Recipe by foodnessgracious
Ingredients
1 1/2 pounds whole thin rainbow carrots
1 1/2 pounds sweet potatoes peeled chopped into 1 inch cubes
2 small red onions cut into thick chunks
1/2 pound rutabagas peeled and diced
1 1/2 pounds parsnips peeled and sliced thinly
1/3 cup olive oil
2 tsp sea salt
2 tsp black pepper
1 tsp fresh chopped rosemary
1 1/2 tbsp dry herb de provence
1 cup maple syrup
1/4 cup balsamic vinegar
Instructions
Preheat the oven to 350 degrees F.
In a large bowl combine all of the vegetables. Add the oil, salt, pepper, herbs and rosemary and toss to coat well.
Place the vegetables on a large roasting pan or two baking sheets, making sure they are all level and not on top of one another.
Place in the oven and cook for about 45 minutes, checking that the point of a sharp knife spears the vegetables easily.
When the vegetables are cooking in the oven, place the maple syrup and balsamic vinegar in a pan and bring to a boil.
Reduce the heat and simmer slowly until it has reduced by about half and is nice and thick.
Once the vegetables are ready, lightly drizzle some of the syrup over them and return to the oven for 5 more minutes.
Serve warm or store in the refrigerator until ready to use.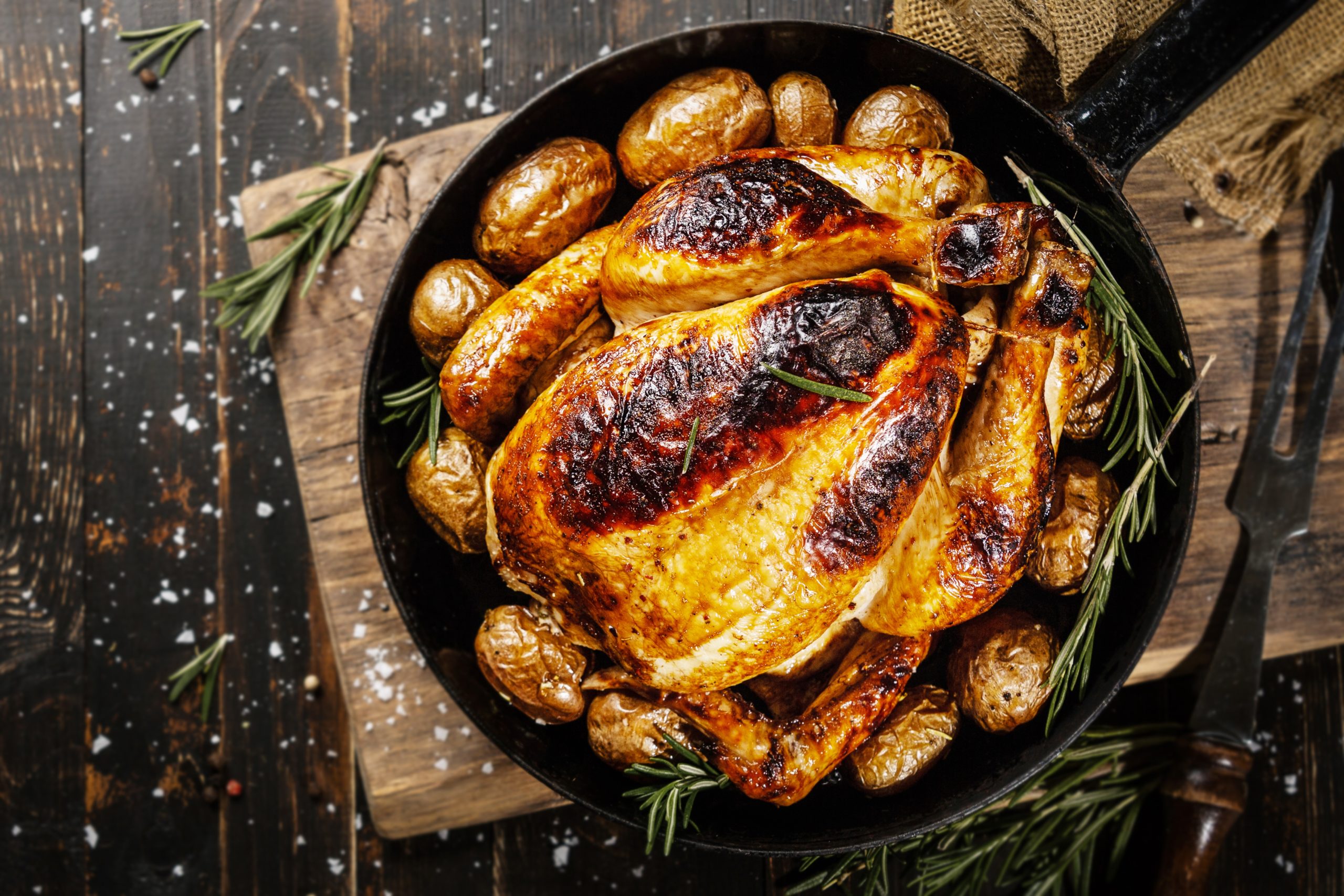 HOMEMADE ROTISSERIE CHICKEN 
Who loves Rotisserie Chicken? just about everyone. Rotisserie Chicken is so tasty, juicy, convenient, and it's just the recipe you need to keep in your arsenal.
Chicken rotisserie marinade
4+ pound Whole chicken
.5 bottle lemon juice
.25 cup white wine
.25 cup extra virgin olive oil
Chicken rotisserie rub
1 tablespoon Honey
3 tbsp unsalted butter
1/4 cup brown sugar
4 tsp garlic powder
1/2 teaspoon dried oregano
1/4 teaspoon dried thyme
1/4 teaspoon dried basil
Kosher salt and freshly ground black pepper
Marinade instructions
Clean cavity of whole chicken, wash and pat dry.
Combine all marinade ingredients and mix.
Pour into a large freezer bag and add the whole chicken.
Refrigerate for 4-6 hours.
Rub instructions
Remove chicken from the marinade.
Melt the butter and honey in the microwave and mix.
Evenly brush the butter and honey mixture on and inside the chicken.
Mix all of the dry ingredients and apply it to the entire chicken.
Tuck wings underneath chicken and truss the legs together with twine.
Run rotisserie rod through the cavity of chicken and insert the rotisserie forks into the skin of the chicken.
At 350 degrees F, a whole chicken takes about 20 to 30 minutes per pound to cook.
Therefore, a 4-pound chicken should take 1:20 – 2 hours to cook.
Use a meat thermometer to test the internal temperature. When chicken reaches 175 to 180 degree F, it is done.

Old Meatloaf 
Perfect the preparation of a meatloaf by combining  conventional and convection oven performance for the perfect meatloaf dish. 
Prep Time: 45 minutes
Cook Time: 1 hour 30 minutes
Recipe by Scott Basye 
Ingredients
1 cup fresh bread crumbs(soft white bread)
1/3 cup milk
1 1/2 pounds ground chuck (85/15)
1/2 pound ground pork (not lean)
2 tablespoons butter
1 large onion, diced
2 celery stalks, diced
1 medium carrot, diced
2 garlic cloves, minced
1/2 cup creme fraiche
2 eggs, beaten
2 teaspoons Worcestershire sauce
1 teaspoon dry mustard powder
1 teaspoon paprika
2 tablespoons fresh parsley, chopped
1 1/2 teaspoons kosher salt
1 teaspoon freshly ground black pepper
6 slices bacon
1 cup ketchup
2 tablespoons brown sugar
1 tablespoon Dijon mustard
1/4 teaspoon freshly grated nutmeg
Instructions
Preheat oven to 350°F.
In a small bowl place bread crumbs and drizzle the milk over the top. Set aside.
Melt the butter in a large skillet, add the onion, celery and carrot. Sprinkle with a pinch of salt and cook, stirring occasionally until vegetables are soft, but not browned. Add garlic and cook for another 2-3 minutes. Remove from heat, scrape into a small bowl and allow to cool to room temperature (about ten minutes).
In another bowl, whisk together the beaten eggs, creme fraiche and Worcestershire sauce.
In a large bowl place the beef and pork, add the breadcrumb mixture, vegetables, egg mixture and the rest of the ingredients except the bacon, ketchup, brown sugar and mustard. Use your hands to thoroughly combine the meatloaf ingredients and then place into an large ovenproof baking dish. Lay five strips of bacon lengthwise over meatloaf; cut the remaining bacon strip in half and place at each end of loaf.
Place in oven and set timer for 45 minutes. Meanwhile combine Ketchup, Brown Sugar, Mustard and Nutmeg and set aside. At the end of 45 minutes, set oven to convection and cook meatloaf for another 15 minutes. When completed, remove meatloaf from oven and pour or brush glaze all over the surface of the bacon (it's ok if some drizzles down into the pan). Place back in over and bake for an additional 15 minutes until the glaze is bubbling. Remove from oven and let sit for 15 minutes. Serve!

Huevos Rancheros Bake
This is a flavorful dish that checks all the boxes for a  yummy weekend brunch, or a breakfast-for-dinner moment. 
Prep Time: 35 minutes
Total Time: 1 hour 45 minutes
Recipe by Tablespoon Kitchens
Ingredients
1 lb bulk chorizo sausage
1 red bell pepper, chopped 
1 cup chopped onions
1 can (28 oz) Muir Glen™ organic fire roasted crushed tomatoes, undrained
1 can (4.5 oz) Old El Paso™ chopped green chiles
1 package (1 oz) Old El Paso™ original taco seasoning mix
1 can (15 oz) Progresso™ black beans, drained, rinsed
2 cups shredded Mexican cheese blend (8 oz)
8 eggs
½ cup milk 
½ teaspoon salt
½ cup diced avocado
½ cup crushed Food Should Taste Good™ blue corn tortilla chips
2 tablespoons chopped fresh cilantro leaves
Lime wedges
Instructions
Heat oven to 350°F. Spray 13×9-inch (3-quart) baking dish with cooking spray.
In 12-inch nonstick skillet, cook sausage, bell pepper and onions over medium-high heat 7 to 8 minutes, stirring occasionally, until sausage is no longer pink; drain, and return mixture to skillet. Reduce heat to medium; stir in tomatoes, green chiles and taco seasoning mix. Heat to simmering. Cook 4 to 6 minutes, stirring frequently, until liquid thickens. Remove from heat. Stir in black beans and 1 cup of the cheese; transfer to baking dish. 
In medium bowl, beat eggs, milk and salt with whisk until blended. Stir in remaining 1 cup of cheese. Pour evenly over sausage mixture in baking dish.
Bake uncovered 40 to 45 minutes or until eggs are set and knife inserted in center comes out clean. Cool 5 minutes. Top with avocado, chips and cilantro. Serve with lime wedges.

Sheet Pan Chicken Pot Pie Recipe
Make a family-friendly, easy and delicious chicken pot pie in one pan!
Prep Time: 25 min
Cook Time: 50 min
Total Time: 1 hr 15 mins
Ingredients
2 Tablespoons butter
4 celery stalks (diced)
4 carrots, (sliced)
1 onion (diced)
2 red potatoes (diced)
2 teaspoons minced garlic
salt and pepper, to taste
1/4 cup flour
2 cups chicken broth
1 (8 ounce) package cream cheese
2 cups rotisserie chicken (shredded)
1/2 cup frozen peas
1 (17.3 ounce) package Pepperidge Farm Puff Pastry Sheet (thawed)
1 egg
2 Tablespoons fresh parsley (finely minced)
Instructions
Preheat oven to 400 degrees F.
Melt butter in a large saucepan over medium-high heat.
Add celery, carrots, onion and potatoes. Saute for 8-10 minutes, or until vegetables begin to soften.
Add garlic and season with salt and pepper.
Mix in flour, chicken broth and cream cheese. Let cook for 5 more minutes, stirring constantly.
Fold in chicken and peas.
Pour mixture into a baking sheet sprayed with nonstick cooking spray.
Roll out two puff pastry sheets to the width of the sheet pan, cut into 1-inch strips and lay over filling.
Use a sharp knife to cut off any excess dough hanging over the sides.
Whisk egg in a small bowl and brush over the top of the pot pie.
Cook for 30-35 minutes, or until the top is golden brown.
Remove from oven, garnish with fresh parsley and serve.

Fresh Homemade Peach Pie
A delicious homemade pie with a fresh peach filling! Serve this peach pie with a scoop of vanilla ice cream for a mouth watering dessert.
Ingredients
Pastry for a 9-inch single-crust pie 
1 package (8 oz.) cream cheese, at room temperature
1 1/4 cups sugar 
6 1/2 cups sliced peeled firm-ripe peaches (about 4 lb.)
3/4 cup orange juice 
1/4 cup cornstarch
1/4 cup lemon juice
Instructions
With a fork, prick bottom and sides of unbaked pastry in pan at about 1-inch intervals. Bake in a 375° regular or convection oven until golden, 15 to 20 minutes; let cool on a rack.
Meanwhile, in a bowl, mix cream cheese and 1/2 cup sugar until smooth. Spread evenly over bottom of cool pastry.
In a blender or food processor, whirl 1 cup sliced peaches, remaining 3/4 cup sugar, orange juice, and cornstarch until smooth. Pour into a 3- to 4-quart pan; stir over medium-high heat until mixture boils and thickens, about 4 minutes. Remove from heat and stir in lemon juice.
Add remaining 5 1/2 cups peaches to hot peach glaze and mix to coat slices. Let cool until tepid, about 25 minutes, then scrape onto cream cheese mixture in crust.
Chill, uncovered, until firm enough to cut, at least 3 hours. Cut into wedges and serve, or invert a large bowl over pie (it shouldn't touch fruit) and chill up to 1 day.
Bring these dishes to life faster and tastier than ever with
Cosmo's true European convection Double Oven's  precise temperature control to provide the perfect baking process every time.
Share your convection oven success stories and leave a comment below!