What is a wine cooler? Wine coolers are fast becoming "the" must have appliance for wine lovers and enthusiast. Designed for chilling wine and other beverages, a wine cooler is made to eliminate harmful light, fluctuating temperatures, humidity, and vibration. If you drink a lot of wine and don't have a proper basement for long-term storage, then a wine cooler is great for everyday use, and it creates the most ideal conditions for wine storage than refrigerators that create an environment that is too cold for a wine bottle.
For those wine enthusiasts that insist on professional grade wine refrigeration, for at home use Cosmo has combined advanced technology and our signature sleek appearance for you to enjoy quick access to cold drinks and your favorite wine. Our 24 inch wine cooler delivers exactly the right temperature, with a single zone temperature that can be set at an ideal temperature to allow your wine to mature properly.
Cosmo's COS-24BIWCS wine cooler offers impressive features to preserve and protect your prized bottles.  
Capacity
For those that want plenty of space for their collection, the 146L (48 bottles) Cosmo model is sufficiently on the larger side of wine cooler sizes. This wine cooler will give you space to grow into, and you can remove some shelves to accommodate larger bottles.
Adjustable Temperature
You have the power to maintain the flavor of your favorite wine with a temperature range between 5C- 20C/ 41F 68F and a fan cooling system. When you're using a single zone wine cooler for your various red and white wines, we recommend a cellar temperature of approx. 58 degrees Fahrenheit.
Digital display and LED lighting
The Cosmo Wine Cooler has an LCD display and digital touchpad, so you can set the temperature to your liking. The wine cooler is lit with blue LED lighting that illuminates the interior for an elegant presentation of your wine collection.
Removable racks
We designed the wine cooler with 6 shelves made of natural beech wood that is strong enough to hold the bottles.  These shelves have telescopic sliding rails and notches on the sides of the shelves to keep the bottles from falling.
Glass door
Fine Wine requires precision and need more than a refrigerator. Our Wine Cooler features a seamless stainless steel Insulated 3-layer glass door frame for an elegant look and heat-safe storage.
Premium-Grade Stainless Steel Exterior
The perfect balance of luxury design and a classic trim for a refined look to enhance the aesthetic of any room décor. With reversible doors and flexible installation options, you have the best use of space by either installing the unit under the counter with its built-In or free standing Installation that also allows you to place it anywhere.
The important thing to keep in mind is the Cosmo wine cooler is the complete package and provides the ultimate environment for your wine/drink collection, so you know you will have perfectly chilled and flavored wine anytime you want some.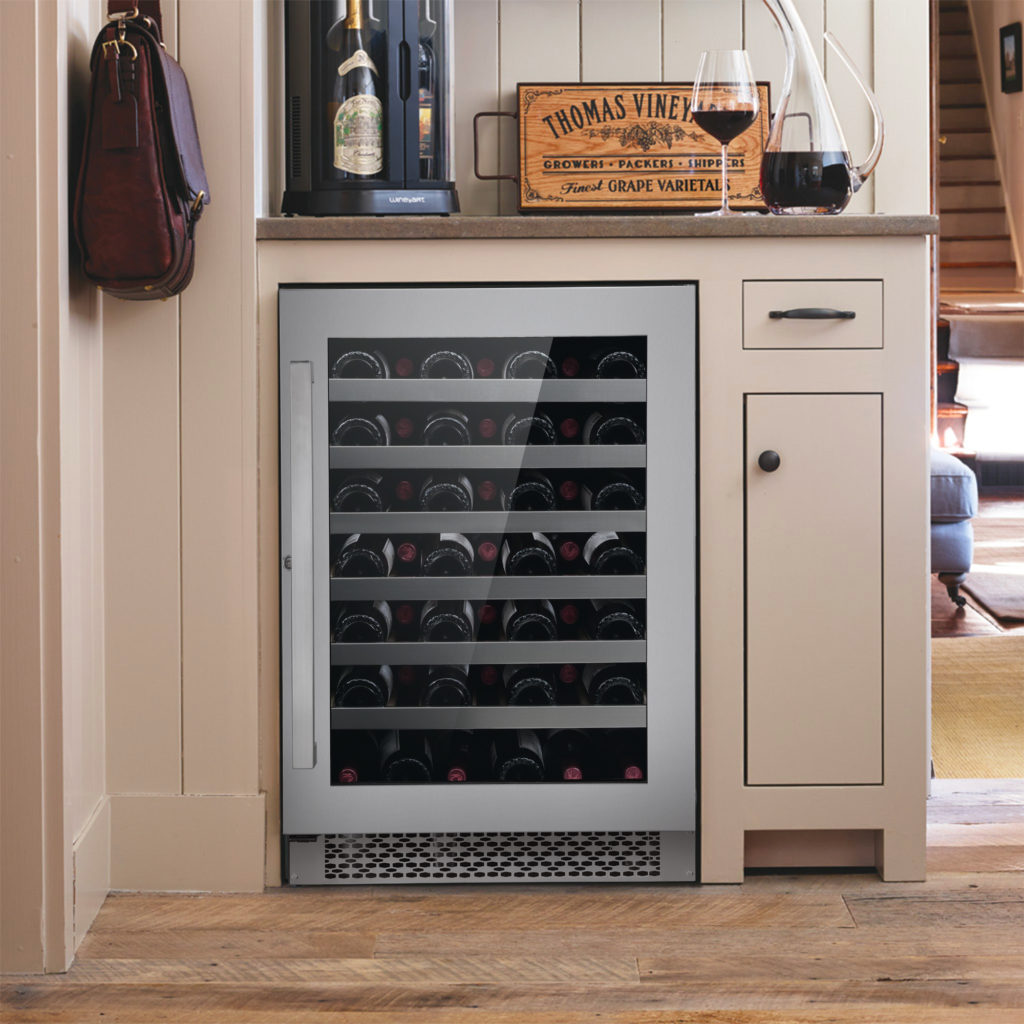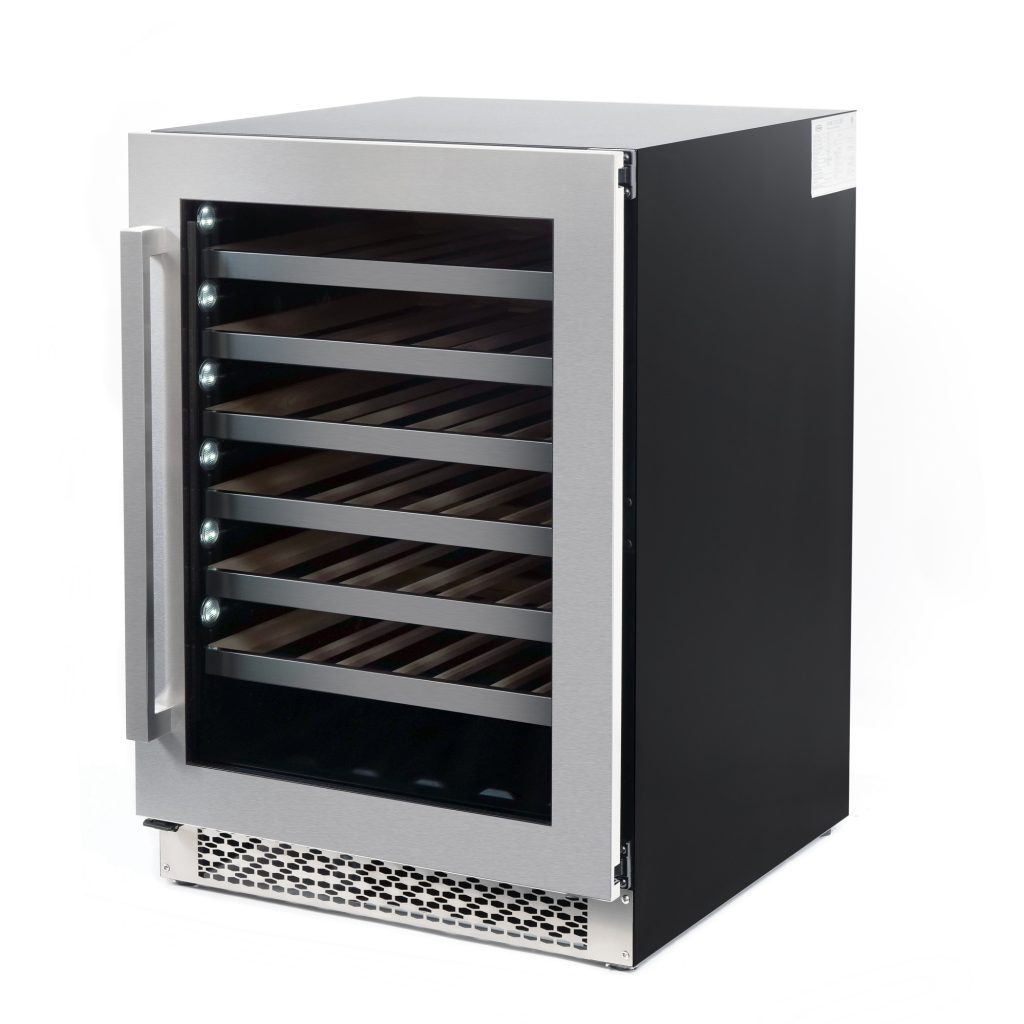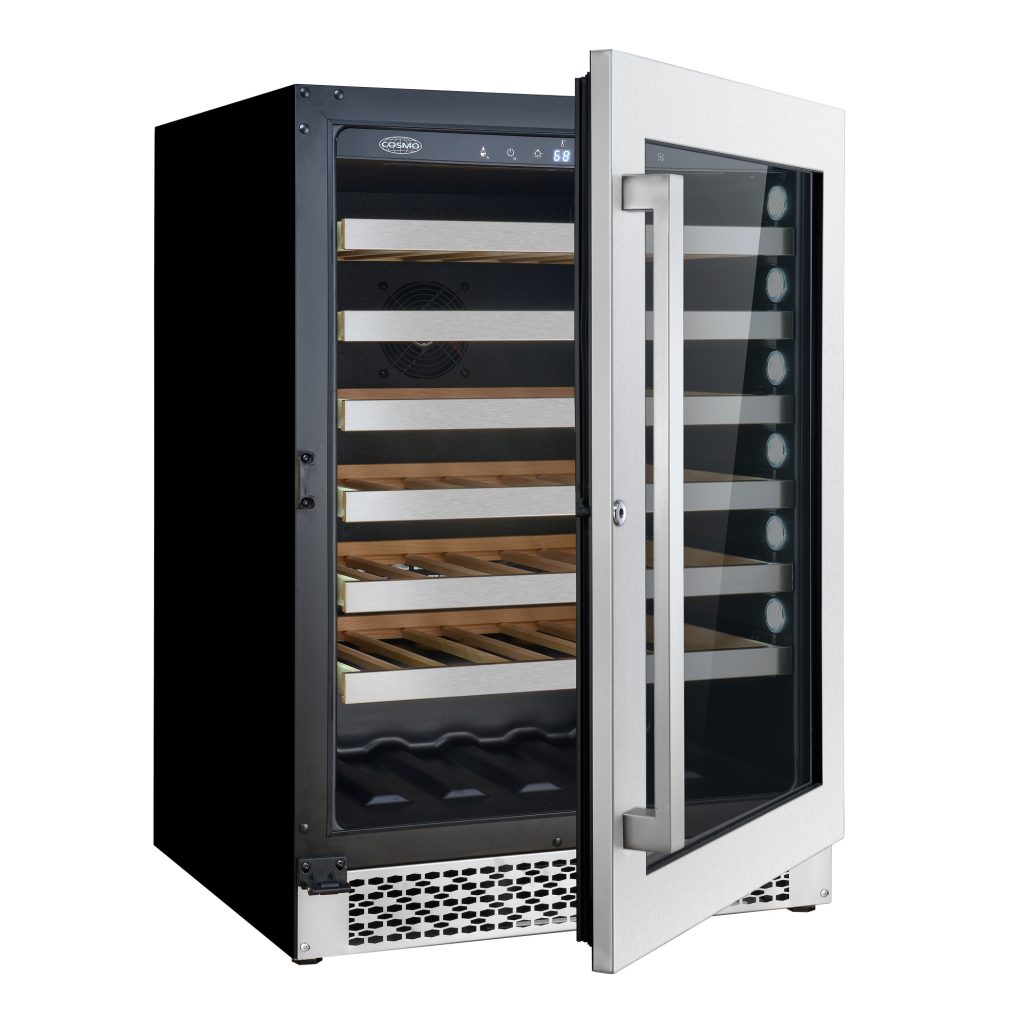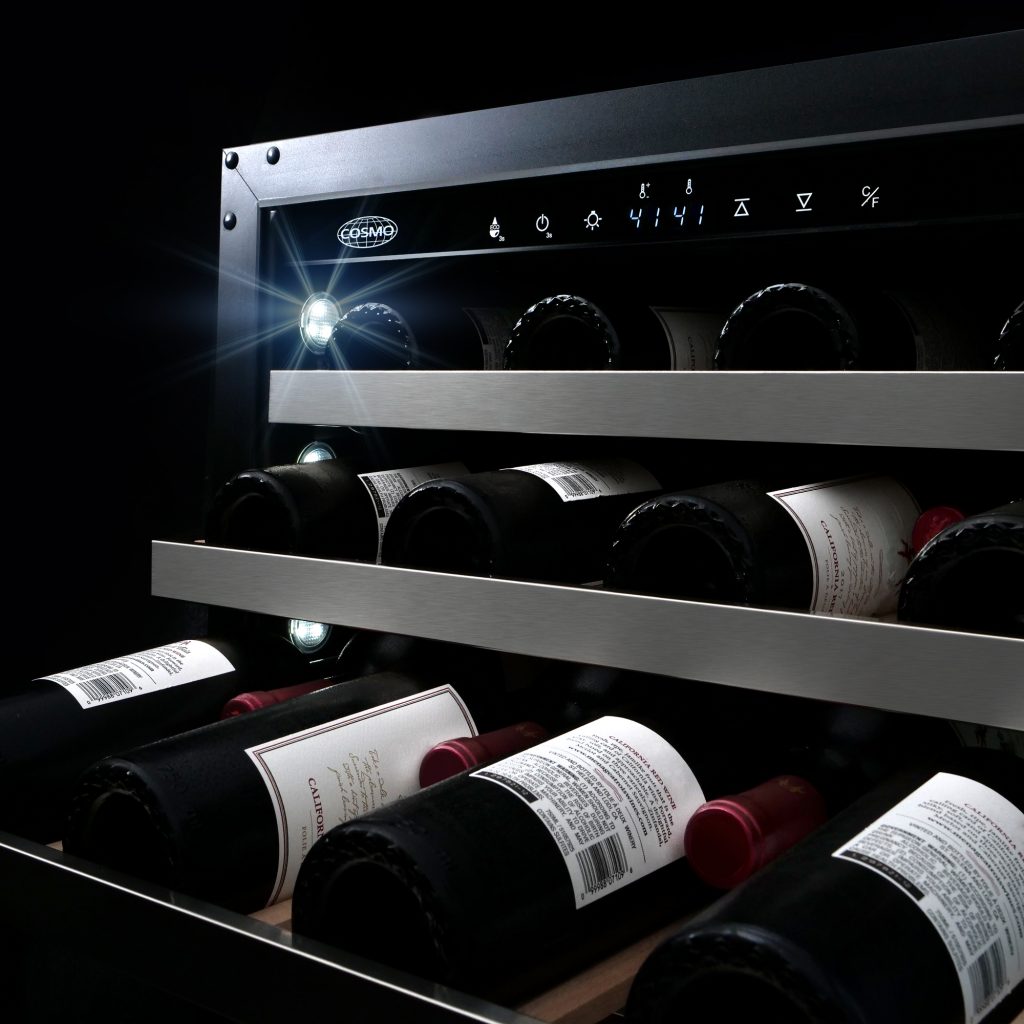 PROS
Premium-Grade Stainless Steel Exterior
Built-In / Free Standing Installation allows you to place it anywhere
LED lighting illuminates the interior for elegant presentation of your collection
Stores up to 48 bottles of your favorite selection of wines at the right serving temperature
Insulated 3-layer glass door for an elegant look and heat-safe storage
Advanced fan cooling system Technology
Digital Touchpad Control enables easy control
6 Beachwood shelves with telescopic rails for convenient access to bottles
Internal Temperature Range: 5°C- 20°C/ 41°F 68°F
Door Lock for security