Get creative with Christmas dinner leftovers. Transform your leftover turkey and all the other holidays' trimmings into a whole range of delicious dishes. From casseroles to pizza, these recipes are full of festive flavor. Leftovers can be great, just make sure you make the most of them and follow food safety practices.
What to Do With Leftover Ham
Ham Pizza
Try making your pizza using your fridge full of leftover ham.  To make it a Hawaiian style pizza you can even add pineapple to it if that's your favorite combo.
Ingredients
2 cups of chopped, leftover ham
1 store-bought pizza dough OR 1 batch of homemade pizza dough
1 jar of store-bought or batch of home-made herb pizza sauce 
1 (240 g) ball of mozzarella cheese, sliced
1 large onion, sliced
Instructions
Preheat oven to 475 degrees. Lightly dust your counter-top in flour. Using a rolling pin, roll out your pizza dough until desired size and thickness is reached. Carefully transfer to pizza pan and adjust accordingly.
Spread your sauce to about 1-inch from the edge of the pizza dough. That uncovered part will be your crust. Evenly spread out the ham and onion. Finish off with mozzarella cheese.
Place into oven and bake for 15-17 minutes, or until mozzarella cheese is nicely browned and crust is golden.
Allow cooling slightly before cutting!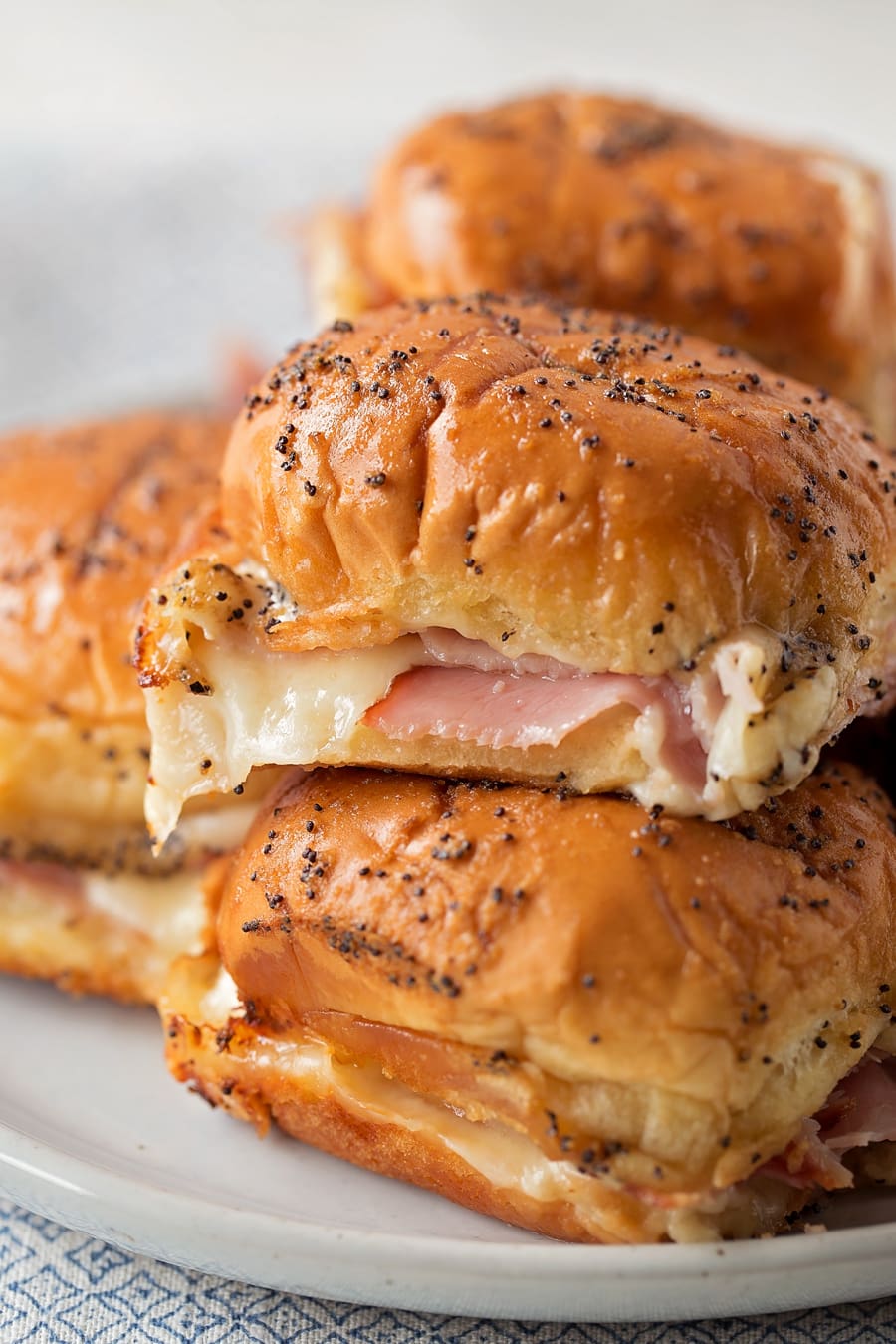 Baked Ham and Cheese Sliders 
After all the holiday cooking you might want to take it easy, these sliders are a simple and satisfying dish to whip up.
Ingredients
24 slices of  ham
6 Slices of Swiss cheese, cut into fourths
1/3 cup mayonnaise
1 tablespoon poppy seeds
1 1/2 tablespoons Dijon mustard
1/2 cup butter melted
1 tablespoon Onion Powder
1/2 teaspoon Worcestershire sauce
2 packages (12 count) Hawaiian Sweet Dinner Rolls
Directions 
Cut rolls in half and spread mayo onto 1 side of the rolls. Place a slice or two of ham and slice of Swiss cheese in the roll. Replace the top of the rolls and bunch them closely together into a baking dish.
In a medium bowl, whisk together poppy seeds, Dijon mustard, melted butter, onion powder, and Worcestershire sauce.
Pour sauce over the rolls, just covering the tops. Cover with foil and let sit for 10 minutes.
Bake at 350 degrees for 10 minutes or until cheese is melted. Uncover and cook for an additional 2 minutes until tops are slightly browned and crisp. Serve warm.
Ham and Cheese Breakfast Casserole
It's the day after Christmas and you're still feeling festive, and need to make breakfast to feed a large group, this casserole is a perfect option.
Ingredients 
10 large eggs
1 1/2 cup milk
2 tsp. Dijon mustard
2 tsp. fresh thyme leaves, plus more for garnish
1 tsp. garlic powder
Kosher salt
Freshly ground black pepper
4 cups cubed French bread or baguette
1/2 lb. ham, chopped
1 1/2 cups shredded white cheddar
Directions
Preheat oven to 350 degrees. In a large bowl, whisk together eggs, milk, mustard, thyme, and garlic powder and season generously with salt and pepper.
Butter a large baking dish. Add bread and top with ham and cheddar. Pour over egg mixture.
Bake until eggs are cooked through and ham is golden, 45 to 55 minutes. (To make ahead, cover the baking dish with aluminum foil and refrigerate at least 4 hours and up to overnight, then bake as directed.)
Garnish with more thyme and serve.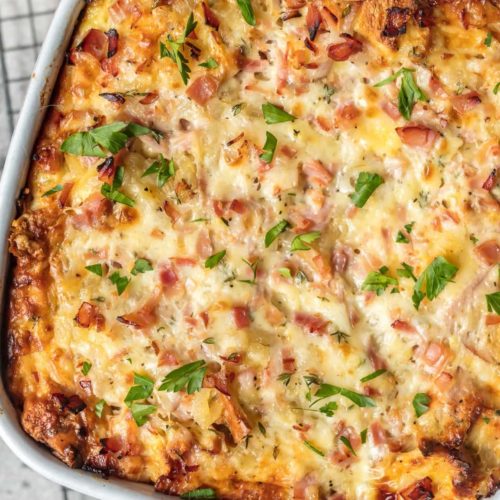 What to Do With Leftover Turkey
Turkey Enchiladas
We all love Mexican food, and this recipe is the perfect comfort dish to use up that leftover turkey. 
Ingredients
2 cups cooked shredded turkey
2 teaspoons cumin
1 can black beans, drained and rinsed
2 cups shredded Mexican style cheese
12 tortillas (enchilada size/fajita size – about 8-10 inches)
2 cups enchilada sauce
chopped cilantro
Directions
Preheat oven to 375 degrees and lightly grease a casserole/baking dish.
Lay tortillas out on a clean flat surface. Distribute black beans and shredded turkey between each tortilla and lay it out in a strip right down the middle of each tortilla. Sprinkle cumin over black beans and turkey. Divide one cup of cheese between each tortilla, sprinkle the cheese right on top of the black beans and turkey.
Spread 1 cup of enchilada sauce in the bottom of a prepared baking dish. Roll up each tortilla and place side by side in the dish. Sprinkle  remaining enchilada sauce over the enchiladas, and remaining cheese. Bake for 15-20 minutes until cheese has melted and tortillas start to brown a little bit. Garnish with cilantro and serve warm.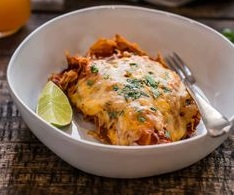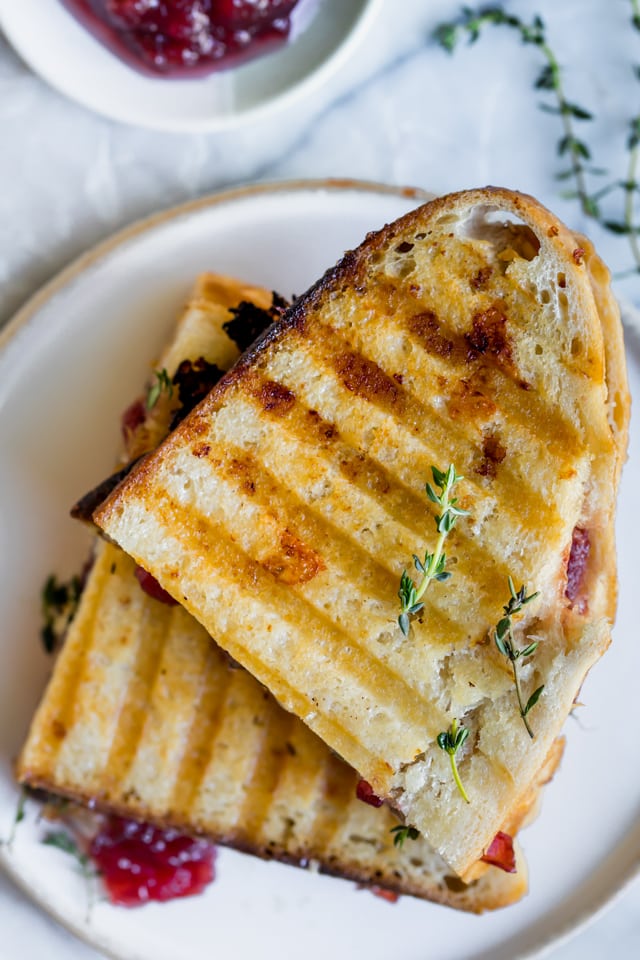 Turkey Panini
These grilled Italian sandwiches are a real treat! The cranberry sauce and thyme give it that extra holiday touch.
Ingredients
3 ounces sourdough bread 2 slices sliced about ½ inch thick
1 tablespoon mayonnaise
3 ounces turkey breast
2 tablespoons cranberry sauce
1 slice provolone cheese
1 tablespoon fresh thyme leaves
Directions
Heat a panini press or skillet to medium-high heat.
Spread the mayo on both sides of the bread. Lay the slices down on a clean work surface. Place the sliced turkey meat on top of one slice of bread. Add the fresh thyme leaves, then the cranberry sauce and finally the provolone cheese.
Cover the sandwich with the other slice of bread.
Transfer the sandwich to a panini press or hot skillet. Press together gently to help the whole sandwich stick together. Cook it until the bread is crisp and golden and the cheese is melted about 3-4 minutes.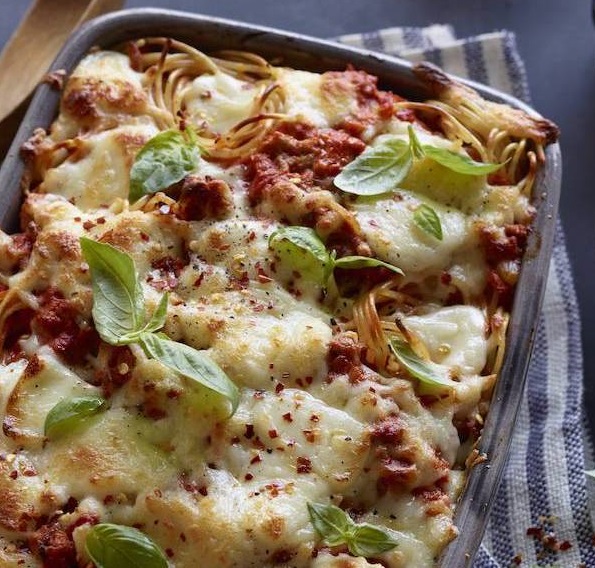 Turkey Spaghetti Bake
A pasta dish big enough to feed a crowd and delicious enough to keep them coming back for more.
Ingredients
1/2 pound spaghetti
2 tablespoons olive oil
1 yellow onion finely chopped
3 cloves garlic finely chopped
1 1/2 cups leftover shredded turkey or chicken
1/2 cup heavy cream
1 28- ounce can crushed tomatoes
salt and pepper to taste
1/2 teaspoon Italian seasoning
1/2 cup grated parmesan cheese
1 cup shredded mozzarella
½ cup small fresh mozzarella balls
Fresh basil to garnish
Directions
Preheat the oven to 350 degrees F.
Break the pasta in half and cook the spaghetti according to the package directions, drain and set aside.
Heat the oil in a large skillet over medium heat. Add onion and cook, stirring, until tender, about 5 minutes. Add the garlic and cook for 1 minute more. Add the turkey, cream, tomatoes, salt, pepper and Italian seasoning and stir to combine. Reduce the heat to low and simmer for 10 minutes.
Add the cooked pasta to the sauce and stir. Taste and adjust seasoning as needed.
Transfer the turkey and pasta to a baking dish and top with Parmesan and mozzarella cheese. Bake for 20-25 minutes until the cheese is melted. Garnish with basil and serve as needed.
What to Do With Leftover Potatoes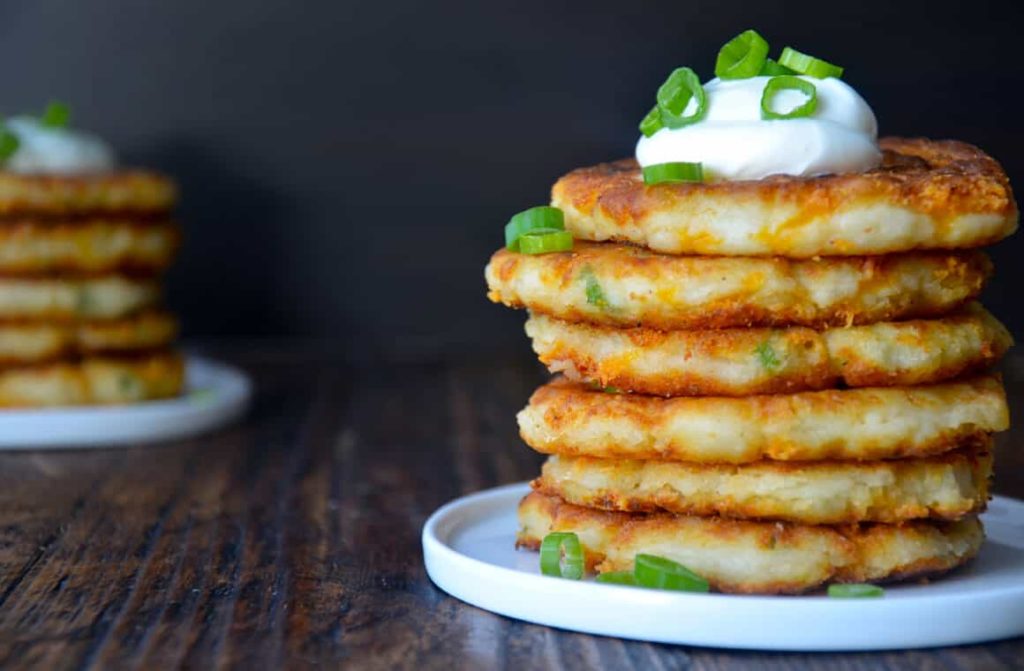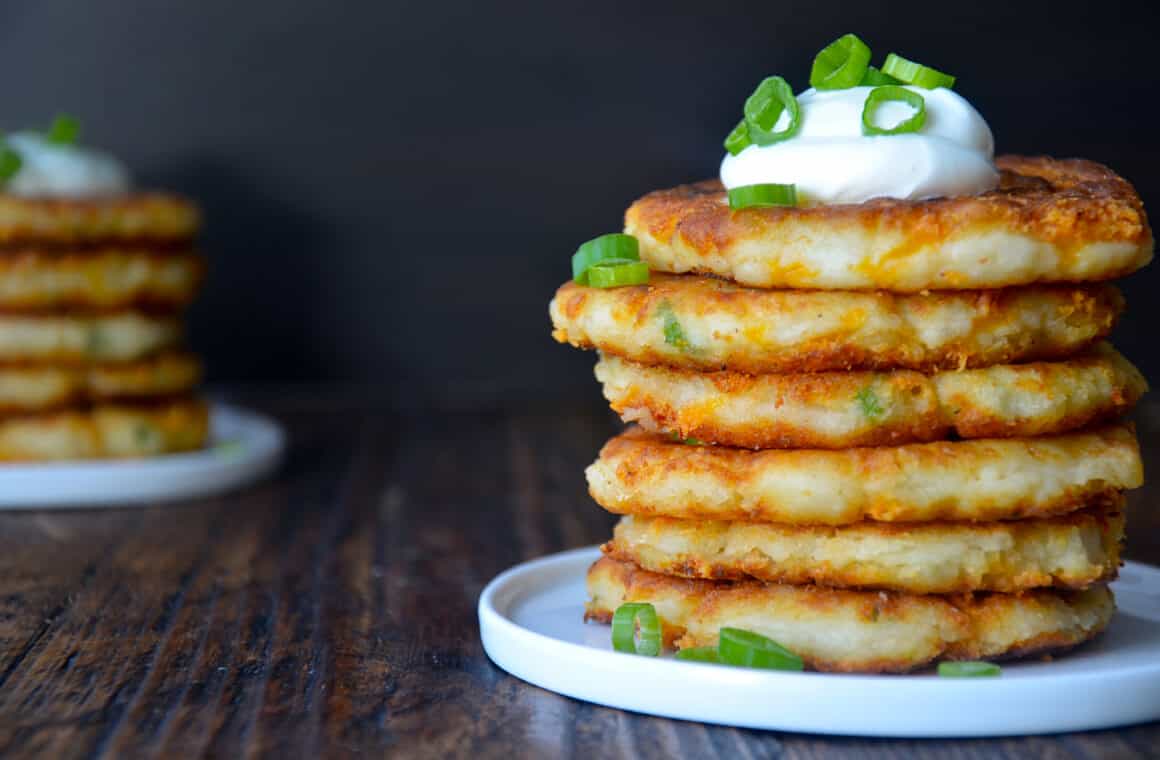 Mashed Potato Pancakes
Perfectly easy meal or snack made with leftover mashed potatoes, cheese, ham, and all the fixings you love!
Ingredients
3 cups leftover mashed potatoes (plain or garlic work)
1 1/2 cups shredded cheese 
1/2 cup whole wheat flour
1/3 cup chopped green onions, plus more for garnish
1/3 cup crumbled cooked bacon OR chopped ham
3 eggs
1 1/2 teaspoon garlic powder
1 teaspoon dried parsley 
1/4 teaspoon dried thyme (optional)
salt and pepper to taste
a small amount of vegetable oil for frying
sour cream for serving
Directions
Add the leftover mashed potatoes to a large bowl. They shouldn't be cold from the fridge if you can help it – let them stand at room temperature for 30 minutes before adding any other ingredients.
Add the cheese, flour, green onion, bacon or ham, eggs, garlic powder, thyme, and salt and pepper.
Stir all the ingredients together very well until everything is fully incorporated and the mixture is smooth.
Form the mixture into 12 patties about 1.5 centimeters thick.
Heat a large non-stick skillet over medium heat and add a small amount of vegetable oil.
Fry the patties in batches for about 5 minutes per side or until golden brown and completely cooked through.
Enjoy warm with a dollop of sour cream,  more sliced green onions, and some extra cheese, if desired.
Potato Chowder
Ingredients
6 medium unpeeled red potatoes (2 lb), cut into 1/2-inch cubes
1 carton (32 oz) reduced-sodium chicken broth (4 cups)
½ teaspoon salt
½ teaspoon pepper
3 ½ cups Frozen Broccoli Cuts
1/3 cup Gold Medal™ all-purpose flour
1 cup fat-free (skim) milk
 8 oz. 2% milk reduced-fat sharp Cheddar cheese, shredded (2 cups)*
½ cup fat-free sour cream
4 medium green onions, chopped (1/4 cup)
Directions
In 5-quart Dutch oven, place potatoes; add just enough water to cover. Heat to boiling. Reduce heat; cover and simmer 10 to 15 minutes or until potatoes are very tender. Drain. Reserve 1 cup potatoes; return remaining potatoes to saucepan. In small bowl, mash reserved potatoes with fork; return to saucepan.
Stir in broth, salt and pepper. Heat to boiling. Add broccoli. Return to boiling; cook uncovered 4 minutes, stirring occasionally. Reduce heat to medium.
In small bowl, stir flour into milk with wire whisk until well mixed. Add milk mixture to potato mixture, stirring constantly. Cook over medium heat, stirring frequently, until mixture thickens and boils. Stir in cheese until melted and smooth. Stir in sour cream and green onions; cook until thoroughly heated.
 Serve!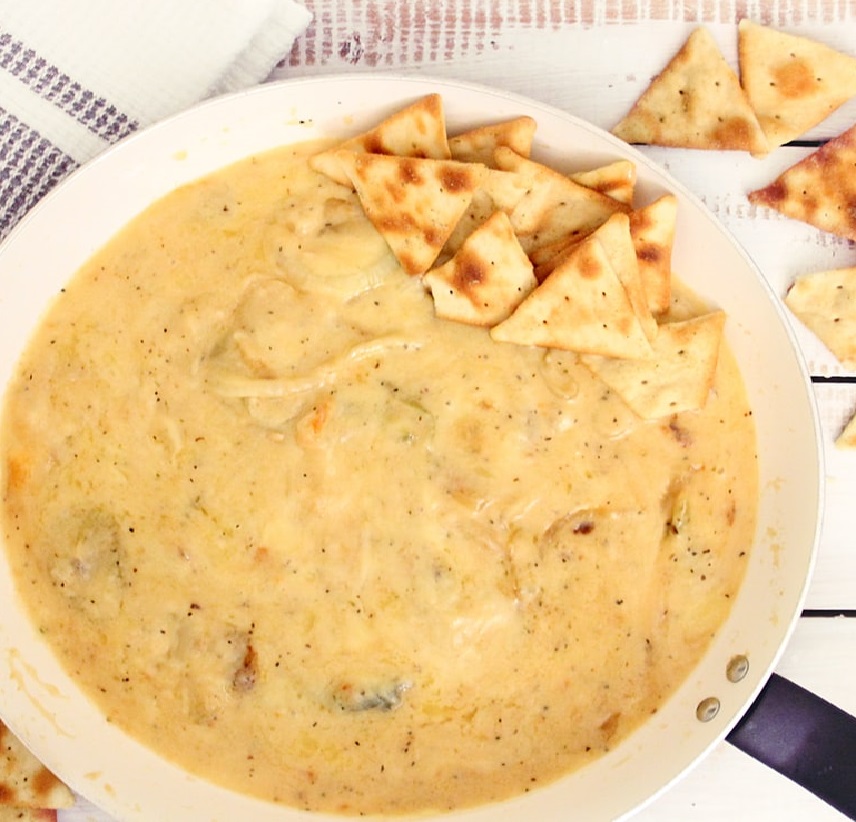 What to Do With Leftover Stuffing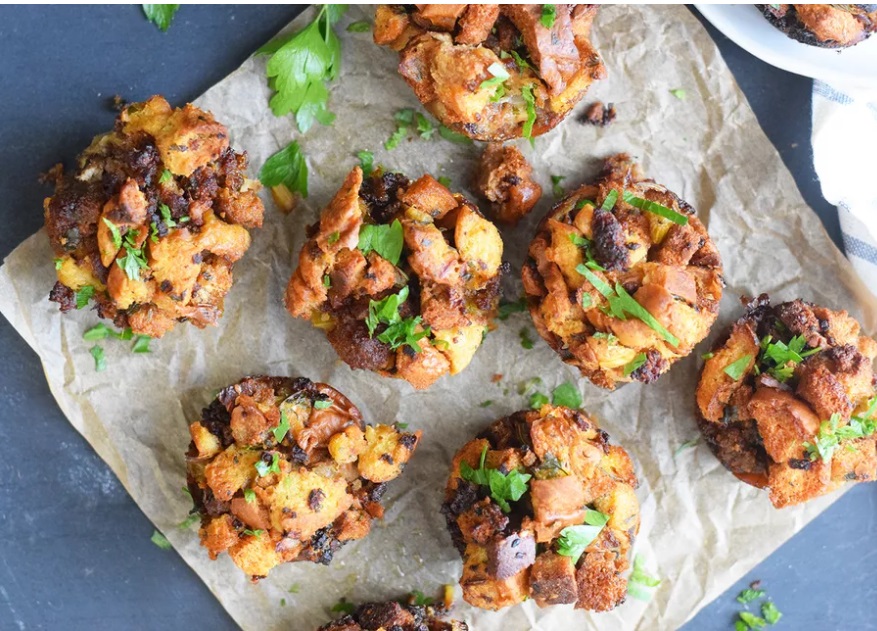 Stuffing Muffins
Use up your leftover stuffing and turkey for a tasty breakfast or snack that you can dip in cranberry sauce or gravy!
Ingredients
3 1/2 cups leftover stuffing
1 cup cubed leftover cooked turkey
6 large eggs
2 tablespoons milk
1 tablespoon chopped fresh parsley
1/4 teaspoon salt
Freshly cracked pepper, to taste
1/2 cup shredded Medium Cheddar Cheese
Leftover cranberry sauce or gravy, if desired
Directions
Preheat the oven to 375°F. Generously and thoroughly grease a standard muffin tin.
Divide the stuffing and turkey between all 12 cups without packing in the mixture.
In a medium bowl, whisk together the eggs, milk, salt, pepper, and parsley. Divide the egg mixture among the cups, filling each just over half full to give room for the muffins to expand as they bake. Sprinkle with the cheese.
Bake the muffins for 25-30 minutes or until lightly golden brown and crispy on the top. Allow the muffins to cool slightly, then run a knife around the edges to loosen and remove each muffin.
Stuffing Quiche 
A tasty and creative breakfast/brunch quiche is a favorite. 
Ingredients
1 1/2 cups prepared Stuffing
Melted butter
1/2 cup shredded cheese of your choice
1 cup left over cooked meat
3 eggs; beaten
1/3 cup milk
Salt and pepper
Directions
Preheat oven to 375°F.
In a small casserole dish the stuffing into the dish forming a crust. If needed mix the stuffing with a bit of melted butter to help it adhere.
Bake the crust for about 8-10 minutes until it is slightly set.
Take the casserole out of the oven and scatter cheese and meat over the crust.
Mix eggs, seasoning, and milk together then pour into the casserole dish.
Bake quiche for about 30-35 minutes or until set.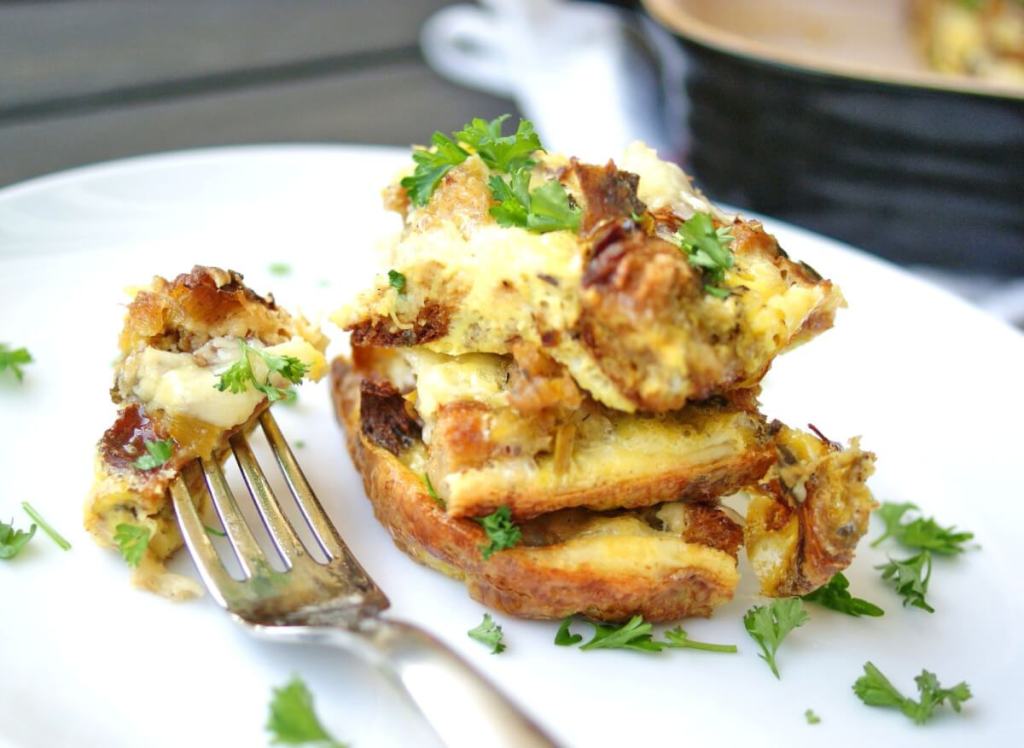 What to Do With Leftover Desserts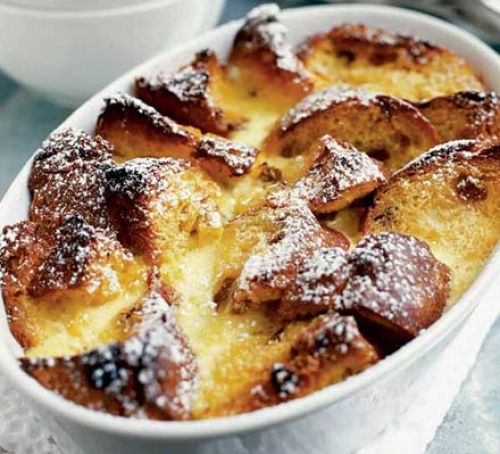 Panettone Breakfast Bake 
If you have any Panettone leftovers after the holidays, just make this Panettone Breakfast Bake. 
Ingredients
1 cup mixed berries (frozen or fresh)
1 lb panettone leftovers (12 slices)
1 Tbsp softened butter for the baking dish
3 slices lemon
Dressing ingredients:
5 Tbsp unsalted butter, room temperature
1 Tbsp lemon zest
1 Tbsp lemon juice
Topping ingredients:
2 1/2 cup whipping cream ( 30 % fat)
3 Tbsp vanilla-flavored icing sugar (usually packed with panettone)
3 eggs
Icing sugar and forest fruits to taste to garnish before eating
Instructions
Butter the pan and place 12 slices of panettone into it.
Prepare the dressing: slowly melt butter in a small pot and add lemon zest and juice into it.
Using a pastry brush, spread the mixture over the panettone slices.
Sprinkle with forest fruits.
Preheat the oven to  356 degrees F.
In a medium-sized bowl, mix 3 eggs and add icing sugar.
Using a spatula, combine the egg mixture with whipping cream and spread over the panettone slices.
Leave aside so the slices soak the mixture.
Arrange with 3 slices of lemon and bake for 20 minutes.
Leave to cool and garnish with icing sugar and forest fruits to taste.
Christmas Pudding Ice Cream
Even after Christmas you may have room for dessert! Whisk your Christmas pudding into a tub of vanilla ice cream for an absolutely divine dessert.
Ingredients
1 liter tub vanilla Ice cream, slightly softened
2 cups of leftover Christmas pudding, crumbled
Toffee sauce or amaretto, to serve
Directions
Blend the ice cream in a food processor until smooth, fold in the Christmas pudding and scrape into a freezer-proof container. Freeze for at least 2 hrs then scoop into bowls and top with the toffee sauce or amaretto.