You've probably heard about the Air fryer, that cool kitchen gadget people have been raving about since it hit the market.  Are you still wondering what all the hype is about? 
Made popular by claims air frying is a healthy alternative for frying food; because it replicates the wonders of deep-frying in a healthier way. So, how does it work? The Air Fryer, uses rapid air technology to fry, bake, roast or grill your food with only a tablespoon or less of oil. Think of it as a hi-tech counter-top convection oven.
Something else to consider, is the air fryer is a time-saver when you find yourself short on time to cook. It offers fast cooking, with little to no preheating required. It's a great companion tool for adventurous cooks with little time to spare.
What You Can Make in an Air Fryer
AIR FRYER FRENCH FRIES
The first thing you can try is a simple and delicious batch of French fries. Fresh or frozen potatoes! Crunchy, easy and healthy! Ready in under 30 minutes.  
Ingredients
1 tbsp Flat leaf parsley
1 Garlic powder
1 Salt and pepper
1 tbsp Olive oil, extra virgin
1 pound Yukon Gold or Russet potatoes (peeled and sliced into 1/2-inch thick sticks)
Instructions: 
Throw your fries into the air fryer basket, and cook in the air fryer at 400°F for 15-20 minutes.
While the fries are air-frying, chop the herbs and garlic, and mix with olive oil in a medium-size bowl.
Remove the fries from the air fryer and transfer to the bowl with the garlic, rosemary and oil – toss thoroughly, and season with salt. 
Serve with ketchup or sriracha mayo — which is 1:1 ratio of sriracha to mayo, Yum!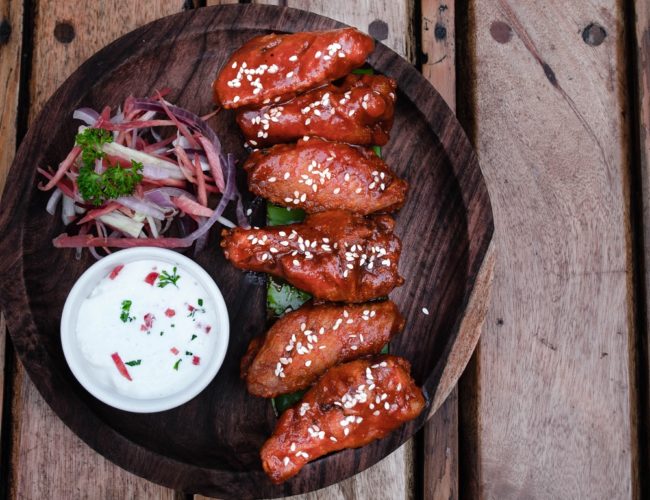 AIR FRYER CHICKEN WINGS
Air fryer chicken wings are the crispiest wings you've ever had! Cook a whole batch in your air fryer with a few simple ingredients.
Ingredients
1 tsp Paprika, smoked
1 Salt and pepper
1 tsp Garlic powder
1 tbsp Olive oil
2 tbsp Barbecue sauce
1 tbsp Olive oil
1 1/2 lbs Chicken wings & drumettes
Instructions:
Set the air fryer to 375 degrees F.
Season chicken wings with salt, pepper, and smoked paprika and place into the air fryer basket
Cook the wings for 20 minutes, flipping after 10 minutes
When time is up, flip one last time and increase the temperature to 400 degrees F.
Cook an additional 8 minutes until skin is crispy and golden
Remove wings from air fryer and place in a bowl or serving dish
Toss with BBQ sauce
 Finally, cook the BBQ sauce coated wings in the Air Fryer for additional 2 minutes and enjoy!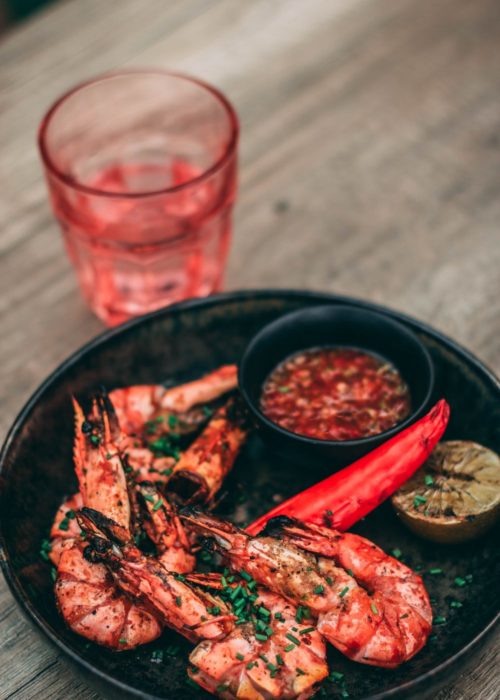 SPICY GARLIC CHILI SHRIMP
Bursting with flavor, this air fried shrimp recipe is perfect for all occasions it's heavenly with a flavorful spicy kick.
Ingredients
1 pound of shrimp peeled and de-veined
3 Tablespoons olive oil
2 cloves garlic minced
2 teaspoons chili powder
½ teaspoon ground cumin
¼ teaspoon paprika
1/2 teaspoon salt
¼ teaspoon freshly ground black pepper
 Sweet Chili Sauce (to taste)
Instructions:
Set temperature to 400° and timer to 5 minutes for preheating.
Rinse Shrimp  with water
Apply a thin layer of oil to the shrimp and put into the fry basket evenly, put the fry basket with pot back in the appliance. set time for 5-8 minutes or until they look crunchy and golden.
Remove from basket and coat with seasonings to your taste.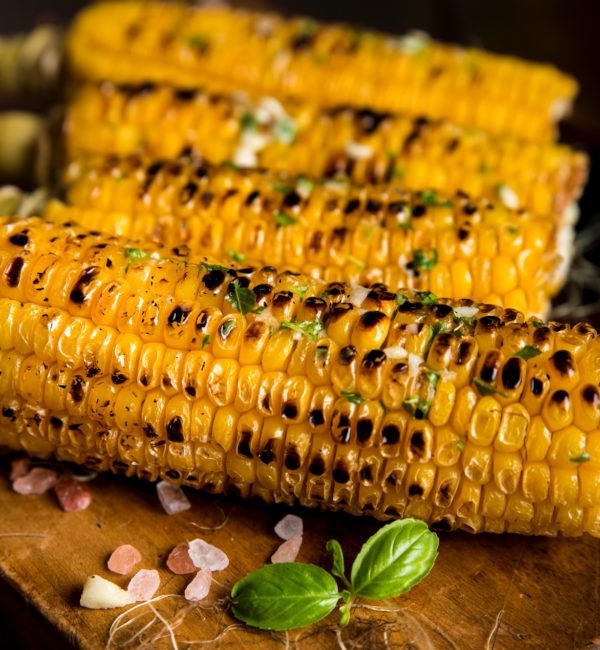 GRILLED CORN ON COB
Air Fryer Corn on the Cob is sweet, and juicy as can be! Make this with fresh corn for a great side dish recipe. No fuss, no mess, all deliciousness.
Ingredients
Corn Cobs (Sliced) 2 pcs
Cooking Oil 1 tsp
Instructions:
Skewer the corn cobs, sliced to preference
Set temperature to 400° and timer to 5 minutes for preheating.
Apply a thin layer of olive oil to the corn and put into the fry basket evenly, push the fry basket with pot back in the appliance. Set time for 10 minutes or until baked golden. Add butter, salt, mayonnaise, season salt or whatever you like and enjoy!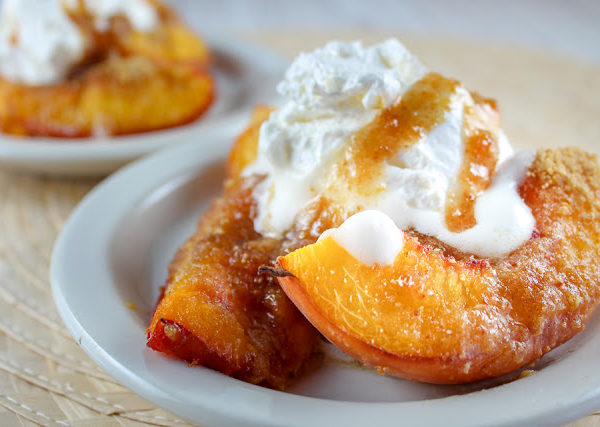 GRILLED PEACHES AND CREAM
Love grilled peaches? – But who wants to heat up the grill for a few little peaches? Now you don't have to, you can simply pop 'em in the AIR FRYER!!! You've got an easy and delicious Dessert in minutes.  
Ingredients
2 peaches 
1/4 cup graham cracker crumbs
1/4 cup brown sugar
1/4 cup butter, diced into tiny squares
Cool Whip or Ice Cream
Instructions:
Cut peaches into wedges and pull out pits
In air fryer, set a piece of parchment paper on top of rack
Lay peach wedges, skin side up (on side) on parchment
Air fry at 350 degrees for 5 minutes
Mix together crumbs, brown sugar and butter
Flip peaches skin side down
Spoon crumb mixture over top of peaches – try and keep the butter on top of the peaches as best you can
Air fry at 350 degrees for another 5 minutes
Place peaches onto plates and top with whipped topping
Spoon any excess butter/topping mixture from parchment onto whipped topping
Want More Recipes?
The Cosmo Air fryer comes with a complimentary Recipe Book with these and many more recipes to try.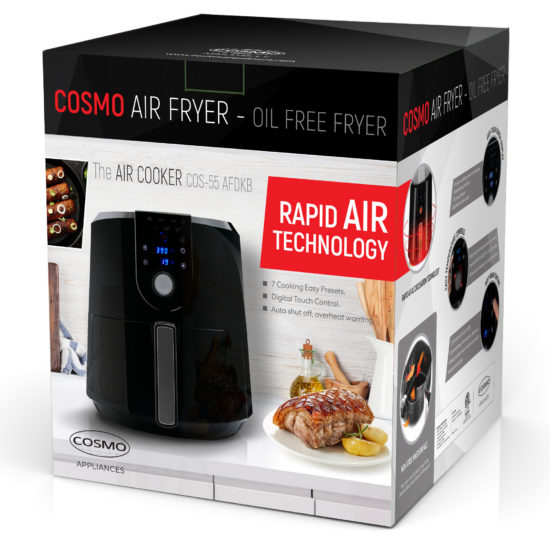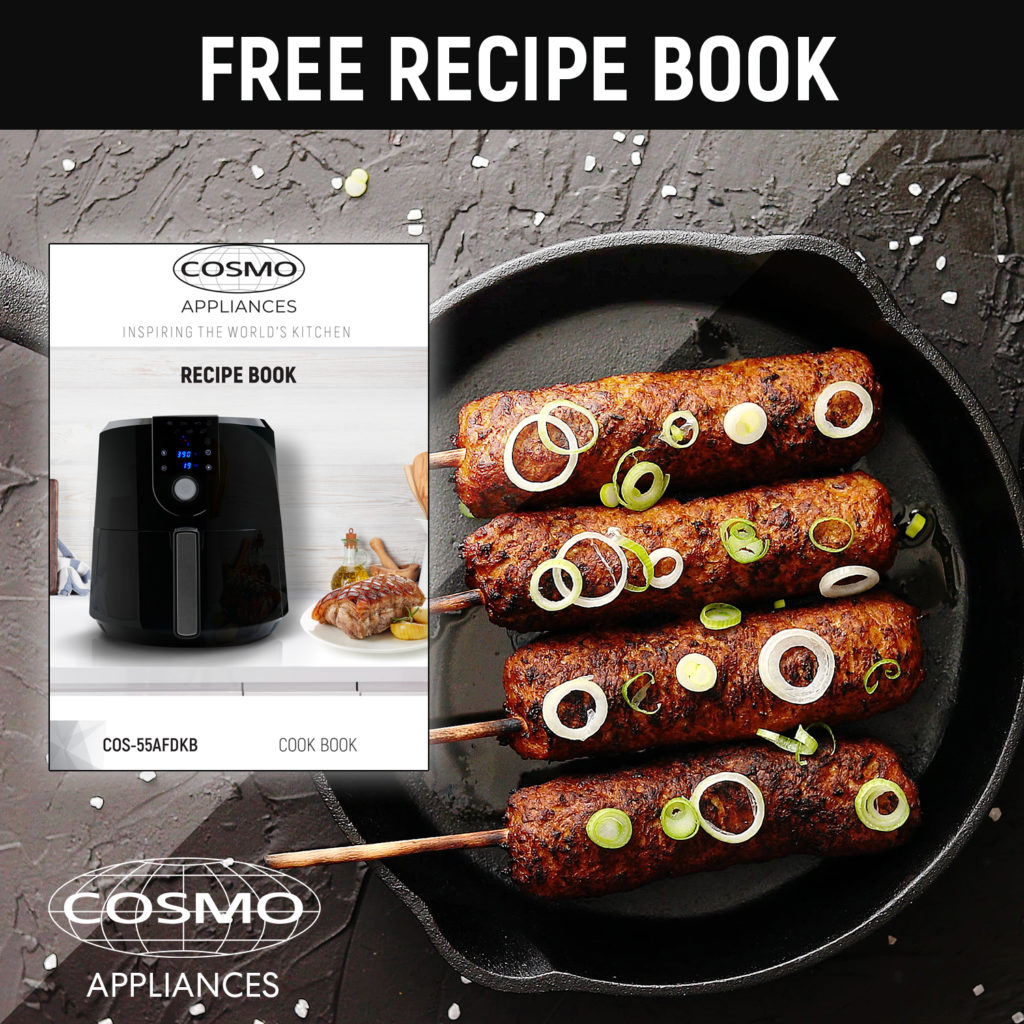 If you need fast, healthy, convenient and tasty meals, then once again, an air fryer is for you.