While you may see kitchens in a variety of styles and find them all beautiful in their own way, finding inspiration for your dream kitchen often requires sorting through many different considerations. From transitional to modern and every style in-between, these ideas can help you decide what suits your home while also fitting your personal tastes.
Transitional
Transitional style is a mix of traditional and modern furnishing. Blending the comfort and warmth of traditional design with the clean profiles and understated colors of the contemporary look. The result is often elegant, sleek spaces that radiate harmony. Taking advantage of this style offers creative freedom when looking to decorate your home with ease. Transitional styling is perfect when you like some characteristics of traditional style but enjoy the simplicity of contemporary.
Why We Love This Style? Transitional style encompasses the best of both worlds and fits the style of many homes because of its versatile traits.
Modern
Modern design emphasizes clean lines and efficiency– with elements of contemporary, modern and industrial influences. Sleek is a collective term to describe modern design. Every element exudes crispness in shape, simplistic décor in generally muted color and fundamentals in materials such as glass, metals, and wood. Open and airy modern kitchens. Colors are explored in soft tones with an accent or two taking center stage.
Why We Love This Style? The modern style embraces simplicity, clean lines, technology and the bare minimum required to appropriately handle functional and aesthetic demands.
Industrial
With its raw, utilitarian appeal, an industrial design style can give modern homes a sophisticated edge. The main feature of industrial styling is the unfinished look that focuses on combining bare and rough surfaces with a clean and flat finish. Industrial style delights in the drama of opposing materials such as wrought iron accents, glass doors, and exposed brick. One of the most obvious traits of an industrial kitchen is open space and high ceilings.
Why We Love This Style? Industrial kitchens edgy and elegant and make a huge statement when planned and executed properly.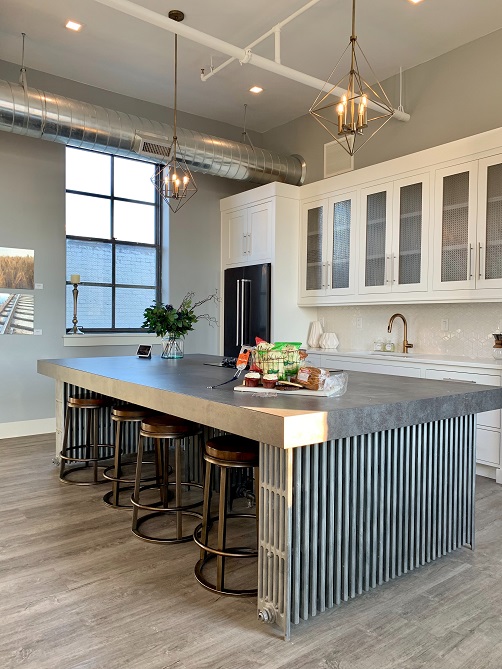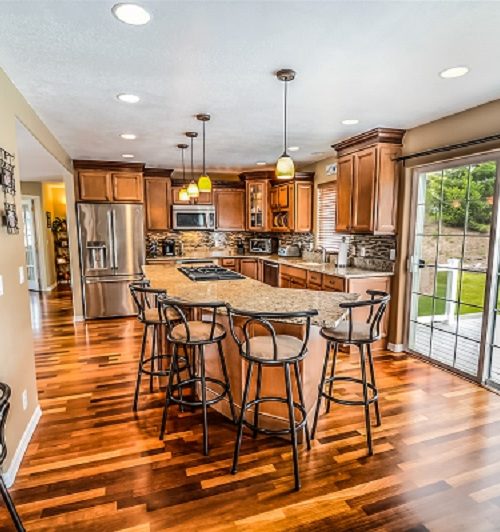 Mediterranean
Rustic and warm – but with an edge – the Mediterranean design style blends harmoniously with an exotic feel. Mediterranean styling is characterized by wrought iron, exposed wood beams, multi-colored cabinetry and a mix of metals providing its unique flare. To tie it all together it calls for pleasant, cozy and comfortable earthy shades and natural wood and stone hues. Color palettes may vary from darker shades of brown to whitewashed tones of neutral colors. Common accent colors of teal blues and greens reflect the spectacular colors of the Mediterranean waters. The décor typically features hand-crafted, salvaged or repurposed items made of wood, leather, natural fibers, wicker, and wrought iron.
Why We Love This Style? Mediterranean Kitchen style is warm, inviting and a stress free design.
Whether your preferences fit perfectly into one category or a combination of several, the goal of creating your dream kitchen is to listen to what style speaks to you.